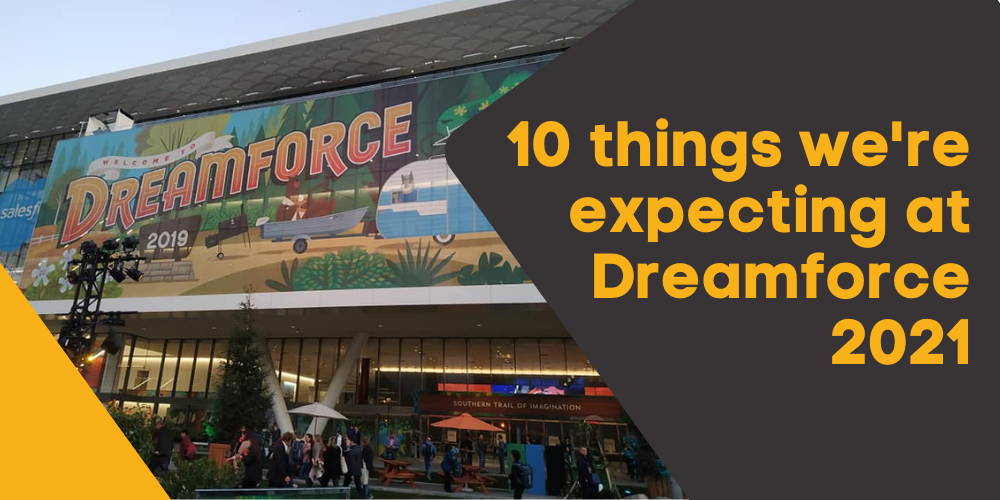 The last year has meant we've missed out on a number of things. From seeing loved ones to attending sports events, let's be honest—we all missed Dreamforce a little bit too, right?
The weeklong conference in California is the highlight of most of our years, as the Ohana descends on San Francisco and the city's population is boosted by around 170,000 people. As well as a great chance to network and learn, it's a fantastic sight, seeing thousands of Dreamforce backpacks on the streets.
While 2020 saw the event go online, the great news is that Salesforce has announced that 2021 will see it return to being an in-person event, running from 21-23 September. And in keeping with the company's constant evolution, this year Dreamforce will become a truly global affair.
Few details have been announced yet, but the cloud giant has promised events in London, Paris and New York, plus other cities around the world, and a digital experience too. With travel restrictions still in place in many areas, it gives a chance for as much of the Salesforce community to get involved as possible.
While we wait on more information as to how the event will look, we asked a number of experts with a passion for Salesforce events what they're hoping to see. Here's ten things they told us they're expecting.

Hyperforce
At a time when security has become one of the most important components of any organization's digital infrastructure, Rakesh Gupta is looking forward to hearing the part that Hyperforce will play in making Salesforce apps run more safely, in a completely re-imagined architecture. "I'd love to hear more about Hyperforce, and all the innovation Salesforce is doing behind the curtain," he said. As for the event itself? "I can't hide my excitement; I missed crowds, carefree hugs and unmasked laughter. I'm expecting to connect, learn and have fun with Trailblazers across the globe, and give back."
Where is Salesforce with Slack?
"Last Dreamforce they announced the purchase of Slack but we haven't yet seen integration of this tool yet," said Salesforce MVP Amanda Beard-Neilson. "I'm keen to see how they are progressing and how Slack will be used, both within Salesforce but also maintaining a free standalone product option for all the teams who still value Slack as a comms tool for other technologies." Salesforce MVP Hall of Famer Eric Dreshfield agreed with Amanda, adding that "for me, Dreamforce is almost more about the people and making connections than it is about seeing new features and hearing about the roadmap of things to come. That said, I'm really interested to learn more about the 'Slack first' approach Marc Benioff recently mentioned."
On the subject of communication tools, Amanda is hoping for more insight into how the platform is developing as a way for customers to interact directly with businesses. "Salesforce originally set up as a B2B CRM product, managing customer relationships, but more recently delved deeper into the B2C market with extensive work on Experience Cloud and Commerce Cloud, allowing consumers to interact with their favourite brands to make purchases online and connect easier. As the world changed in the past year to be more reliant on online shopping, I will be interested to see if Salesforce has more up its sleeve to help retailers extend their customer reach."
A rush to be back together?
On a more practical level, one key talking point was whether there'd be an appetite to be together in-person again so quickly. Eric Dreshfield expects the demand to attend to be huge. "I've built my personal brand and grown my career through community events and personal connections," he said. "So it goes without saying that I'm super excited for the return of in-person events. If there's a way for me to be at Dreamforce, I'm there. I'm planning to be at Tahoe Dreamin' at the end of October, and Midwest Dreamin', Minneapolis, in July. I think the appetite for in-person events is huge!"
Or not
However, Tim Koroteev was amongst a number of people who acknowledged that while he's excited for the event, others may not be so keen to return to physical gatherings just yet. His company, Inspire Planner, put together a comprehensive guide to Dreamforce each year. He said: "While the necessity of large in-person events is still debatable at this point, I am confident Salesforce is doing everything possible to ensure the safety of all attendees, while providing them with the best possible experience of Dreamforce."
Tim also pointed out that numbers will be limited regardless of demand, adding that "it's likely that the number of attendees in San Francisco will be capped at 5,000 due to public health restrictions. Therefore, creating the first-ever global Dreamforce event seems to be the best available option for Salesforce to allow trailblazers from all over the world to enjoy Dreamforce in-person again."

Ticketing dilemma?
Those restricted numbers may prove something of a headache in terms of who will be lucky enough to make their way through the turnstiles, rather than having to stream it again. "I hope the in-person components are not invitation-only, rather on a first registered, or random drawing/lottery style attendance," suggested Eric Dreshfield. "Anyone who wants to be able to attend in person should be given the opportunity to do so, as long as the event can stay within safety guidelines for the stage of the pandemic at that time."
Amanda Beard-Neilson added that she's hoping that creating events around the world will still provide an opportunity for the worldwide community to play a part, adding; "Personally I am excited about the prospect of this format. I've been lucky to attend four Dreamforce events in the past and have loved each one, and having London as a hub might suggest that I could still be a part of the event somehow."
A more inclusive experience
On the subject of around the world events, Manish Thaduri is hoping for an even more inclusive Dreamforce than we've ever seen before. "Going global allows attendees who cannot travel to the States a chance to feel the vibe of Dreamforce right from their home cities," he said. "It will be a truly magical experience. I'm expecting mini Dreamforce-like setups across the various cities it will be hosted in, with lots of cheerful faces, great learning experiences and fun!"
A new approach to how in-person works?
For Amanda Beard-Neilson, recent London Admin group meetings have necessitated innovative ways to acknowledge how comfortable attendees may be as we head into the 'new normal'. Her experience of organizing large group events means she expects some potential changes this time around when it comes to Dreamforce. On her own events, she said: "I have to consider how our members might feel about being in a space with other people."
"We have decided to offer a traffic light system using stickers. Each attendee will be asked to pick a colored sticker depending on their preference. Red: I was never a hugger and I'm not about to start now. Amber: I'd prefer to initiate any contact with you. Green: I'm open to hugs. I'm also considering giving a Black option: It's been too long, let's get a room together! I will also be curious to see how Salesforce will organize the event. Will they still have the main keynotes? Will these be San Francisco based and streamed across the other locations or will they take advantage of a blended location approach?"

The overall Dreamforce experience
Ultimately, our annual trip to San Francisco isn't always about one specific element, it's a chance to spend a week in Salesforce nirvana. When we asked Salesforce MVP and blogger Om Prakash what he was looking forward to most, the list was almost endless: "Keynotes, product announcements, latest innovation demos, technical sessions, celebrations with the Trailblazer community, as well as being filled with inspiration for more success."
And as Amanda Beard-Neilson pointed out, replicating all of that will be a big challenge as the event goes global. "Traditional Dreamforce is more than just keynotes and sessions to attend, the event is an eye-fest of new functionality attractions to visit and an opportunity to connect first hand with the technology, while of course adding some gamification to it—win a plushie or other swag to take home. Dreamforce is also famous for its after-parties where people can gather to network and blow off steam; will these be considered as part of the overall show?"
Salesforce will surprise
Regardless of our predictions, there's still an acceptance that Salesforce is capable of surpassing any of our expectations, which can make guessing how Dreamforce will eventually look an impossible task. "I think this global Dreamforce will be like nothing we've seen before. I think it is still too early to really know what Salesforce has planned, but I'm certain it will be quite the noteworthy event," said Eric Dreshield.
Trademark Salesforce fun
While we're all looking forward to coming together to celebrate and learn more about Salesforce together again, Tim Koroteev concluded that he's hoping that won't come at the expense of the traditional entertainment to round things off. From U2 to Metallica, Stevie Wonder to Foo Fighters, the Dreamforce stage rivals Glastonbury for its A-list alumni. "I hope Salesforce will find a way to close Dreamforce 2021 on a high note, with great performances in each of the locations to cheer people up after the challenging times everyone went through."
Essentially, whether it's entertainment or education, the consensus across all aspects of Dreamforce 2021 was the same. Salesforce has promised a spectacular way for the global community to meet again, and there's a belief that they will do it.
Want more Salesforce insight?
Whether you're an employer or jobseeker, the Mason Frank Salesforce Salary Survey has all the Salesforce secrets you need.
---
From platform trends to salary expectations