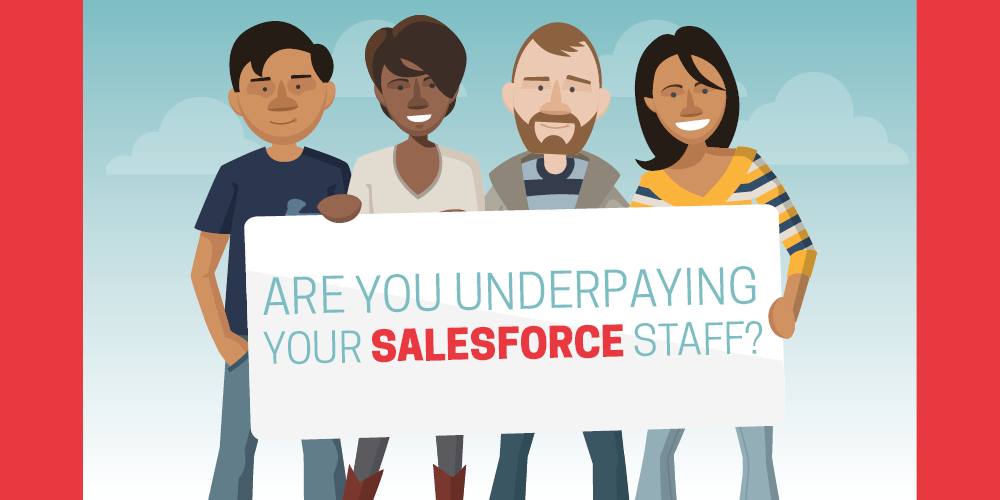 Salesforce is currently experiencing a talent shortage. With an estimated 3.3 million new jobs set to be created in the ecosystem by 2022, there is a growing chasm between the number of roles on offer and the number of Salesforce professionals available to fill them.
As a specialist Salesforce recruiter, we've found this high demand for qualified professionals is making the talent market increasingly competitive. As a result, businesses are digging deeper and deeper into their pockets as they race to attract the skillsets they need, driving up salaries for the most desired and difficult-to-fill roles.
Of course, there's more to enticing great talent than writing the biggest check—there are many perks and benefits that Salesforce professionals care about. But making sure you're offering a competitive salary is still a massive part of not only attracting, but retaining, your Salesforce pros in a candidates' market that's rich with temptation.
As part of Mason Frank's annual Salesforce salary survey, we calculated average salaries across several Salesforce roles using both self-reported data from more than 2,200 Salesforce professionals, and over 2,100 placements made by Mason Frank between October 2017 and August 2018.
Here, we'll break down what you should be paying your Salesforce staff across the four most common roles in the ecosystem, as well as how competitive the market is for these positions. We'll also look at what makes them extra valuable—so you can keep your Salesforce talent happy, and under your roof.
Salesforce Consultant

A Salesforce Consultant is a crucial part of making Salesforce work for your organization, from determining and documenting your requirements to devising solutions to ensure the platform solves your business pain points.
Though a Functional or Technical Salesforce Consultant is more likely to find permanent employment with a Salesforce implementation partner than a Salesforce customer, you might engage with a contractor if you're rolling out a new Salesforce app or service in your business, whether it's adding Marketing Cloud to help with your marketing efforts, implementing Commerce Cloud to create a new shopping experience for your customers, or utilizing Service Cloud to improve support.
How much should you be paying your Salesforce Consultants?
If you're looking to bring a Functional Salesforce Consultant onto your team on a contract basis to liaise with stakeholders, and help map out your requirements ahead of implementation, you should expect to shell out between $83 – $130 per hour. Where your contractor's rate falls in this range will depend on how much experience they have, and where your business is located. Rates in cities such as Boston, MA, and Chicago, IL, for example, tend to be a shade lower than those typically seen in San Francisco, where a high density of tech companies with Salesforce vacancies to fill and the high cost of living drive up salaries.
More technical positions tend to command a little more than functional ones across Salesforce roles, and this is certainly the case with consultants. The average hourly rate for a Salesforce Technical Consultant in the United States ranges from $95 up to $154.
How competitive is the Salesforce Consultant market?
Earlier this year, Salesforce was named the biggest CRM provider for the fifth year running, upping its market share by more percentage points than the rest of the top twenty CRM vendors combined, and enjoying the largest revenue increase of any CRM on the market. As the product continues to earn more customers, consultants who can help implement the product are becoming more and more sought-after.
One factor that can drive up the value of a Salesforce Consultant is certification. Salesforce offers a vast range of credentials to help professionals upskill and prove their stripes to clients, many of which are targeted at consultants.
Our salary survey found that 77% of Salesforce professionals now hold at least one Salesforce certification— and one in four stated that their salary has increased since earning their badge. There are six certifications designed specifically to test and verify the skills of those who design and implement Salesforce in all its forms, covering core products like Sales Cloud, Service Cloud, Pardot, Marketing Cloud, Community Cloud, and Field Service Lightning.
Salesforce Developer

Salesforce is a highly customizable platform; users are able to modify, develop, and fine-tune their apps to ensure the software fits their individual needs.
Salesforce Developers customize apps and use code to extend the functionality of the product. Depending on the size of your business and the scope of your Salesforce platform, you might employ a Salesforce Developer full-time, or bring in a freelance programmer as and when changes to Salesforce are needed.
There are a few ways developers might work with Salesforce: they could be developing using Force.com, Salesforce's Social and Mobile Application Development Platform; building extensions for the Salesforce App Exchange; creating custom solutions for within the Salesforce web app; or producing integrations between Salesforce and third-party services.
How much should you be paying your Salesforce Developers?
The role of a Salesforce Developer is enormously technical, and requires a variety of skills and deep product knowledge. As a result, a mid-range programmer in the United States earns around $141,201 a year, climbing to $159,299 annually for those with 7-10 years of Salesforce experience. A junior-level developer can expect a yearly salary in the range of $111,103.
A freelance developer in the U.S. earns between $79 – $138 per hour, again with slightly higher rates found in major coastal cities.
How competitive is the Salesforce Developer market?
Salesforce  appeared fourth in LinkedIn's 2019 list of most-attractive employers in the United States; a Salesforce Developer is one of the most lucrative and prosperous roles under the Salesforce umbrella. But even with the tantalising prospects presented by the Salesforce Developer role, the talent pool is still struggling to scale fast enough to meet rising demand from Salesforce customers.
A recent survey revealed that there is just one self-described Salesforce Developer available for every 4.4 job openings on the North American market; with a job to talent ratio of 4:1, developers have a lot of options open to them, making it all the more important to offer a compensation package that puts you at the very least on par with your competitors.
There's a huge array of different skills to be found in the developer talent pool. In addition to APEX salesforce programming language and Visualforce Salesforce designing language, the most in-demand developers will also have additional skills like Java, HTML, XML, SQL, or CSS.
Another way to spot a valuable Salesforce Dev is to look for certifications—Platform App Builder, Platform Developer I and II, and B2C Commerce Developer are the key badges for developers working in the Salesforce ecosystem.
Salesforce Administrator

A typically less technical, but no less important, role that Salesforce customers might need on their team is the Salesforce Administrator.
Administrators are the primary point of contact for all things Salesforce in their companies. Forming a bridge between users and the platform, an Admin will be deeply knowledgeable about both the operations and needs of their business, and Salesforce itself. They will champion the product, keep users up to date, and ensure Salesforce is running as smoothly as possible.
How much should you be paying your Salesforce Administrators?
If you have a full-time, permanent Salesforce Admin in your organization, you should be paying them something in the region of $98k to $123k, depending on how much experience they have. A junior Administrator in the United States earns on average $98,152 annually. Once they have a few more years under their belts, they can expect their salary to increase to around $107,510. A veteran Salesforce Administrator earns roughly $123,158 a year.
Smaller organizations who don't have the need or the budget to employ a Salesforce Admin full-time might bring one on board on a contract basis—either part-time or on a short-term contract to help get the platform up and running. Rates for freelance Salesforce Administrators typically range from $62 – $111 per hour.
How competitive is the Salesforce Administrator market?
Given that the Salesforce Administrator role tends to be less technically demanding than other popular positions in the ecosystem, Administrators aren't in quite as short supply as Developers or Technical Architects, for example. However, that's not to say great Admins are falling out of the sky. The Admin role is hugely varied, and Administrators need to be a Jack of all Trades for their organizations; this fact, combined with the massive amount of business-specific knowledge an Admin is required to have, makes them extremely valuable.
Salesforce Administrator was also touted as one of the roles offering the greatest opportunities today, with the title seeing a 103% rise in job postings between 2013 and 2016.
Certifications for Salesforce Admins are popular in the ecosystem—70% of salary survey respondents cited that they'd earned the Administrator badge. Other certifications on the Admin path include Advanced Administrator, Platform App Builder, and CPQ Specialist.
Salesforce Architect

Commanding some of the highest salaries in the Salesforce ecosystem, Technical and Functional Architects are increasingly in demand by customers. As the platform evolves, the complexity and scale of Salesforce implementations continue to grow, meaning that more professionals with both technical talent and all-rounder soft skills are needed to oversee them.
Salesforce Architects design systems that will take their users from strength to strength, crafting solutions, integrating systems, and managing roll out of Salesforce from beginning to end.
How much should you be paying your Salesforce Architects?
Like Salesforce Consultants, Salesforce Technical Architects tend to find permanent roles with Salesforce partners and consultancies, where mid-level professionals can command salaries of around $143,507, rising to an average of $176,251 for senior team members. Salaries for Solution Architects are a little lower, starting at around $119,626 for junior Architects, and increasing to an average of $139,151 and $157,651 for mid-level and senior professionals respectively.
If you're looking to hire a Salesforce Architect on a contract basis, however, you should budget between $110 – $207 per hour for Technical Architects, and $102 – $152 for Solution Architects.
How competitive is the Salesforce Architect market?
Architects require a web of in-depth technical skills like object-orientated development, databases, SQL, and Java, as well as the strong communication, project management, and problem-solving abilities needed to run complex projects. As a result, Salesforce Architects are uncommon; the rarest and most in-demand of all Salesforce pros. It's estimated that for every Technical Architects on the market, there are 10 available job roles that need to be filled.
The Salesforce Architect talent pool is growing—Salesforce's Architect Trailblazer Community has grown by more than 100% since 2017—but, with demand for the role increasing by 41% every year for the past four years, it may be some time before there's enough talent to meet need in the channel.
The high demand for Salesforce Architects is reflected not only in the significant salaries they pull in, but also in the certifications they hold; according to salary survey respondents, Certified Technical Architect and Certified System Architect were the two certifications most likely to increase earning potential for Salesforce pros.
With demand for experienced Salesforce workers only set to increase, the talent market is going to become more and more competitive.
To make sure you're offering the compensation, benefits, and culture that Salesforce professionals look for, download the full report and get the most current snapshot of the Salesforce Ohana available anywhere.

Complete the form below and receive your PDF report in seconds.