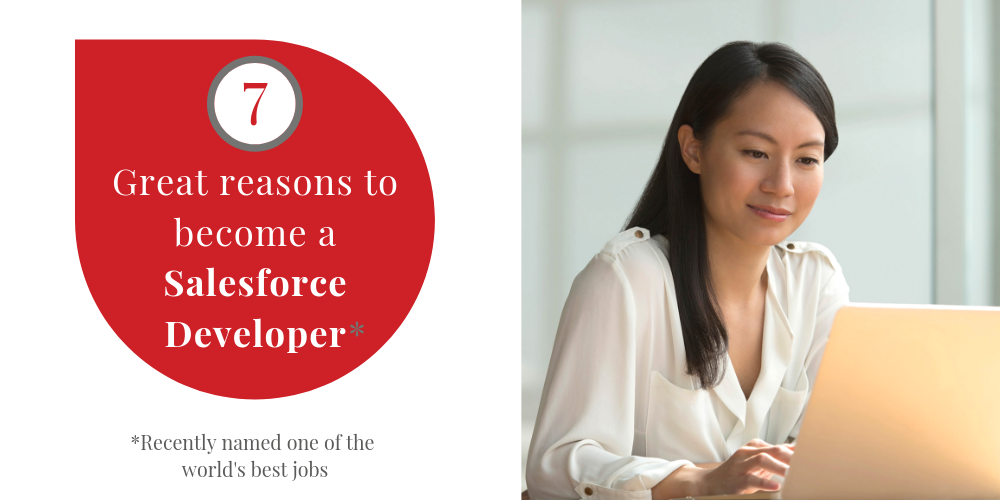 Thinking about a career in tech? Salesforce Developer has once again been named one of the world's best jobs.
Nods like this are becoming old hat for Salesforce—roles in the ecosystem are consistently touted as some of the best in tech—but the appearance of the Salesforce developer position on Indeed's Best Jobs in the US 2019 list is particularly special.
In a list of 25 job roles, Salesforce was the only company to get a mention. The rest were generic positions, not tied to a particular technology or brand. The tenth best job in the US today is not a CRM developer; it's a Salesforce Developer.
Click here for fully funded Salesforce Developer training and certification
The fact that Salesforce roles so often get shout-outs like these is indicative of the amazing opportunity they present, and clearly, Salesforce development especially is a strong choice right now. Let's take a look at some of the reasons why Salesforce Developer is such a fantastic career option.
1. Work with a world-dominating technology
Salesforce is the world's leading CRM platform. It's posted an average year-on-year growth of 25% for the past four years, and has ambitious plans to double its growth over the next four.
And a major part of that growth is going to be the creation of new Salesforce positions—an estimated 3.3 million new jobs by 2022, to be exact.
As digital transformation continues to roll across the world, leaving no industry untouched, the demand for cloud professionals is set to skyrocket, and those with experience in developing the world's most popular CRM will be massively sought after.
2. Enjoy extensive job opportunities
Demand for Salesforce professionals is increasingly rapidly; far more quickly than the workforce can upskill to meet it.
As a result, the Salesforce job market is a candidate's paradise; a buffet of opportunity where Salesforce Developer roles outnumber talent 4:1.
An average of 390 new Salesforce Dev positions are created every month in North America, and as businesses compete to attract the best talent, qualified developers have plenty of leverage to negotiate the salary, benefits package, and working conditions they're looking for.
A recent report summed up the wealth of opportunities for Salesforce Developers, stating that "workers with Salesforce Developer skills will be able to work where they want and for high pay."
3. Be involved with an exciting, innovative platform
Salesforce has been around for two decades, but it's showing no signs of standing still.
Salesforce releases updates and rolls out innovative new features three times a year. The set of tools available to Developers is constantly evolving too, ensuring Salesforce is always at the forefront of new advances and trends. Salesforce is all about making its customers' lives easier, so whatever's making waves in tech, you can be sure the Salesforce team is hustling to incorporate it into the platform. Whether that's AI, blockchain, or serverless computing, Salesforce Developers are never at the back of the line when it comes to getting access to these cutting-edge developments so they can put them to work in their own organizations.
As a Salesforce Developer, you don't have to concern yourself with the underlying infrastructure you're building on. Its single codebase makes it easy for devs to focus solely on apps and data, safe in the knowledge that new features will just work. That means you have space to take a business-led approach to solutions, think outside the box, and flex your creative muscles.
4. Be part of an inclusive community
Salesforce has been named in the top ten companies to work for in each of the past four years. The company was named one of Forbes's World's Most Innovative Company eight years in a row and came in second on Fortune's 100 Best Companies to Work For® list.
But it's not just the pros working at its headquarters that Salesforce is committed to offering a rewarding and fulfilling career.
The Salesforce ecosystem is notoriously welcoming, helpful, and collaborative. Known as the Ohana, the Salesforce community consists of internal employees, those who work for customers, partners, or ISVs, and freelance Salesforce pros.
Being part of the Ohana is all about sharing the culture that Salesforce is built on, and embodying trust, growth, innovation and equality in your everyday life. If you work with Salesforce, you'll never be short of guidance, support, or a sense of kinship.
Salesforce has long been committed to making the world a better place, and a big part of that mission has been to foster equality in tech, making sure that the incredible opportunities offered to those working with the platform are available to everyone.
And it's undoubtedly out-striding many of its peers in the tech sphere on the diversity and inclusion front. According to our latest salary survey, women made up a third of the Salesforce ecosystem; a significantly higher percentage than the industry average.
In 2015, Salesforce invested around $3 million into reviewing, analyzing, and amending salaries to eliminate pay disparity. There are also a huge number of groups committed to supporting women in the community, providing peer-to-peer mentorship and hosting user groups around the world.
The payoff the ecosystem has seen off the back of this commitment to equality is evident. In the tech industry at large, the percentage of female developers is in the single digits. In Salesforce, women make up 20% of developers, and 45% of system administrators.
5. Access to heaps of training opportunities
Salesforce is renowned for having one of the most comprehensive training offerings in tech; and it's free. Trailhead is an online learning platform through which budding Salesforce experts can upskill in their own time, at their own place, while connecting to a vast community of their fellow learners for advice and support.
Whether you're coming to Salesforce completely green, or you want to learn new skills and advance your Salesforce career, Trailhead offers dedicated learning paths for every experience level, every product, and every job role.
Trailhead users can receive points, collect badges, and if they want to beef up their resumes, earn official certifications—certifications that are highly valued by employers and can give your pay packet a serious boost.
Salesforce is a solution that's always evolving, and by creating Trailhead, the company has committed to helping the community grow alongside it.
6. High earning potential
Last, but certainly not least, is the enormous earning potential that Salesforce Developers enjoy. With Salesforce customers and partners alike in constant competition for the best talent, the ecosystem's supply and demand problem is driving up wages.
The average salary for a software developer in the US is around $85,500. Salesforce developers, on the other hand, earn between $111,232 and $161,418m depending on experience, according to our latest salary survey.
Hourly rates for freelance Salesforce Developers are impressive too, with contractors commanding between $70 and $155 per hour on average.
Specializing in certain aspects of Salesforce, like Sales Cloud or Visualforce, for example, can boost your earning potential further, and netting certifications can have a positive impact on your worth as a professional too.
7. Multiple routes into the ecosystem
A lot of people see tech as a super niche career, available only to a chosen few, but actually, Salesforce is far more accessible than you might think.
There's a common misconception about coding that you have to be some sort of math whiz to be good at it. But especially with today's cloud-based platforms, that's just not true.
With so much free training on offer through the likes of Trailhead, there are very few barriers to a career in Salesforce, even if you're looking to land a technical role like developer or architect.
Salesforce Developers use an object-oriented programming language called Apex, which is similar to Java or C#. If you have experience with these languages, or knowledge of SQL or HTML, you've already got a significant head start when learning to develop Salesforce apps.
Employers don't mind how you come to your Salesforce expertise; whether you were a college tech grad, a Trailhead devotee, or have learned Salesforce by using it in another role, what they really want to see is hands-on, practical experience with the platform; if you can get that, you're almost guaranteed a lucrative career as a Salesforce dev.
In response to a pressing need to generate more Salesforce talent, there are now programs you can take part in that are designed to get you up to speed fast, like Revolent.
---
Sahba Shabrokh
MFTA Salesforce Technical Consultant
"Revolent has opened me up to the Salesforce community and connected me with great companies in need of my skills.
"The experience I've gained from the numerous organizations I've worked with so far has exponentially increased the Salesforce know-how I can bring to businesses in the future."
---
Launched in 2018, Revolent takes passionate people who want to be the Salesforce MVPs of the future, and trains them up into fully-qualified and certified Salesforce Developers.
The Salesforce-authorized training program gives participants access to matchless, fully-funded Salesforce training, resulting in multiple certifications and a two-year contract working with some of the biggest and most exciting Salesforce customers and partners in the world.
Want fully funded Salesforce Developer training and certification?
---
Apply to Revolent today.