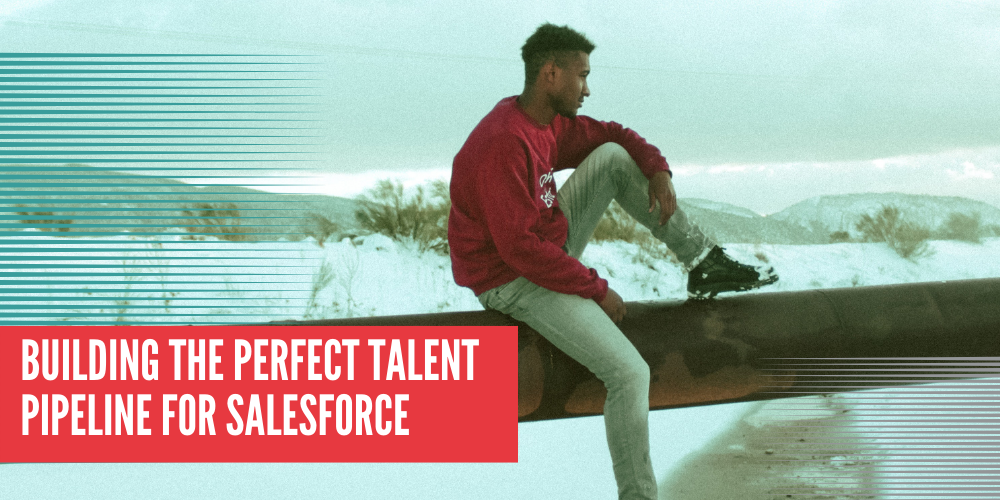 Whether you're a small startup company or a large enterprise corporation, using a CRM such as Salesforce is the most efficient way to grow and scale your business. But that also means you need to have the right people in place to make sure you're harnessing its true potential.
As the platform has grown at a seemingly unstoppable rate in recent years, employers have struggled to find and retain tech talent—and as we enter the 'new normal' it's become even more of a challenge as digital transformation has taken a higher priority for businesses around the globe. It's not just a problem in the US either, it's very much a global issue—in the UK, 70% of tech companies are facing a skills shortage, while other figures suggest that there will be a talent deficit of 85m workers by 2030.
That means building a team of Salesforce specialists is no longer a case of just putting a couple of job ads up then negotiating a salary: you need to have a long-term plan in place to make sure you can attract, nurture and retain talent. And the more defined your talent pipeline is, the more you'll save on the hiring process, both in terms of time and cost, now and in the future.
How This Impacts Business Growth
Unsurprisingly, this skills shortage has a big impact on business growth/productivity. Not addressing recruitment needs quickly enough will also have a detrimental effect. CLO says that this will result in $8.5T in unrealized revenue globally and $1.7T in the US.
As a business owner or tech leader, you'll have likely already seen the negative impact that not having the right skills available can have, slowing down or even preventing completion of projects. This can have a knock-on effect on your ability to deliver to clients or end users, slowing down planned business growth.
Another issue that must be addressed is a lack of diversity in the workplace, which puts off a lot of Salesforce professionals applying for roles. At Mason Frank, we're working proactively to resolve this with a number of initiatives designed to help companies fill the roles and overcome the skills gap. For instance, our Women in Tech Desk is helping to address the gender imbalance in tech; we have a team who connect female professionals to companies in need of their particular skillsets.
We also work hard to help our clients to see the importance of inclusion and accessibility, to make roles suitable to those with a disability. And, we educate them on things like equal pay, recruiting from more diverse ethnic backgrounds and reducing age discrimination.
The Challenges of Hiring Salesforce Professionals
One consequence of Covid has been employees re-evaluating the way they work; they are clear about what they want (and don't want) from a role, and won't consider applying if their needs won't be met. This means it's more difficult for employers to find the Salesforce talent they need than ever—the balance of power when it comes to finding a new role has tipped in the direction of candidates more than it ever has in history.
This means that Salesforce professionals with years of experience are more in demand than ever, and can pick and choose their roles. The onus is on employers to make their workplaces look the most attractive. The good news, however, is that you can build yourself a talent pipeline to ensure you have the Salesforce professionals you need in your business, planning for the short and long-term to make sure it's constantly fuelled. So how can you do this?
In-house training/upskilling
We know that offering training opportunities to potential employees can be an incentive for them to take on a new role (12% of survey respondents). This is a good way to find talent and develop them further.
The best employees want to keep learning, so provide training courses in-house or pay for certifications to keep them engaged. Professionals view growth as a key part of job satisfaction and are putting growing emphasis on finding roles that let them do so. If you don't give them regular learning opportunities, you're missing out on talent, and risking others walking out.
Salesforce provides free training to all its professionals via the Trailhead platform. There are courses and modules for specific roles, and new material is constantly added to help them stay up to date with the latest changes and updates. They also offer more in-depth certifications, particularly for those interested in programming and developer roles.
Obviously investing in certifications is far more desirable—even if you don't contribute to the full cost of them, it's better than being in the 27% of employers who don't pay anything at all towards their employees' certs.
Want access to thousands of pre-qualified Salesforce candidates now? Try our Candidate Search Tool for access to some of the hottest candidates on the market.
Using a training provider
If you don't have the resources in-house to help with the skills gap (and many organizations don't), you might want to get some external help and have a training provider come in to deliver workplace learning, or allow staff to attend courses elsewhere.
The tech skills your employees need will vary depending on the nature of your business, so you may have to find more than one training provider, or find one who specializes in your industry. If you use cloud solutions or other tools alongside Salesforce, your IT partner should be able to point you in the direction of training and how to use it. Sometimes they also have their own programs and can deliver training to groups or departments onsite.
Permanent staff
After a turbulent time for employees around the world, a lot of people are looking for increased job security. If you can offer that, you'll find that the right candidate will be loyal and committed to their role, especially if you also provide perks such as career progression. The Careers and Hiring Guide found that over a third of respondents (35%) who are currently working as freelancers would move to a permanent position. There are a number of factors which would influence that decision, including job security (this was number one for 78%), career progression, a good benefits package and flexible working.
Contract staff
Despite the lure of permanent staff, there are a lot of benefits to a company by choosing to use contractors. During busier periods, on large projects requiring specialist skills that you don't have in-house or when working to complete a deadline, it can be good to bring Salesforce professionals in for a short period of time to help get projects over the line.
A lot of our survey respondents (24%) actually prefer to work as freelancers. They like the variety of working on different projects and being able to pick and choose where and when they work. Offering flexibility in your roles makes it easier to attract the right talent.
Of course, not all companies want to do so, particularly when it comes to remote or hybrid working models. There has been an increased demand for interim hires and contractors to fill the gaps with those businesses, which may mean fewer Salesforce experts available for your organisation.
The Benefits of Using a Recruitment Firm
Finding the right candidate for a role is time-consuming, and if there are multiple vacancies in different departments, it can take even longer. Looking for Salesforce talent with specific knowledge only adds to the complexity of the task.
Even if you have your own HR team, it's a better use of your time to outsource the hunt for employees to a professional recruiter organization. You can send them the job description and employee requirements, and let them find the best candidates for you. And if you need immediate help for a project, they will also be able to find contractors as a stopgap.
A specialist recruiter such as ourselves can really make a difference when you're looking for someone with extensive knowledge of Salesforce. We have an unrivalled network of cloud talent to draw on to find the best candidates (many that work exclusively with us) for your roles.
Ultimately, there's no escaping the global skills shortage, and finding applicants that meet the requirements set out in a job ad can feel like an uphill struggle, with no sign of it going away just yet. That's why it's more important than ever to get your hiring strategy right.
Get access to exclusive insight from Salesforce professionals
---
The Mason Frank Careers and Hiring Guide: Salesforce Edition is available now.