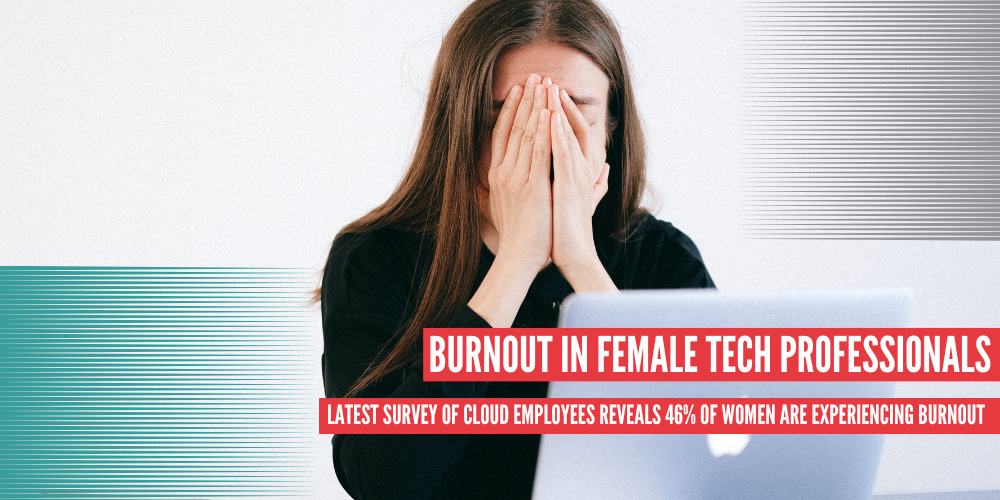 A further deep dive into data from resources including our own Careers and Hiring Guide suggests that female Salesforce professionals are being pushed towards burnout at an alarming rate. Defined by Psychology Today as including chronic exhaustion, chronic cynicism, and inefficacy as the main indicators, burnout is a physical, psychological, and emotional experience that has become increasingly prevalent in recent years.
We looked at other guides that Tenth Revolution Group collate alongside the Mason Frank Careers and Hiring Guide, to get a better idea of the pressures placed on tech professionals across a number of other cloud stacks. The results suggested 46% of women had experienced burnout recently, with a further 7% unsure—meaning that more than half could have been pushed to their physical and mental limits.
Tech news and culture sites alike have referred to the current widespread experience of burnout as a full-blown crisis. And taking the female responses from our latest Salesforce survey, it's clear that the issue is also prevalent within our own community.
Mason Frank President, Zoë Morris, commented: "Burnout really became an undeniable major subject last year, and it continues to be something we have to address for tech workers in all industries. Burnout is bad for any business of course, with its impact on productivity, but it's more fundamentally a question of culture, care, and wellbeing. Seeing that 46% of female tech professionals have experienced burnout in the last year should give us all cause for concern. I suspect the 7% who selected 'not sure' may have also experienced some degree of burnout, too".
Taking action to prevent burnout
While it's safe to say that there's no one catch-all solution to the issue, one great starting point for employers is to hold regular 1-2-1 meetings with team members in order to address concerns on an individual basis. This will help not just to identify problems but also to try to create solutions. Ensure these meetings take place away from the 'shop floor', so employees are able to speak openly in a safe space.
Morris added: "The respondents who chose to share the impact burnout has had on them detailed outcomes that ranged from poor project results and having to take sick leave to leaving their company entirely and further health complications. Of those who discussed overcoming burnout, many noted the importance of reasonable workloads and well-resourced teams, as well as being able to speak openly with colleagues and supervisors."
That action plan of having an open dialogue with staff also means needing to adopt solutions that support all members of the workforce. For instance, many women still take primary responsibility for either childcare, running a household, and often both—while also working reduced hours in order to accommodate that. But that doesn't always mean their workload reflects that.
"The physical and psychological effects of burnout are serious," added Morris, "and it's vital that we work to support women who have or are presently experiencing it, while working towards preventing it from happening at all. We need to work to ensure that workloads are manageable and that company cultures allow for clear and ongoing communication – with a real emphasis on not stigmatizing anyone's workplace needs."
"Burnout doesn't occur in a vacuum, so we have to avoid seeing it only in terms of individual experience. And in the context of the digital skills gap, we have to prioritize cultivating healthy, sustainable workplaces in which women can thrive. Addressing and preventing burnout absolutely has to be a priority within that."
Further insight into the Salesforce ecosystem, as well as a range of practical advice and exclusive insight from some of the community's leading names, is available from Mason Frank's Careers and Hiring Guide now.
---
Survey Results
Have you experienced burnout in your current role in the last twelve months?
| | |
| --- | --- |
| Yes | 46% |
| No | 47% |
| I'm not sure | 7% |
---
Methodology
Statistics were derived from the latest (2022-2023) Careers & Hiring Guides offered by Tenth Revolution Group and its recruitment brands. The total sample size for this study was 532 and included tech professionals working across Salesforce, Amazon Web Services, Microsoft 365, Azure, and Business Applications.
Stay up to date with the latest trends from the Salesforce community
---
Our Careers and Hiring Guide contains exclusive insight, advice, and the data you need to ensure your Salesforce team succeeds.