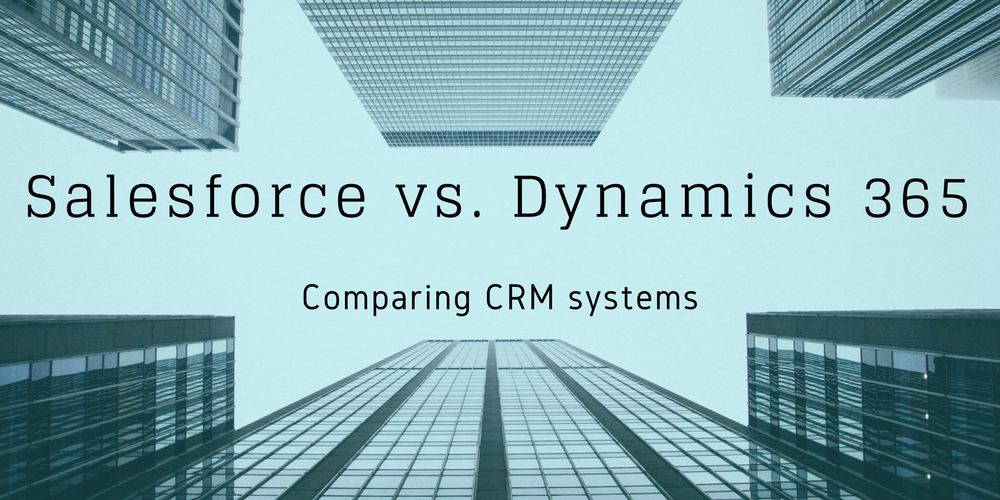 Salesforce and Microsoft Dynamics 365 are two of the more popular Customer Relationship Management (CRM) solutions on the market, but which one is right for your business? This article is one of a series that compares the heavy hitters of CRM, with an emphasis on finding the right fit for your organization.
For a business considering a CRM implementation, the vital stats are often what will influence the final decision. After all, budgets are finite, timescales are rigid, and buy-in from each department in your organization is essential, so you need to choose a solution that ticks all the boxes before committing to a particular product.
Having said that, learning the background of a product or the company that developed it can give you a great idea of whether the solution is right for you. Certain vendors approach CRM in a different way to others, so by taking a look behind the curtain you can get a feel for the company's values and service level.
Salesforce and Microsoft: an intertwining history
Microsoft is a company that doesn't need much of an introduction, having enjoyed a more-than-fair share of the software and hardware market for the last 30 years or so. The company's CRM solution, while a market leader, is just one of many Microsoft applications that prop up modern businesses. Dynamics 365 is the latest release and offers a cloud-based solution to manage sales, customer service, and retail, with more products soon to follow.
By contrast, Salesforce has always been focused primarily on CRM. Initially released in 1999 as sales automation software, the technology proved to be a pioneer of Software as a Service (SaaS), in which each of its many CRM branches could be accessed as part of a comprehensive business suite. As well as sales, the system also endeavors to improve a business's use of analytics, marketing, community engagement, and mobile accessibility.
It appeared, for a brief period, that Salesforce and Microsoft were set to join forces to completely dominate the CRM market, but this strategic partnership soon soured. While the two companies are clearly at the forefront of relationship management technology, it seems both would sooner protect their own market share than strive to innovate together. That said, both companies are hardly strangers to innovation, and their range of solutions currently available to small and large businesses demonstrates this perfectly.
CRM market share
Salesforce is indisputably the market leader in CRM software and has been for some time. While there was once an apparent gap between Salesforce and its competitors, Microsoft is now far more prominent than it used to be and sits tidily between Salesforce and the many other CRM products. As opposed to a faraway market leader, there are now considered to be two market leaders, even if one of them still has a substantial handicap.
There are many reasons why Microsoft has managed to close the gap, and these may help to form the decision of which solution is right for your business. With that in mind, let's outline each company's CRM offering and compare them appropriately.
Salesforce vs. Microsoft Dynamics 365: features

Salesforce
Splitting its CRM product up into individual modules, or 'clouds', Salesforce allows businesses to pick and choose from which functions they would like to benefit. The core offerings focus on sales, marketing, and customer service, while additional modules can be embraced to cater for specific and niche business needs. The core products are as follows:
Sales Cloud
Sales Cloud enables businesses to make the best use of data by employing Salesforce's celebrated Einstein artificial intelligence feature. Not only does this make managing and utilizing leads a lot more efficient, but your capacity to identify leads is also optimized by improving marketing campaigns, customer interactions, and other lead capture methods.
The core principles of Sales Cloud are close more deals, get more leads, accelerate productivity, and make insightful decisions. Here are some of the features that will help your business do just that:
● Contact management
● Opportunity management
● Lead management
● Reports and dashboards
● Salesforce mobile
● Email integration
● Salesforce forecasting
● Workflow and approvals
● Einstein AI
● Territory management
● Quote-to-cash
● Partner management
Service Cloud
While Sales Cloud is a conversion-focused product, Service Cloud helps to put your customers first by offering convenient and straightforward case management, complete with intelligent solutions for self-service customer care. Gone are the days of drawn-out customer complaints, escalated over several departments until the desired resolution is met. These days, customers want immediate solutions to their problems; a personal service with a first-contact resolution is essential to ensure repeat business.
Service Cloud boasts a number of features that have helped establish it as one of the more comprehensive customer service platforms on the market. Here are just a few of those:
● Lightning console
● Workflow and approvals
● Case management
● Omni routing
● Telephony integration
● Social customer service
● Custom reports and dashboards
● Asset and order management
● Automation with macros
● Account and contact management
Marketing Cloud
With so many branches of modern marketing, finding a comprehensive solution that oversees all of your marketing campaigns can prove impossible, but this is something that Salesforce Marketing Cloud strives to achieve. By offering personalized customer journeys across everything from mailshots to social media, you can present your product to the customer in a way that speaks to them, and never once feels intrusive (which is a common complaint of mass marketing).
There are many features that make up Marketing Cloud, and even some that are available as supplementary products to enhance your marketing prowess. Here are some of the core features, with additional modules discussed in more detail in the next section:
● Social media studio
● Advertising studio
● Mobile studio
● B2C journey management
● B2B marketing automation
● Email studio
● Journey builder
As mentioned previously, several supplementary modules are available to assist with marketing and the customer experience. Pardot, for example, allows you to visualize sales and marketing in one singular platform. The advanced analytics offered by Pardot make it a unique solution to B2B marketing automation.
Likewise, Salesforce DMP enables users to utilize data across multiple platforms to improve consumer relationships and discover new insights. What's more, with the Salesforce AppExchange, custom and purpose-built solutions are popping up on a daily basis to support businesses with their CRM.
Microsoft Dynamics 365
Dynamics 365 is a comprehensive product that combines the best of Microsoft's historical CRM and ERP offerings (Dynamics AX, CRM, NAV) in one cloud-based system. Much like Salesforce, the service is split into three distinct modules — Dynamics 365 for Sales, for Customer Service, and for Retail — with a fourth on the way in Spring 2018.
Dynamics 365 for Sales
Microsoft's answer to sales administration focuses on turning new and existing relationships into revenue, with analytics and insight offered throughout the entire sales cycle. The system benefits from seamless integration with core Microsoft products such as Office 365 and Outlook, not to mention the benefits of combining the platform with LinkedIn Sales Navigator (Microsoft's new partnership with LinkedIn has already proven to be a gamechanger for sales-focused CRMs). Here are some of the features that make Dynamics 365 for Sales the heavyweight that it is:
● Social engagement
● AI-integrated sales assistant
● Content personalization
● Opportunity management
● Sales mobility
● Partner management
● Sales effectiveness
● Reports and dashboards
Dynamics 365 for Customer Service
Microsoft recognizes the need to give customers quick, relevant solutions to their questions and complaints, which is why Dynamics 365 for Customer Service allows businesses to interact with consumers through any channel, on any device. What's more, the system becomes more sophisticated as time goes on, processing your customer interactions to provide better-personalized solutions for your operation. Here are some of its outstanding features:
● Predictive care
● AI insights
● Guided actions
● 360-degree view of the customer journey
● Upselling via machine learning
● Customisable
● Integration with social media platforms
● Self-service portals
Dynamics 365 for Retail
The key to a successful retail outfit is not just effective and well-executed administration (such as stock taking, supply-chain management, and retaining customer records), but also the ability to identify opportunities to improve the customer experience and affirm brand loyalty. The retail customer is constantly evolving, and so Dynamics 365 for Retail provides a forever-adapting platform to manage both physical and web-based stores. Here are just a few of the features from which the module benefits.
● Omni-channel buying
● Real-time visibility
● Advanced customer analytics
● Business intelligence dashboard
● Automation dashboard
● Detailed customer profiles
● Stock/inventory management
● Product demand tracking
● Insight-driven optimization
● Order fulfillment
● Integrated tax information
Dynamics 365 for Marketing (soon to be released)
Expected to be released in April 2018, Dynamics 365 for Marketing aims to rival Salesforce Marketing Cloud by providing businesses with an all-encompassing marketing suite that is readily compatible with all other core Microsoft products, including the rest of Dynamics 365. This module is currently available to preview on the Microsoft site, for those who wish to familiarise themselves before the product launches officially. Here are a few of the features that you can expect:
● Multi-channel campaigns
● Customizable email and landing page templates
● Personalization of the customer journey
● Embedded intelligence functions
● Event management capabilities
● Native customer survey tools
● Built-in dashboards
Salesforce vs. Microsoft Dynamics 365: pricing

While in an ideal world every business could implement the CRM system that meets their every requirement, the reality is that pricing is often the deciding factor. Luckily, both Salesforce and Microsoft allow users to pick and choose which modules they subscribe to as part of their overall CRM solution, ensuring no wasted expenditure for businesses.
Salesforce
With Salesforce tailoring solutions for businesses depending on their size, needs, and available budget, its pricing reflects this. As well as the type of app your solution includes, there are also licensing levels that entitle the user to more features, but at a cost. Here are the different subscriptions available to businesses, with some information as to what size of organization they are aimed at.
Lightning Essentials — An out-of-the-box CRM solution for up to five users per month. This package is only available for certain products and is aimed at close-knit teams, sole traders, and partnerships.
Lightning Professional — This level of subscription provides a comprehensive CRM for any size team, but is a reasonably rigid solution with few customization options. This package includes all the features of Lightning Essentials, as well as additional benefits.
Lightning Enterprise — The most-popular package of the four, Lightning Enterprise includes all the features of Lightning Professional as well as additional capabilities. This edition is very customizable, making it an excellent solution for organizations that want a purpose-built CRM.
Lightning Unlimited — The most comprehensive package, Lightning Unlimited is appropriately named, with the emphasis on having unlimited capability, support, online storage, and potential. This contains everything from the Lightning Enterprise edition, as well as modules that are exclusive to this package.
Check out this pricing information for the Salesforce modules that were detailed earlier in this article.
Sales Cloud
● Lightning Essentials: $25/user/month
● Lightning Professional: $75/user/month
● Lightning Enterprise: $150/user/month
● Lightning Unlimited: $300/user/month
Service Cloud
● Lightning Professional: $75/user/month
● Lightning Enterprise: $150/user/month
● Lightning Unlimited: $300/user/month
Salesforce does not publish pricing information for Marketing Cloud. This is because the company prefers to discuss the needs of a business before providing a quote; the level of customization involved with Marketing Cloud means it makes more sense to offer a bespoke product and pricing model than list a standard subscription fee.
Salesforce splits Marketing Cloud into four areas: email, mobile, and web marketing; social media marketing; advertising; and B2B marketing automation. These modules can be purchased separately or combined to create a conclusive Marketing Cloud solution. It all depends on what you need for your business, but it's nice to have the selection.
MS Dynamics 365
Microsoft also recognizes the need for businesses to pick and choose the most relevant modules and applications, which is why the pricing structure is adaptable. You can either choose a set plan, in which a selection of applications and features are included, or put together a collection of your own preferred applications and pay for what you use. If you find you aren't getting the most out of the modules you choose, you can downgrade or upgrade whenever you like.
The pricing for these plans and individual modules are as follows:
Dynamics 365 Plan — all applications
Priced from $210/user/month
Includes: Retail, Talent, Sales, Finance and Operations, Customer Service, Project Service Automation, Field Service, Microsoft Social Engagement, PowerApps.
Unified Operations Plan — applications that help connect and manage operations
Priced from $190/user/month
Includes: Retail, Talent, Finance and Operations, PowerApps.
Customer Engagement Plan — applications that help build and support customer relationships
Priced from $115/user/month
Includes: Sales, Customer Service, Project Service Automation, Field Service, Microsoft Social Engagement, PowerApps.
Standalone Dynamics 365 applications
As mentioned previously, standalone apps can be purchased so businesses can have access to only the modules they need. The pricing is as follows:
Dynamics 365 for Retail: from $170
Dynamics 365 for Talent: from $40
Dynamics 365 for Sales: from $95
Dynamics 365 for Customer Service: from $95
Project Service Automation: from $95
Microsoft Relationship Sales: from $135
PowerApps: from $40
A crucial difference in pricing is that additional users on Microsoft applications cost just $8/month, whereas Salesforce is significantly more expensive. These additional team members do not have full access to the application's features, however, but rather 'read-only' access. Users with this permission will be able to access data and perform basic functions, but nothing compared to full access.
Salesforce vs. Microsoft Dynamics 365: pros and cons

Both Salesforce and Microsoft Dynamics 365 are exceptional CRM solutions for businesses of any size, but there are certainly distinguishing factors between the two that make them more or less appropriate for a business. Take a look at these pros and cons and use them to inform your decision, if it hasn't been made already.
Salesforce: pros
● Salesforce benefits from a huge number of product integrations, with thousands of services across the internet queuing up to have their app listed on the Salesforce AppExchange.
● Salesforce doubles up as a strategic advisor in addition to a CRM provider. Given the strong ties that the company has over a wide range of industries, the guidance and insight they can offer are perhaps unmatched.
● Where Microsoft relies on implementation partners to deliver customer orientation, Salesforce handles this themselves. Less delegation can often mean a comprehensive job.
● Service Cloud has proved overwhelmingly successful, with Gartner estimating that 20% of Salesforce's new revenue came from Service Cloud in 2016. The growth of this module shows no signs of slowing down.
Salesforce: cons
● Salesforce relies heavily on integrations to share data with other systems. This is because it is a standalone CRM platform and is incapable of performing functions that hybrid (CRM and ERP) systems can.
● Salesforce is about as efficient as it gets, but this comes at a price. While individual modules are priced reasonably, enterprises looking to implement the full Salesforce package may find themselves priced out. The cost soon adds up when you figure in all the modules you will need, and the number of users.
● While the scope for customization is huge, it can still take a long time to migrate to or implement Salesforce. It is recommended that businesses research similar implementations instead of tendering for a purpose-built solution, as this will save massively on time and money.
Microsoft Dynamics 365: pros
● The interface is simple and easy to customize, making it a great option for those who want a quick setup and adaptability as the project progresses.
● The level of seamless integration with other Microsoft business products is stunning, and a fantastic option for existing Microsoft power users.
● The product is modular, meaning users can pick and choose which applications they wish to benefit from and pay for them separately.
● Microsoft is still committed to on-premise solutions as well as cloud, so businesses don't have to feel obligated to choose cloud, particularly if the network coverage isn't great in that part of the world.
Microsoft Dynamics 365: cons
● The total cost of ownership for Dynamics 365 for Customer Service has increased in recent times. It is unclear whether the subscription cost to other modules will also increase.
● There is a void in expertise for businesses seeking an implementation partner that will both streamline business processes and improve technology — they tend to specialize in one or the other. To its credit, Microsoft is attempting to resolve this problem by increasing focus on new certifications and partner training.
● Dynamics 365 doesn't have a great deal of existing templates for specific industries (certainly not compared to Salesforce), but this will improve as the number of Partners increases and Dynamics 365 matures.
Salesforce and Dynamics 365 user reviews
We have explored the individual features of each platform, compared pricing, and even discussed the logical pros and cons for both Salesforce and Dynamics. While user reviews should be taken with a pinch of salt, as review systems and websites can often be manipulated, there is no harm in taking a look at what users are saying; it's quite easy to spot fake reviews, which often contain little product knowledge or detail.
The reviews on TrustRadius.com are particularly helpful, as they contain anecdotal information about Salesforce from its user base, as well as use cases and deployment across varying business sizes and industries. The reviewers are also verified, so you don't have to worry about fake news.
The following ratings from SoftwareAdvice.com are based on thousands of reviews for both CRM platforms. We would recommend looking through individual reviews to get the perspective of a unique user, as you may find someone with implementation needs similar to that of your business. For a quick glimpse into the general feelings towards these CRM solutions from their user base, here is a collection of ratings from SoftwareAdvice:
| | | |
| --- | --- | --- |
| | Salesforce | Dynamics 365 |
| Overall customer rating | ★★★★ | ★★★½ |
| Recommended by % of users | 79% | 51% |
| Price Bracket | $$$ | $$ |
| On-premise? | No | Yes |
| Cloud? | Yes | Yes |
| Ease of use | ★★★★ | ★★★½ |
Before you make your decision…
Hopefully, the information we've included in this detailed comparison guide will give you an idea of which solution you're leaning towards. The selection process is by no means over, however, as it is absolutely vital that you speak to vendors before committing one way or the other.
If you haven't already, check out our article on CRM vendor selection, in which there is some valuable insight into the type of questions you should be asking potential vendors. There is also a downloadable document of these questions, as well as other evaluation criteria that you may find useful.
When it comes to features, Salesforce is still the most functional CRM on the market, though Dynamics 365 could be set to make up ground once D365 for Marketing is released. Salesforce also offers reasonable pricing on individual modules, but if you are looking for a comprehensive CRM solution, Dynamics 365 provides the cheapest overall package, particularly when you have a greater number of users. It really does depend on the needs and size of your business.
If you are still wracked with indecision, you could always try before you buy. Both Salesforce and Dynamics 365 offer a free trial for users, with the option of retaining data should you wish to upgrade your free trial to a full package.
Feel free to contact us if you are looking for CRM implementation advice or are seeking professionals to oversee your implementation. Alternatively, if you are looking for more information on Microsoft Dynamics, be sure to visit Nigel Frank's Dynamics blog for all the latest industry developments.