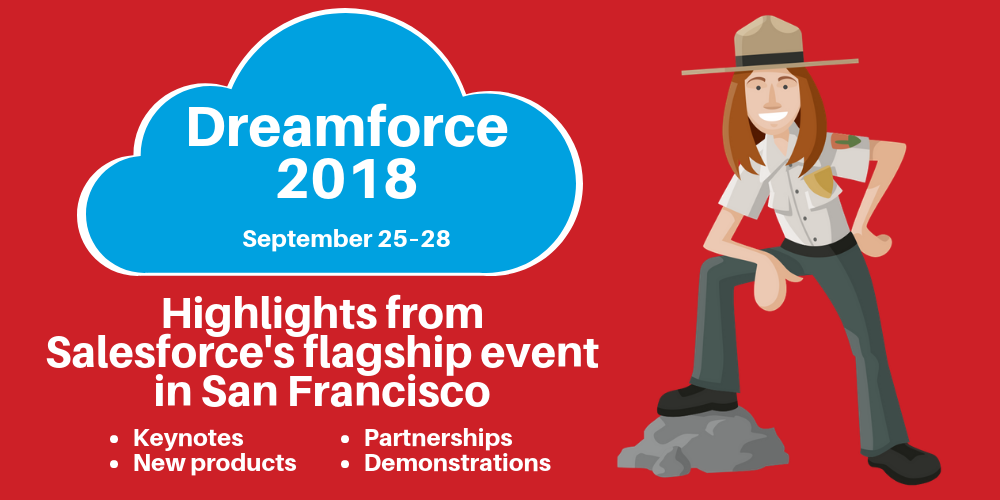 Read our breakdown of Dreamforce 2018 highlights for an exploration of new products, strategic partnerships, and key innovations revealed at Salesforce's flagship technology event in San Francisco, California.
Dreamforce 2018 was predicted to be one of the largest and most impressive tech events in history, and with around 3,000 sessions decorating the four-day Salesforce convention, it certainly didn't disappoint.
With guest speakers ranging from former American Vice President Al Gore to Andre Iguodala of the NBA's Golden State Warriors, Salesforce treated the Ohana to a range of inspirational public figures, entrepreneurs, and thought leaders at its flagship event.
Dreamforce also provides a prime opportunity to announce new products and developments on the Salesforce platform, and this year's exciting reveals could be set to revolutionize the way we use Salesforce technology.
Here are the key highlights from Dreamforce 2018. Click an item below to read more.
---
Dreamforce 2018 Keynotes
Salesforce strategic partnerships
Product announcements
Other highlights
---
But first, a quick Q & A…
When was Dreamforce 2018?
The dates for Dreamforce 2018 were September 25th–28th 2018.
Where was Dreamforce 2018?
The location for Dreamforce 2018 was split between several venues in San Francisco, Ca, including the Moscone Center, InterContinental, Palace Hotel, Marriott Marquis, Park Central, Hilton Union Square, and Westin St. Francis.
What was the attendance for Dreamforce 2018?
Around 171,000 Salesforce professionals attended Dreamforce 2018, effectively taking over San Francisco—like a Mardi Gras for the Ohana.
What was the concert at Dreamforce 2018?
Salesforce is no stranger to booking A-list talent for its flagship event, and this year was no different. Metallica headlined this year's Dreamfest, a benefit to raise funds for UCSF Benioff Children's Hospitals.
Interestingly, this coincided with Metallica publicizing that they use Salesforce Marketing Cloud to connect with their loyal fans. The after party was also hosted by MC Hammer, because apparently Vanilla Ice wasn't available.
What was the schedule/agenda for Dreamforce 2018?
Day one of Dreamforce was based around trust, while days two and three centered around innovation and AI, and equality and sustainability respectively. Day four focused on mindfulness, with 22 monks flown in from France to lead meditation sessions.
If you're looking for a collection of takeaways from the more-notable sessions, you're in the right place! Read on to discover our highlights from the biggest Salesforce event of the year, or click below to reveal a selection of key sessions that we curated before the event.

Marc Benioff keynote: Trailblazers of the world unite
Salesforce Chairman and Co-CEO, Marc Benioff, kicked off Dreamforce 2018 with an inspiring keynote that celebrated the Trailblazer community. Benioff opened the keynote by proclaiming that Dreamforce was more like a 'family reunion' than a tech convention, such is the nature of the vibrant and inclusive Salesforce community.
The message from Salesforce is clear: we are in the fourth industrial revolution, and this is the era of change. The keynote was packed full of use-cases for Salesforce in some of the world's largest companies, including Unilever and Marriot, and highlighted how they are utilizing new products and technologies to reach even further into their respective markets and connect directly with customers.
The keynote also offered the opportunity to announce brand new Salesforce products, as well as new and expanded strategic partnerships with some of the world's leading technology companies. We will explore these key announcements in detail, but you can check out Benioff's here keynote on Salesforce Live for live demos of these new innovations.
Salesforce for admins keynote 2018: #AwesomeAdmins, diversity, and live demos
Salesforce has always been a champion of equality and diversity, but did you know that 48% of the Salesforce Admin community are women? Compare this to the research conducted in our annual independent Salesforce Salary Survey, where we found that the Salesforce ecosystem is around 32% female, and it appears that women gravitate towards becoming #AwesomeAdmins.
Salesforce co-founder Parker Harris lead the admin keynote, where he addressed 'the original Trailblazers' and heralded the opportunities they've created across the tech spectrum: 3.3million new jobs and 10million Trailblazers by 2022, with one in four Trailhead users finding a new job.
"We need more women in tech," Harris said to the keynote audience. "And you guys are helping to pave the way to creating gender diversity in tech, so thank you very much for that."
The keynote also included several product demos that Salesforce Administrators would benefit from seeing, so be sure to check out the keynote in full above.
Sales Cloud keynote 2018
Sales Cloud is the most popular standalone Salesforce product—in our independent 2018/19 Salesforce salary survey, 82% of respondents reported proficiency in Sales Cloud.
In this year's Sales Cloud keynote, we were afforded the first glimpse of High Velocity Sales, Salesforce's new way to reach the best leads, before intelligently converting them into new sales opportunities, all in one seamless workspace. Einstein Lead Scoring will prioritize the best leads, while manual data entry is reduced with AI activity capture.
Take a closer look at High Velocity Sales on the Salesforce website, or watch the full Sales Cloud Keynote above.
Marketing Cloud keynote 2018
The 2018 Salesforce Marketing Cloud keynote centered around intelligent marketing for the empowered consumer, with an emphasis on knowing your customer, personalizing with intelligence, and engaging across the entire journey. It included insights from huge brands such as Warner Bros and Ticketmaster, exploring how they utilize Salesforce technology to connect with customers.
Salesforce acquired marketing intelligence company Datorama earlier this year, and its co-founder, Katrin Ribant, was on hand during the keynote to explain how AI-driven insights can be utilized by businesses using the world's #1 marketing platform.
While Sales Cloud is currently the most widely used individual Salesforce product, Marketing Cloud is predicted to be the most in-demand solution over the next 12 months, according to research conducted in our independent Salesforce salary survey.
Mulesoft integration keynote 2018
Salesforce acquired Mulesoft earlier this year for $6.5billion, but the platform has retained its identity throughout the early stages of this new relationship. In the Mulesoft integration keynote, CMO stressed the importance of integration between cloud products, revealing the startling statistic that the average enterprise has 1,100 cloud applications.
Read this insightful blog post on Mulesoft's Anypoint Platform, which allows customers to build an application network that uses Salesforce APIs to connect apps, data, and devices in the cloud. You should take the time to watch the full keynote, particularly if you're a user of cloud technology but fear being overwhelmed by the range of data you're collecting.

New global partnership with Apple
Apple is the technology giant behind the world's most advanced mobile operating system, and with a growing emphasis on mobile CRM, it's no surprise that Salesforce is joining forces with Apple to deliver groundbreaking solutions on iOS.
Apple CEO, Tim Cook, celebrated the new partnership for the way it will revolutionize the customer experience. "We're excited to work with Salesforce," he said. "Their industry-leading CRM will embrace native iOS and deliver exclusive new features on iPhone and iPad.
"With the powerful combination of iPhone, iPad and iOS — the best hardware and software for business — together with native Salesforce apps and the new Salesforce SDK, we can deliver great customer experiences for businesses around the world."
This newly announced strategic partnership only serves to strengthen Salesforce's position as the number one CRM platform, but what does this new partnership mean for users of Salesforce?
A reimagined Salesforce mobile app
The new Salesforce mobile app will benefit from Apple capabilities such as Face ID and Business Chat, as well as Siri voice technology, which opens up a world of possibilities.
Trailhead is coming to mobile
Trailhead is Salesforce's revolutionary web-based education portal, and the good news for Trailblazers is that it's finally coming to mobile. Upskilling in Salesforce is now more accessible than ever.
Salesforce Mobile SDK
There will be no issue with cross-compatibility between languages, as Apple and Salesforce are working together on their first ever Salesforce Mobile SDK, which will be optimized for Swift. You will now be able to develop apps directly on the Salesforce Lightning Platform, before deploying them on iOS.
New developer Trails
Developers aren't expected to dive into the world of iOS without an introduction, and so Salesforce will be adding a new Get Started with iOS App Development Trail. This partnership has clearly been well planned. You can access the Apple trail here.
An expanded strategic partnership with AWS
Salesforce keeps its friends close and its competitors closer, now holding strategic partnerships with Apple, Google, IBM, and AWS. While Salesforce and AWS have been working together for a while now, their expanded partnership will integrate even more services between these cloud software specialists, and see them collaborate on a solution that enables mutual customers to easily publish and subscribe to Salesforce Platform Events in AWS. Salesforce events, such as the creation of a new sales opportunity, can now trigger actions in AWS products, with real-time updates to data across all platforms.
AWS PrivateLink allows application developers to offer private endpoints for core Salesforce APIs within Amazon Virtual Private Cloud. Salesforce Service Cloud users will also be pleased to learn that they can now build dynamic, AI-driven self-service voice experiences thanks to an integration with Amazon Connect. Amazon Connect CTI Adapter is now available on the AppExchange.
Salesforce already runs the vast majority of its public cloud workloads on AWS, while additional services such as Heroku, Quip and Marketing Cloud Social Studio also run on AWS infrastructure.
"Salesforce's growing strategic relationship with AWS is fueled by a shared commitment to customer success," said Bret Taylor, President and Chief Product Officer, Salesforce. "Our newest integrations will empower CIOs to securely share and synchronize data across two of the world's most trusted cloud platforms to accelerate their digital transformation."

Salesforce Customer 360
Salesforce's acquisition of Mulesoft was predicted to open up a world of potential for integrations, and this is only now being realized with the release of Customer 360. Salesforce has always been a customer-centric platform, and Customer 360 offers businesses a click-based admin interface that makes it easier than ever to connect and manage customer data across multiple Salesforce application.
Customer 360 is all about identifying a customer across multiple channels, using everything from their name and phone number to social media handle to instantly pull up the customer profile, allowing you to learn more about the opportunity.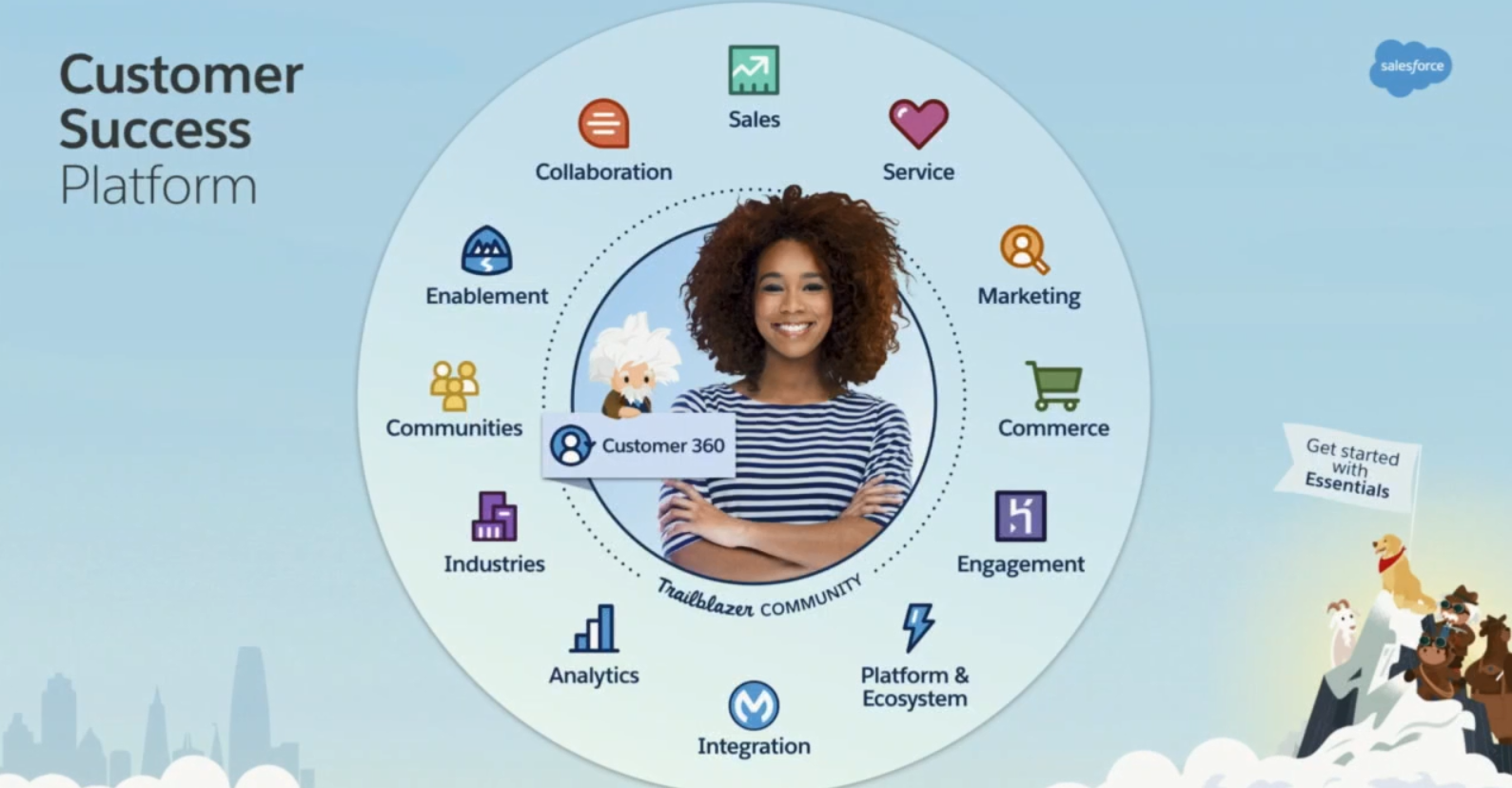 The feature will also be ready to go on a native level; there are pre-built packages for Marketing, Service, and Commerce Cloud, to create a truly complete customer view across the full Salesforce product suite.
Einstein Voice Assistant
Salesforce Einstein has been heralded for the data-driven insights it provides to businesses around the world, but CRM's most sophisticated AI module just became more intelligent. With the newly announced Einstein Voice Assistant, Salesforce users are now able to take advantage of a voice-activated user interface, which excels in processing natural language to perform a wide range of tasks and activities. No more repetitive admin tasks, no more time-consuming word and data processing; Einstein will translate voice data to update Salesforce records in real time.
Voice technology is predicted to revolutionize the customer experience over the next decade—business consultant Capgemini predicts that by 2021, 40 percent of consumers will use voice technology, which makes it more important than ever for businesses to seriously consider embracing voice search and optimization. Einstein Voice Assistant presents an excellent opportunity to become voice-ready.
Salesforce users can now build branded voice bots for their company and create custom commands to create immediate voice-activated solutions for their customers, whether utilized through Siri, Google Assistant, or Alexa. Trailblazers can take the Get Smart with Salesforce Einstein Trail to begin tinkering with voice UI today.

Dreampitch at Dreamforce 2018
The winner of Dreampitch at this year's Dreamforce has quite a remarkable story. Mars Mundy is CEO of CarServ, an operating system for the auto repair industry, and won the opportunity to enter the competition after pitching his product to Salesforce President Bret Taylor during a 40-second elevator ride in Salesforce Tower. Three weeks later, he walked away from Dreampitch a winner, with $250,000 in his back pocket and enough steam to take his company to the moon and back.
Mars pitched in front of a panel that included musician Will.i.am and NBA star Andre Iguodala, and was praised for CarServ's utilization of Heroku to drive data-informed customer engagement. The level of competition was particularly high this year, and the other two Dreampitch finalists were highly praised for both their ideas and presentation skills.
Shopping at hyperspeed with Commerce Cloud
As Salesforce professionals, you are at the forefront of technology and have all the tools to innovate. But sometimes, given what you know about sales and marketing technology, it can be difficult to put yourself in the mind of the modern consumer, particularly as they're probably more than half of your age!
In this hilarious-but-insightful session, Commerce Cloud CEO Mike Miccuci invited his two young daughters onto the stage, handed them an iPhone each, and challenged them to fill their shopping carts with as many beauty products as possible within a 20-minute window. In the demonstration, we saw how efficiently Einstein suggested relevant and related products, and how this informed and steered the customer experience. Watch the Commerce Cloud session here.

Complete the form below and receive your PDF report in seconds.