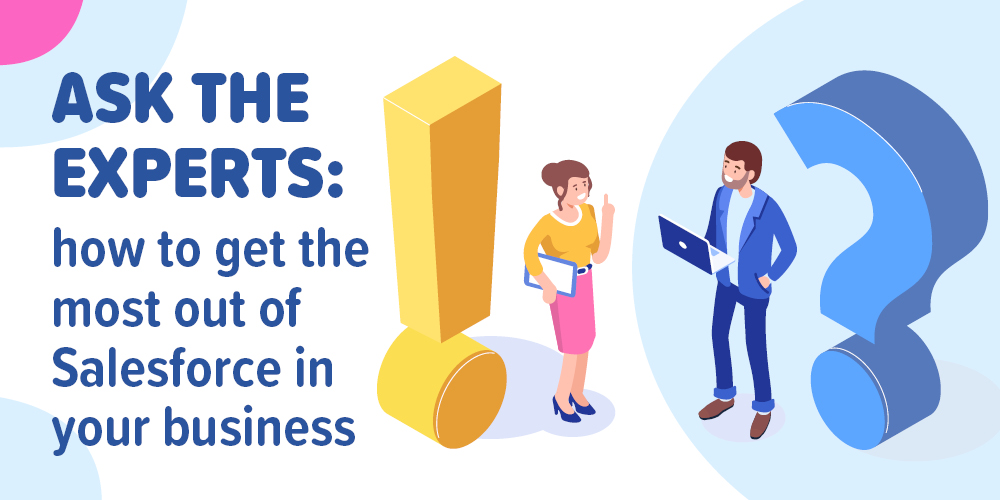 Ever wondered how to get more out of Salesforce? You're in luck—we've asked the experts.
Salesforce is an incredibly powerful and functional business tool. But to get the most out of the technology, you need to know what best practices to follow, which products and add-ons can help you, and how to stay on top of Salesforce's latest upgrades and features.
Whether you're a Salesforce professional looking for ways to enhance your skillset, or an end user desperately seeking for ways to optimize Salesforce in your business, the best way to get insights into the use of Salesforce is to look towards its user base.
The famous Salesforce Ohana
Perhaps as notorious as the technology itself, the Salesforce Ohana is a notoriously tight-knit yet inclusive community, where knowledge sharing and peer support is not only commonplace but encouraged by the company itself. Salesforce's Trailblazer community offers a great platform for both fresh and experienced professionals to discuss their tech problems with people who can help.
At the forefront of that community are Salesforce bloggers and influencers—people who dedicate their free time to connecting with Salesforce professionals, learning of their pain points and technical challenges, and then producing information-rich content to help them.
Salesforce's open-education platform Trailhead, in combination with the many long-established Salesforce blogs, forums and user groups, has helped inspire thousands of new Salesforce professionals to enter the ecosystem over the last few years.
To help you get the most out of your use of Salesforce, we've spoken to some of the most popular bloggers and bastions of knowledge from the Ohana and compiled their best tips to share with you—some of them are surprisingly easy to implement!
Have a useful Salesforce tip of your own? Let us know in the comments below.
1. Stay on top of Salesforce's latest products and releases
"You need to get to the future ahead of your customers, and be ready to greet them when they arrive."
Salesforce's suite of business products is constantly being enhanced and upgraded, which results in a platform update roughly every three months. While you can be a bonafide guru in the Salesforce ecosystem, this could all disappear in the space of six months if you don't make a habit of refreshing your knowledge.
---
Manish Thaduri / SFDC Fanboy
Sometimes businesses already have access to a great solution, but don't know about it because they've neglected to keep track of platform updates.
Salesforce releases new features every quarter, so to get the most out of your CRM you need to be aware of what's new in the technology and what Salesforce can offer your business with every release.
---
This tip is echoed by Iain Clements from Cloud Ursa, who recommends checking out Trailhead whenever there's a new release. "My top tip for getting the most out of Salesforce is to stay current with all the great release training materials in Trailhead," Iain explained. "There's always a new feature or add-on that'll make life easier, and the release is usually launched in conjunction with new modules on Trailhead to get you up to speed. Always continue to invest in your expertise!"
2. Follow bloggers and influencers in your niche
We've already spoken about the many bloggers and product champions in the Salesforce ecosystem and how influential they've been in the learning journey of new professionals. Sometimes a fellow user can explain concepts in a way that's far more relatable, which is why Salesforce recognizes the Ohana as a vital element of educating new users.
As a prolific Salesforce blogger himself, Enrico Murru of Nerd @ Work knows how expansive and inclusive the Salesforce community can be. He hails the Ohana for driving Salesforce's 'never-ending' ecosystem and giving users support for whichever technical problems they end up facing.
---
Enrico Murru / Nerd @ Work
It may seem foregone, and this has been said thousands of times, but the best way to get the most out of Salesforce is embracing the Ohana and its never-ending ecosystem: blogs, social accounts, official documentation, forums, the Trailblazer community, thousands of Twitter accounts, the #AskForce hashtag. There's a world ready to help you in whichever issue you face.
---
Do you have a particular blogger or community forum that's helped you in you career? Why not share it with us in the comments below.
3. Discover products and tools that make your job easier
While Salesforce boasts plenty of functionality out of the box, one of the strengths of the CRM is the depth of the add-ons and plugins available on the Salesforce AppExchange. If you can find a tool that's perfect for either your focus product, job role, or industry, you could find yourself completely transforming the way you work on a daily basis.
But which tools do users find particularly useful? Let's see what the experts had to say…
---
Manish Thaduri / SFDC Fanboy
My favorite tool in Salesforce is Process Builder. It has come as a replacement for Workflows, but it does a lot more than what workflows could do and with ease. This is the most loved tool by #AwesomeAdmins. What's more, some complex automation can be done using this point-and-click tool.
---
Iain Clements / Cloud Ursa
The Salesforce tools I use most are workbench and dataloader.io. Nearly all projects invoke data migration, and these tools can really help with that.
---
Enrico Murru / Nerd @ Work
My favorite Salesforce tools are:
Looking for the best plugins and add-ons to enhance Salesforce in your business? Check out our full collection of Salesforce apps and upgrades.
4. Make the most of integrations
In addition to all the fantastic Salesforce products out there, you should also be prepared to embrace the many integrations that make Salesforce the most functional and business-ready CRM on the market.
Salesforce was already a huge proponent of service integration, but following the company's acquisition of MuleSoft, SaaS integrations are set to become even easier. Ian Clements from Cloud Ursa thinks this is the most impressive thing about Salesforce technology.
---
Iain Clements / Cloud Ursa
The most impressive thing about Salesforce is the power to connect. I just think that the ability of the Salesforce platform for additional integrations/connections really sets it apart. Syncing data, connecting to 3rd party APIs, using other front ends and connecting into Salesforce. So much is possible.
---
5. Learn what you can customize and use it to your advantage!
As well as boasting simple point-and-click functionality for building apps and creating custom views such as dashboards for reporting, to really get the most out of Salesforce you need to learn how to customize it.
Salesforce Developers and architects are always busy because virtually every element of Salesforce can be customized. This means you can build a CRM system that's perfectly suited to your organization, with no room for wasted fields or features. According to Enrico Murru, customization is what made him fall in love with the technology.
---
Enrico Murru / Nerd @ Work
There isn't one particular feature that impresses me the most about Salesforce; the thing that made me love Salesforce unconditionally is the customization power of every aspect of the platform.
This feature grants superpowers to admins and developers, and the fact that you can often address a customization in more than one way leads to discovering new features and learning day by day.

---
Lightning Experience has made it easy to customize your interface without using any code, which is fantastic for those without a technical background, but to get deep into the back-end of Salesforce, you'll need to learn how to code. Where do you start? Why not try Salesforce Trailhead, or check out our guide to becoming a Salesforce Developer.
Interested in learning which Salesforce products are most embraced by the ecosystem? Download our salary survey.

Complete the form below and receive your PDF report in seconds.