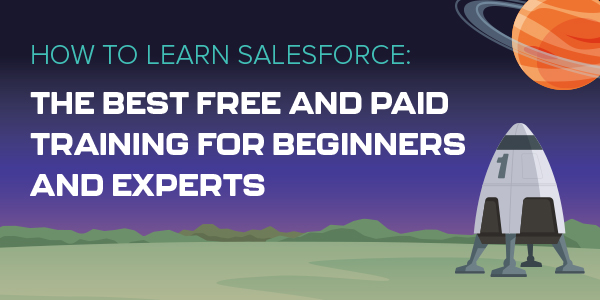 Salesforce is an innovative tool that can be very powerful when used properly. That's why it's important to find effective and trustworthy ways to learn Salesforce, be that as a beginner or a seasoned professional looking to top up their knowledge.
The problem is that there are so many Salesforce training resources out there, it's difficult to know where to start.
Everyone has different learning styles and financial means, but there are various learning options to suit all requirements. To aid you in your educational journey, Mason Frank has researched and compiled the following list of trustworthy, authentic Salesforce training tools.
This list will help you determine the best Salesforce training option for you, your team, or your company based on your specific logistical or budgetary needs.
Best ways to learn Salesforce for free in 2023
Before we detail all the different ways you can learn Salesforce and which would be most suitable based on your circumstances, let's talk about the here and now.
After a period where many of us found ourselves rethinking our careers, skills, and specialisms during the pandemic, after being furloughed or, unfortunately, let go—the world is bouncing back. After Salesforce stepped up to support those in need during this challenging period, the platform's continued growth means the opportunity is there to evolve your existing skillset in order to progress.
So whether you're brand new to Salesforce or looking to upskill further to increase what may be available to you professionally, here are some of the best free Salesforce training resources that you can work through from the comfort of your home.
Learn Salesforce with Gemma Blezard
Gemma Blezard is a Salesforce MVP and recipient of the prestigious golden hoodie. She's established herself as an influential thought leader in the ecosystem through both her achievements on the Salesforce platform as a Technical Architect, and by giving back to the community through user groups and educational resources.
Her latest efforts have made it possible for people who've recently lost their job to get online, expert-led Salesforce training for absolutely free. Sessions are held three times a week and are available on demand if it doesn't fit your schedule. You're even assigned homework to ensure the learning is thorough and there are no holes in your knowledge.
Subscribe to Francis Pindar's Vlogs and Podcasts
You may recognize Francis as one of the co-organizers of London's Calling, one of the most successful Salesforce community events in Europe. Or you may have taken one of his Udemy courses, to help you on the way to Admin certification. However you know him, Francis is a wealth of knowledge for budding Salesforce pros.
His contributions are regular and varied across different channels, so keep an eye on his website or social media for all his latest work. If you don't want to deep dive just yet, a great place to start is his YouTube Channel, and be sure to subscribe to his podcast, Salesforce Posse, which he hosts with fellow Salesforce Technical Architect, Anup Jadhav.
Get a free demo of Jan Bask training
Jan Bask training is an established name in the cloud computing sector, offering individual and corporate training for all the major cloud technologies. During lockdown Jan Bask encouraged students to contact them for special discounts, to support those who found themselves out of work or in need of digital skills. You can even get a free demo to see if the training is right for you, so it's worth keeping in mind if you've a specific pathway you're looking to take or find yourself in unusual circumstances.
The instructor-led live sessions and real-world case studies help you not only achieve your certification goals but also make you job-ready. The courses offered cover the concepts of Salesforce Admin and Developer while focusing on Sales & Service Cloud, Apex Programming, Salesforce Lightning, Visualforce, and much more.
A free month of LinkedIn Learning
LinkedIn is a great way to connect with fellow professionals, find new opportunities, and keep abreast of developments in the technology from those who use it day-in, day-out. But it's also a great way to learn new skills, and the platform has its own education center where experts deliver interactive training that you can work through at your own pace.
Be sure to start your free month (priced at around 30 dollars a month thereafter), and check out the Salesforce LinkedIn Learning courses most specific to your career path. While Salesforce is a really diverse tool, certain skills align more to different roles and functions, so know where you're coming from and where you want to be before committing to training you don't need.
'Learn AI with Salesforce' webinars
Einstein AI is one of the more exciting new products in the Salesforce suite, particularly as it now plugs into virtually all major Salesforce products and even has its own voice assistant. But many respondents to our annual Salesforce market survey tell us that, while Einstein is no doubt an exciting product they'd look to implement in the future, they don't yet see or understand the value of AI.
Episode 1: Meet the Digital Imperative with an AI-Powered Platform
Wednesday, July 15, at 9:00 a.m. and 4:00 p.m. PT
Good news! Salesforce is hosting a series of webinar to help professionals skill up on key AI concepts and use cases with hands-on Einstein demos from Salesforce product managers, data scientists, and special guests. Be sure to register now for Salesforce's first digital lecture in July.
Learning Salesforce with Trailhead
Trailhead is fundamental to your Salesforce learning journey. Not only is it the central hub for all official Salesforce training and certification materials, but it's also the place to go for learning about platform updates, new products and features, and how the use of Salesforce in businesses is evolving.
What's more, Trailhead training materials are completely free. This is part of the reason why Salesforce has grown into a titan—the company actively encourages more talent to enter the ecosystem by producing accessible training for people across the world.
If you're completely new to Salesforce, Trailhead will also help guide you towards your desired career path based on what you're good at, what you're interested in, and how the future of technology may impact your current role. The three principles of Trailhead are 'Learn, Earn, and Connect', emphasizing a certification-based learning journey where fellow professionals are always on hand to assist. We'll go into greater detail about Trailhead later in this training guide.
Instructor-led Salesforce training classes

Instructor-led training ensures your learning is directed by a qualified, certified Salesforce trainer. While thousands of Salesforce professionals have launched their careers using online or distance-learning materials alone, working with an instructor ensures you have the opportunity to ask questions, and focus more on the areas in which you feel you need further support or clarity.
While this is the more expensive option, learning Salesforce with an instructor is an attractive prospect for those who need a more traditional and engaging delivery system. Additionally, this training format works well for a whole team and can prove cost-effective in this scenario.
Cost: $400 +
Salesforce offers around 50 official intensive training classes, and these cover all experience levels. Although this is one of the more expensive methods of learning, it's a popular route because you can be sure the learning materials, information and trainer are trustworthy and effective.
While this training would usually be delivered in a classroom setting, Salesforce has recently made it all available virtually, to ensure no-one's learning journey is curtailed by social distancing measures.
Cost: $300-$4,500
Stony Point provides both on-site and virtual options for Salesforce consulting and development services with comprehensive training for both technical and end users. They offer an introduction to advanced certifications, with various dates/times available for classes.
Cost: Monthly or Annual Subscription
Monthly: $29
Annual: $299
Many well-known Salesforce influencers provide training videos on this website, in addition to informational blogs and other helpful resources. The courses offered on PluralSight cover specific topics such as Apex, Lighting UI, and Visualforce. Although this is a self-directed route at the core, users are guided through by a real expert.
On-site Salesforce training
There are also many Salesforce consultancies and experts that will provide on-site training as a service. The delivery of this will vary depending on who you're training with and where you are. Often, businesses bring Salesforce trainers into their office as an effective way of introducing the platform, whichever product that may be, into the organization. The cost of this varies and trainers are accessible across the world.
Training and certification at Salesforce events
Salesforce has a comprehensive calendar of official and community events around the globe, including its annual Dreamforce conference in San Francisco, Salesforce World Tour, and Salesforce Basecamp. All of these events offer an opportunity for you to complete training or attend insightful workshops on Salesforce technology.
Some events even allow you to complete certification exams onsite at a discounted rate. Check out our guide to Salesforce events and user groups to find your next opportunity to upskill at a Salesforce conference.
Revolent
Revolent is a two-year programme that combines fully funded Salesforce training and certifications with practical experience, to give ambitious tech professionals the best possible start to a fast-developing, rewarding, and highly paid career as a Salesforce professional. Learn more about how it works.
Want fully funded Salesforce training and certification?
---
Apply to Revolent today.
Self-directed online Salesforce training

The options below are great for those with a smaller budget as well as those who are self-disciplined enough to be independent learners.
The best Salesforce Udemy courses
Udemy is a great online resource to use for learning Salesforce. There are hundreds of virtual classes covering different roles and experience levels, and many are devised and delivered by certified Salesforce trainers.
Courses on Udemy are often highly discounted, so it's worth keeping your eyes open for that. Here are some of our favorite Udemy courses:
Mike Wheeler training courses
Mike Wheeler is well-known in the Salesforce community for his dedication to producing training and educational resources. Now teaming up with his son, Aaron, the Wheeler courses consistently rank among the highest of any courses on Udemy, and are responsible for launching the careers of hundreds of Salesforce pros.
Here are some other great Salesforce courses on Udemy:
Teach yourself Salesforce with these other online learning tools:
Cost: $299-$1,299
Simplilearn offers an online learning experience but for a fraction of the price of instructor-led learning. Its Salesforce courses are also consulted on by Salesforce expert Ben McCarthy, adding further legitimacy to the program.
Cost: Monthly Subscription
Basic Plan: $19.99
Premium Plan: $29.99
Lynda.com is a LinkedIn owned website that offers five different Salesforce related training courses that are organized into chapters for easy learning. This is a great option for someone on a budget and it is subscription based, so you only pay as long as you need the courses.
Cost: $209-$479
Edureka offers three comprehensive Salesforce courses on their website, two of which prepare for certifications.
Cost: FREE
Most Salesforce professionals would suggest Trailhead as the number one way to learn Salesforce, as well as top up your knowledge. This is a Salesforce learning tool made by Salesforce for the people of Salesforce. It's accurate and very comprehensive. This resource is different than the ones listed above because it's completely self-guided and the format is not video.
Trailhead takes you through different Salesforce paths that are specific to different roles, technologies, and features of the platforms. The best part is that you get to practise on the platform itself. The modules take you through a specific topic and there is a hands-on challenge you must pass at the end. There are also incentives in the form of Salesforce Trailhead Badges for all of the trails you complete. It's easy to take on as an introduction to Salesforce or if you're a seasoned professional looking to boost your knowledge.
Key Salesforce training resources
  
Cheat sheets are a very useful tool for a quick reference on specific topics. There are over a dozen cheat sheets available about various areas within the Salesforce ecosystem. They're all very concise and easy to digest.
This is a great resource for developers where you can find great tutorial workbooks on a variety of relevant topics. Workbooks include Force.com, Apex, Visualforce, and much more.
Use this site to view helpful tips and implementation guides that describe different features and capabilities of the Salesforce platform.
Check out these easily downloadable Salesforce guides for your learning needs. They cover topics for beginners, sales and marketing, service and support, communities and collaboration, analytics and more.
This is the ultimate list of terms you need to know when working with Salesforce. This is a particularly good resource for those already working in the field but looking to develop or refresh their knowledge.
Salesforce has a YouTube channel dedicated to every area of the Salesforce platform:
Salesforce experts
Salesforce encourages their professionals to share knowledge with the community and help others learn. Many Salesforce professionals have blogs that are frequently updated with useful information, how-tos, and tips. If you use the hashtag #askforce, the Salesforce Ohana will be happy to help with questions regarding the Salesforce platform. Take a look at our most-recent rundown of our favorite Salesforce bloggers and experts.
Take to the web and learn!
There are so many opportunities and tools for learning Salesforce making it easy for anyone to learn and succeed! We hope you find this guide useful in furthering your Salesforce career or getting you started with the #SalesforceOhana.
Did we miss any Salesforce learning resources? Let us know so we can add it to this list!