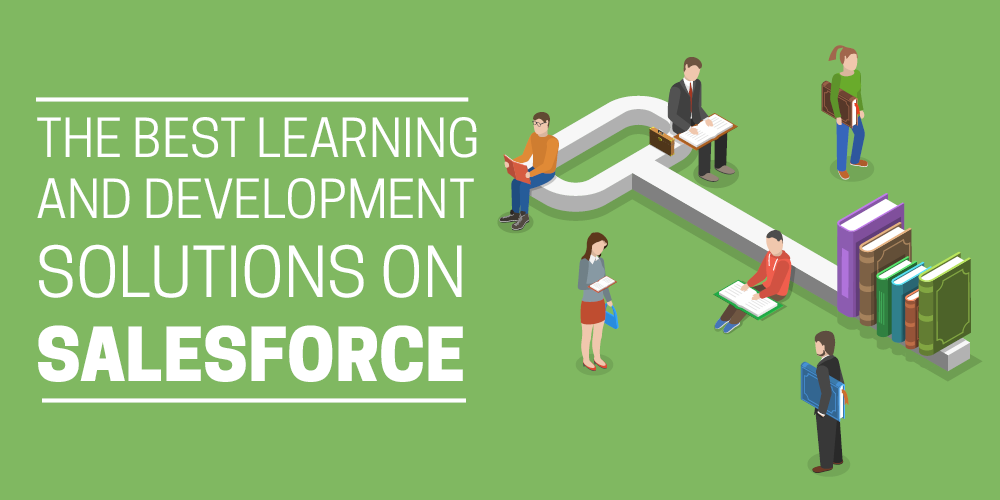 Technically it's a CRM, but Salesforce can do a lot of surprising things. From sales and customer service, to marketing and analytics, it's an enormously useful tool for businesses. But did you know you can also use Salesforce to as a learning management system?
Training isn't just great for keeping your employees up to speed; there are heaps of use cases for learning management systems in your business. Maybe you want to help your customers learn more about your product and how it works (and reduce support tickets in the process)?
Perhaps you want to make your onboarding experience more efficient and fun for new starters? You could use an LMS to deliver training on a new internal process or software system, and help safeguard user adoption. Training can even be used to help channel partners and resellers build their expertise, and sell your product more effectively.  
There's no need to implement new software to offer a great learning experience for your teams. You can do it all in one place, right from the SFDC interface, with the help of one of the many LMS apps available for Salesforce. Here are seven of the top LMS apps available for Salesforce right now. 
1. Learnsmarter LMS
Edition Compatibility: Enterprise and up
Paid/Free: Starting at $41.25 USD per user per month 
Learnsmarter LMS is a learning management system built especially for creating and selling in-person, instructor-led training. Completely native to Salesforce, the app helps users deliver a great learning experience no matter who your audience is. 
Instructor-led training is proven to be one of the most effective forms of training; a lot of people like to put a human face to the information they're receiving, and hear instructions in plain language. Learnsmarter enables training sellers to deliver and manage training through one single app. 
Robust scheduling tools help manage resource availability, a powerful email engine lets you send engaging, professional-looking notifications, and flexible invoicing functionality comes with international tax support.
Learnsmarter also offers two expansion platforms—Learnsmarter Engage and Learnsmarter Associate—to build out the app's capabilities for those who want to do more with their training offerings.  
Engage brings ecommerce features to the app, including checkouts, secure payments, and customer portals, as well as a community platform for users to engage and share with each other. Associate helps sellers manage their trainers, keep them up to date with their assignments, and deliver a self-service portal where they can chat, update results, and add the latest info about their travel and accommodation arrangements.  
2. Litmos LMS
Edition Compatibility: Professional and up
Paid/Free: Starting at $6 USD per user per month 
An award-winning learning management system, Litmos is used by the likes of YouTube and Samsung to boost knowledge and compliance, and train customers, employees, and channel partners alike. 
Litmos automates a lot of the administrative side of running an LMS platform, so you can focus on producing outstanding training for users. The app promises to make creating absorbing and visually-striking eLearning courses quickly, and easily distribute them to users on Mac, PC, iOS and Android.  
Litmos is one of the more reasonably priced options on our list but it isn't light on features, with users enjoying unlimited content storage, turnkey integrations, multi-branding capacities, 22 interface languages, sandbox capabilities, and a library of purchasable courses to get you started.
3. LearnTrac

Edition Compatibility: Enterprise and up
Paid/Free: Free 
LearnTrac is an innovative LMS that aims to inspire engagement and increase uptake of your training offerings.  
Making learning more accessible can create better results, and LearnTrac helps users make their learning more appealing and social by offering features like quizzes, surveys, gamification, leaderboards, badges, and certificates—all of which are suitable for self-guided learning or instructor-led training. 
It can also be fully branded to your organization, and can deliver reminders and notifications through Salesforce emails and Chatter. If you're looking for an LMS that really lets you dig into results and learning data, LearnTrac boasts Einstein analytical capabilities for smart insight generation.  
The app enables users to up interactions with their training with targeted content, so they can put relevant training in front of the right people, just when they need it.
4. Cornerstone for Salesforce LMS
Edition Compatibility: Enterprise and up
Paid/Free: Starting at $3 USD per user per month 
Newly redesigned and native to the force.com platform, Cornerstone for Salesforce delivers targeted learning and certifications with training embedded within the Salesforce interface.  
The app offers a unique brand of just-in-time training; pop-ups that outline available learning are triggered when a user completes specific actions to help them learn as they go, and training is contextualized by linking it to practical on-the-job actions.  
Cornerstone also allows businesses to certify their users, and track progress with configurable dashboard reporting and analytics.
Cornerstone can be embedded into Sales Cloud, Service Cloud, and Community Cloud, and ships with Chatter and work.com integration—plus, it's not only built for Salesforce, it's used by Salesforce to train their own staff and channel partners too. 
5. Impact Learn
Edition Compatibility: Enterprise and up
Paid/Free: $12 USD per user per year 
A simple but powerful platform for deploying training to employees, customers, and partners alike, Impact Learn aims to help users build a culture of continued learning within their business.  
With support for personalized and informal learning, social learning, mobile access, and video lessons, Impact Learning is geared towards the next generation of workers; digital natives who learn best through a hands-on, multimedia platform.  
This robust app is a strong choice for organizations who want to improve their employee onboarding experience, offer leadership development, or boost channel enablement. 
A Salesforce exclusive, Impact Learn training can be embedded in Sales Cloud, Service Cloud, Communities, and Salesforce1 Mobile to make learning on the go accessible to users. 
6. NetExam LMS
Edition Compatibility: Enterprise and up
Paid/Free: One-time fee of $4,000 USD per company  
Created specifically for the channel partner market, NetExam LMS aims to give enterprise businesses a space to provide training to their partners and customers. NetExam believes that the better educated your partners are, the more products they sell, and has developed a learning management system to help take advantage of that.  
Used by market giants like Dell, AT&T, Intel, and McAfee to boost partner knowledge about their products through an in-depth training and certifications system, NetExam LMS offers a personalized, branded interface and ships with a built-in social learning program to make training more engaging.  
7. Skilljar
Edition Compatibility: Professional and up
Paid/Free: Free  
Skilljar is an award-winning training platform designed especially to help deliver training to customers. 
If you make a product that you roll out to end users, the best way to safeguard customer satisfaction and retention is to make sure they know how to get the best out of it. Skilljar allows businesses to offer engaging training on product use and best practices, which not only boosts user adoption and cuts time-to-value, but also helps end users be as successful as possible. 
From automated onboarding of customers to upskilling, Skilljar supports end user learning throughout the product lifecycle. The app is available on both web and mobile, supports multimedia content including video, and includes features for built-in quizzing, certification issue, and an ecommerce module for delivering monetized training.
Results can be tracked and synced to Salesforce customer records, giving you the opportunity to offer additional support where necessary, and allowing you to see how your product could be improved going forward.  
As well as seamlessly integrating with Marketo, it also works hand-in-hand with Active Directory, Okta, LinkedIn, Google, Stripe, and PayPal.
Did you enjoy this collection of Learning and Development Salesforce add-ons? You should check out our list of the best Salesforce dashboards and applications for performance management and KPIs.