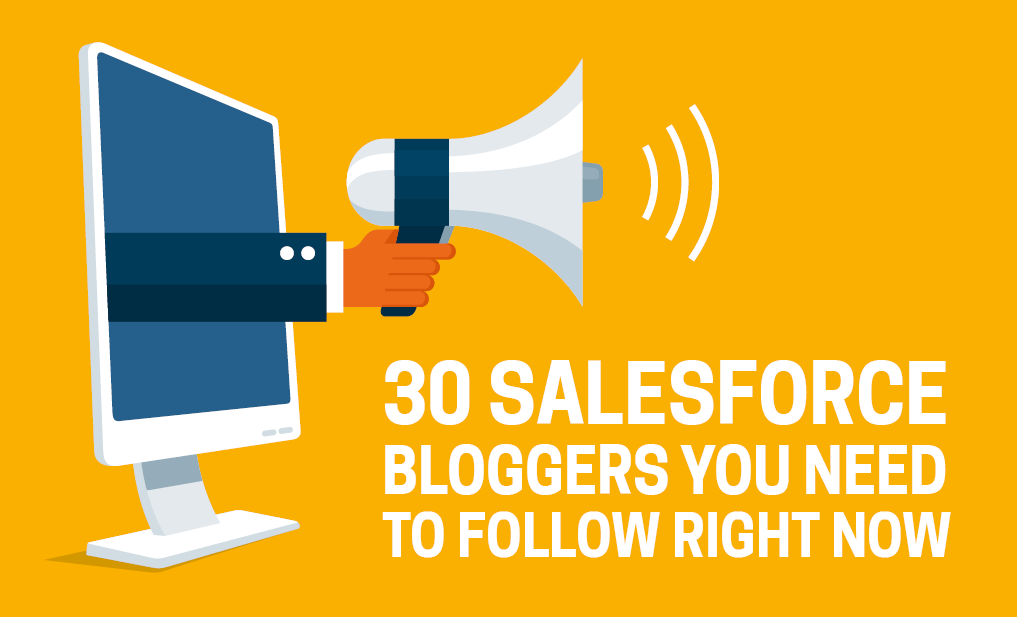 Salesforce is a hugely popular platform for a reason. It's customer-centric, effective and efficient.
However, it's the community of experts surrounding it which makes it truly special. Whether it's through social media, blogging, contributing to forums or being active at Salesforce events, members of the Ohana strive to improve their work, deliver better customer experiences, and make Salesforce a better technology for everyone.
In an effort to acknowledge those who've made outstanding contributions and proven their commitment to bettering the wider community, we've compiled a list of Salesforce bloggers and experts we consistently see adding value to the online Salesforce space.
Bookmark their blogs, follow them on Twitter and spread the word about these committed Salesforce influencers!
For a comprehensive view of the Salesforce ecosystem and the technology's user base, download our 2022/23 Salesforce salary survey report.

The Mason Frank Salary Survey provides a unique insight into the Salesforce Ohana. Complete the form below and receive your PDF report in seconds.
Our recommended Salesforce bloggers
Shonnah Hughes
Shonnah is an active voice for women in technology and equality as a whole, blogging thought-provoking insights on the topic.
---
Sakthivel Madesh
As far as Salesforce experts go, Sakthivel is pretty qualified. He's Platform Developer II-certified as well as a holder of the Advanced Admin cert, so a brilliant resource for those who approach Salesforce with a hands-on attitude.
---
Gemma Blezard
As well as being a Salesforce MVP and founder of The Architect Club, Gemma Blezard is also a prolific blogger and the recipient of a prestigious golden hoodie!
---
Enrico Murru
Enrico's developer blog is a mecca of technological insight with practical, clear and easy-to-follow tutorials on a huge range of topics.
---
Rakesh Gupta
Rakesh is a multiple-time MVP, Evangelist, and trainer. His blog, Automation Champion, is a useful tool for Admins and Developers alike. With frequent guest posts as well as personal insights, it's a crucial tool in anyone's Salesforce belt.
---
Iain Clements
Iain is not only an active Salesforce expert through social media but also offers services through his company, CloudUrsa, to provide customers with a wide range of services including configuration and application development.
---
Smriti Sharan
Smriti is a Certified Salesforce Developer, evangelist, and avid blogger and YouTuber. She believes there is no end to learning, and dedicates her time to learning new tools and sharing her knowledge with the community.
---
Johan Yu
On his blog SimplySFDC, Johan Yu is a prolific writer and thought leader. His two published works on Salesforce reporting and dashboards have also helped establish him as an important thought leader in the Salesforce space.
---
Brent Downey
Brent's blog, Admin Hero, is something of a fixture in the Salesforce world. He focuses on providing insight for other Admins after picking up a trick or two on his own journey. Brent's Zero to Hero program is an amazing guide through resources to help kick start anyone's journey to professional Administrator.
---
Andrew Fawcett
Andrew has a great deal of technical knowledge which he shares through his blog and Twitter feed. Andy is even a published author with his book, Force.com Enterprise Architecture.
---
Keir Bowden
Keir is somewhat of a pillar in the Salesforce world. He is a developer who is enthusiastic about Salesforce, an author of the Visual Development Cookbook, and a blogger with valuable insights.
---
Phil Walton
A leader of user groups, multiple-time MVP and an experienced Salesforce blogger, Phil is well worth a follow for valuable insights into the platform.
---
Meighan Brodkey
Sadly, Meighan is no longer with us, but her blog remains a fantastic resource for Admins and Developers alike and a shining example of her dedication to sharing her extensive knowledge and helping others.
---
Amit Chaudhary
A five-time Salesforce MVP, Amit is the driving force behind Apex Hours as well as a frequent video blogger on a variety of subjects from across the Salesforce universe.
---
Shivanath Devinarayanan
A Salesforce MVP, founder of India Dreamin', and CEO at Platinum Salesforce Consulting Partner Dazeworks, Shivanath lives and breathes Salesforce. Despite being top dog at his company, Shivanath is a coder at heart, having started his career as a C# developer.
---
Eric Dreshfield
Eric is a highly respected member of the Salesforce MVP Hall of Fame, and the Founder of Midwest Dreamin', the United States' largest Salesforce Community Conference. He's also the leader of the Evansville Salesforce Community Group. Known as The Kevin Bacon of the Salesforce Ecosystem, you're sure to learn plenty from The Dresh!!
---
Patrick Solum
As a five-time certified Salesforce pro, a six-time Salesforce MVP and a member of the Salesforce MVP Hall of Fame – Salesforce Certified, Patrick knows his stuff. His blog is a vital resource for anyone looking to run their own Salesforce user groups.
---
Daniel Peter
One of the most certified Salesforce professionals in the world with a whopping 26 accreditation under his belt, Daniel's work supporting the Salesforce Developer community has landed him multiple MVP awards. He also hosts informative webinars through his company Robots and Pencils.
---
Ashish Agarwal
Ashish Agarwal is a freelance Salesforce Architect, trainer and prolific writer with 30 Salesforce certifications to his name. His invaluable blog is known for its simple, step-by-step tutorials and actionable advice on getting more from Salesforce.
---
Jennifer W. Lee
A Salesforce fanatic turned Senior Admin Evangelist at Salesforce itself, Jennifer is a great resource for all things Salesforce Admin. Check out her incredibly informative blog where she regularly posts hot tips for #AwesomeAdmins.
---
Aleks Radovanovic
A Salesforce MVP and Business Technology Architect, Aleks is a regular speaker at Salesforce events, a blogger, and a generous mentor to those new to the Ohana. She's also a Vancouver Admin Group co-leader, Platform Champion, and a member of the Society for Canadian Women in Science and Technology.
---
Chris Edwards
A Salesforce MVP Hall of Famer and 12-time certified Salesforce Architect, Chris is a valued community contributor, giving back to the Ohana as a writer for SalesforceWeekly.
---
Amanda Beard-Neilson
A Salesforce MVP, London Admins Trailblazer Community group leader and London's Calling co-organiser, Amanda's Diary of a Saasy Girl is full of insightful posts on Salesforce technology and the community that has grown up around it.
---
Todd Halfpenny
Leader of the London UK Salesforce Developers Group and an organizer for London's Calling, Todd's goal is all about making things easier, and his useful blog on all things Salesforce mobile certainly ticks that box.
---
Don Robins
As a technical educator, certified instructor, and Salesforce training partner, Don has a knack for helping others understand Salesforce, making his blog and the courses contained therein a fantastic resource for anyone looking to upskill.
---
Dustin Cole
Dustin is a Founding Partner and Head of Operations at  Navigators, whose mission (and blog) is to help Salesforce customers doing good things achieve success with the platform.
---
Ben LaMothe
Salesforce MVP, community leader, and wearer of the famed Golden Hoodie, Ben is an expert in all things Salesforce Marketing and Pardot. His posts on Pardot Geeks are a must-read for any Salesforce marketeer!
---
Kristi Pallack Brown
Self-confessed Salesforce junkie Kristi is an Architect, Tableau ambassador, and community user group leader. For All-Star Ranger Kristi, sharing with the community and giving back is a way of life; one that she showcases through her blog Force for Fun.
---
Dinesh Yadav
Six-time certified Salesforce Architect Dinesh shares knowledge gained over 12+ years in the Salesforce ecosystem on his blog (as well as through webinars and mentorship schemes), which is packed with tutorials, certification guides, and updates from the front line of the Ohana.
---
Force Panda
Run by coding wizard and Salesforce addict Narender Singh, Force Panda is a great resource featuring how-tos, news, and fantastic advice on becoming a top-flight Administrator.
---
We hope you check out our recommended Salesforce bloggers and support them by spreading the word. Salesforce is uniquely supported by the people who work with it and display a genuine passion for their work.
Who else would you add to the list? Why not drop us an email with your favourite Salesforce blogger.