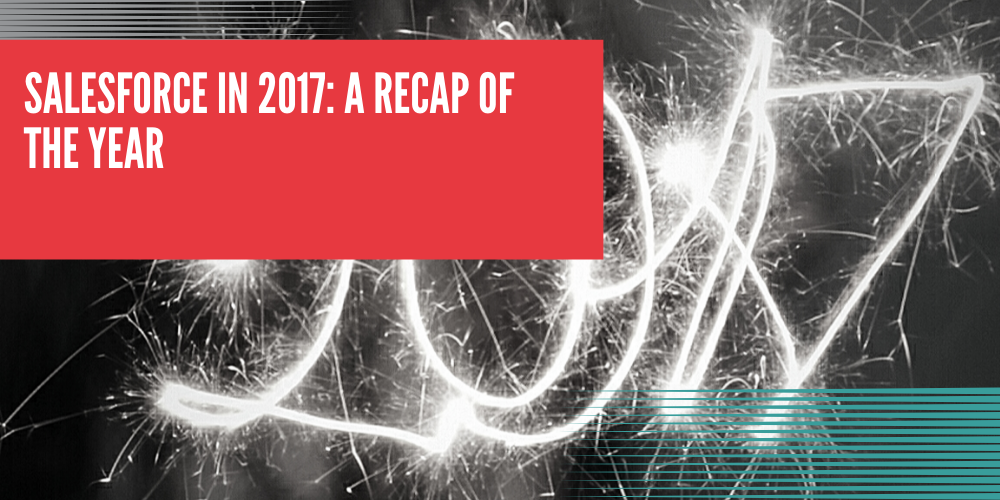 Salesforce has seen another year of growth, innovation, development, and improvement in 2017.
As the year draws to a close, we want to reflect on what's really happened in the Salesforce ecosystem as a whole, exploring what we've learned and what we can take forward into the future.
Spring
Spring Release
In its 52nd release, the Salesforce Spring '17 release saw some exciting new additions to the platform, enhancing both capabilities and performance. Some of our personal highlights include Lightning Experience for Service, Lightning readiness check for Orgs who aren't sure if they're ready to make the switch, automated activity capture, and bulk actions in Wave Analytics.
Hello, MVPs 
Every year, two batches of Salesforce MVPs are released to celebrate those in the Ohana who have made an outstanding contribution and demonstrated a commitment beyond their call of duty. Defined by many factors around giving knowledge and support back into their community, MVPs are the people in the Ohana who've gone above and beyond.
February 2017's MVP list saw the addition of 19 new names and 65 returning celebrations. The people on these bi-annual lists are always worth a follow on social media. Many of the names on the list are also featured in our personal list of recommended Salesforce experts in 2017.
Einstein for all
The Spring release saw Einstein AI's capabilities become available to all Salesforce customers in the company's 52nd major product release in just 18 years. The most notable of the new features was the image recognition function, which was predicted to greatly increase app capabilities. Developers could now utilize pre-trained image classifiers or train their own custom classifiers.
Salesforce describes Einstein as the first technology of its kind. "Unlike general AI platforms that require extensive customization and armies of data scientists, Einstein democratizes AI with state-of-the-art algorithms built directly into the Salesforce Intelligent Customer Success Platform and is delivered through the apps and workflows that millions of CRM users rely on every day."
Strategic partnership
In March, Salesforce and IBM announced a partnership with the intention of enhancing their AI capabilities. Combining Salesforce Einstein with IBM's Watson, the technology company's own AI platform for business, would allow both organizations to truly harness their combined AI capabilities and reach a whole new level of sophistication.
Salesforce Equality Awards 
In its inaugural Equality Awards, Salesforce named Patricia Arquette, Mary J. Blige, Billie Jean King, and Lily Ledbetter as the event's honorees. The awards were established to support and acknowledge equality pioneers, pushing for a change in the representation of women in technology and business as a whole.
The awards were also a celebration of Equal Pay Day, a day dedicated to raising awareness for the gender pay gap. In the US, this day falls on April 4th. It symbolizes how far into the year women must work to earn what men did in the previous year, but the specific date varies from country to country.
Salesforce has been consistently committed to equality and previously absorbed payouts to compensate for their own personal pay gap.
Summer
Summer Release
As with any Salesforce Release, Summer '17 hoped to empower users to work faster and smarter. With over 300 new features, this release accelerated many aspects of the platform across a range of products.
Some of the stand-out releases included Lightning for Gmail from Sales Cloud, Lightning Service Console, Einstein Predictive sort, and Einstein Field Service Analytics.
Salesforce Partners Regatta
In June 2017, Salesforce held the UK Partner Salesforce Regatta. The event involves partners competing in a boat race and celebrating at an evening awards ceremony, which acknowledges winners for awards such as 'Rising Star', 'Top Global Systems Integrator', and 'ISV Award'.
Mason Frank was very proud to be involved with the event, even if we were not winners on the water! Our CMO, Kashif Naqshbandi, who was part of the eight-man team, described his experience. "It was incredible to see Partners, who essentially compete with each other, coming together, showing genuine admiration for each other and wanting to be part of this fun event. The opportunity to spend time with others who share a passion for Salesforce was so valuable. Hearing other partners' passion for the platform filled us with pride and a drive to continue to work with them to help grow the ecosystem."
App Exchange Partner Program 
In May 2017, Salesforce launched the App Exchange Partner Program to allow anyone, no matter of scale, to build, market and sell apps to the whole Salesforce community. Accessible to developers, startups and ISVs alike, this program opens innovation to more people than it ever has before.
"The convergence of AI, IoT and massive datasets has created incredible new opportunities for developers to move beyond the app and build components, intelligent bots, data streams and more," said Leyla Seka, executive vice president of AppExchange, Salesforce. "The new AppExchange Partner Program empowers the next generation of Salesforce ISVs with a single destination for everything they need to succeed — the training to create solutions on cutting-edge Salesforce technology and the programs to turn them into businesses with global reach."
The App Exchange has proven a success, with Salesforce reporting nearly 90 percent of the Fortune 100 installing apps from the AppExchange.
Salesforce named number one CRM provider 
For the fourth consecutive year, the International Data Corporation (IDC) named Salesforce as the number one CRM provider.
According to the IDC's data, Salesforce increased its percentage market share in 2016 by more than the rest of the top ten CRM vendors combined. Besides being recognized as a leader in CRM, Salesforce's growing market share saw it considered a leader in service, sales, and marketing applications.
With a continued focus on innovation and customer centricity, could Salesforce continue to win this acclaim and see the award for the fifth year in 2018?
Fall
Hello, more MVPs
In the second round of MVPs being recognized for their fantastic contributions to the industry, 28 new names were added to the list with 102 returning names.
Salesforce.org commitment to education 
In its second major donation to local education, Salesforce donated $12.2 million to San Francisco and Oakland School Districts to expand computer science education in September 2017. On top of this, additional commitments were made as part of Internet Association's $300 million initiative to advance computer science in public schools nationwide.
Happy birthday, Einstein
With over a year of traction after its release, Salesforce Einstein has taken the world of CRM by storm. Revolutionising the artificial intelligence offering in the B2B market, Einstein continued to roll out updates in September. From forecasting tools to email inbox assistants, this Salesforce product continues to quickly advance and innovate AI capabilities.
Salesforce Ventures introduced Impact Investment Fund 
In October of 2017, Salesforce Ventures announced a $50 million fund to invest in cloud-based technologies, in an effort to 'address challenges across workforce development, equality, sustainability and the social sector'. This investment is intended to aid with the growth of companies using Salesforce technologies, and address the issues that are thematically seen across many businesses.
How will Salesforce Ventures affect the growth of the cloud technology industry as a whole?
Dreamforce 2017
In sunny San Francisco, Dreamforce 2017 boasted a stunning lineup of speakers including former-First Lady Michelle Obama, actor and venture capitalist Ashton Kutcher, and Academy Award-winning actress Natalie Portman, as well as live performances from Alicia Keys and Lenny Kravitz. It wasn't just about the guests, however, with several product updates and announcements making the four-day event an important one for Salesforce professionals.
An extension of the Einstein AI platform, MyEinstein was announced by Salesforce as a tool to help administrators and developers to build applications without knowledge of coding. Salesforce is making its software simpler for both industry professionals and End Users.
Salesforce also officially announced its exciting new strategic partnership with Google. The ongoing aim of Salesforce CRM is to help businesses engage with customers in impactful and original ways, and integration with Google Analytics 360 and G-suite will not only give the user access to valuable data but also allow the software to be operated in conjunction with Google cloud products. These are exciting times for the future of Smart CRMs.
Winter
Salesforce joins the Cloud Native Computing Foundation
In a blog post written for Medium by Salesforce Cloud Technology Executive, Mark Interrante, it was announced that the company is joining the Cloud Native Computing Foundation. The CNCF is an open-source group that manages Kubernetes, an automated application container platform.
Salesforce will be joining the likes of Microsoft, AWS, and Oracle in supporting this containerization tool, and Interrante believes this support of new platforms demonstrates the company's focus on innovation. "We've seen how containerization simplifies the orchestration of software across a large fleet of servers," explained Interrante. "Kubernetes makes a great foundation for continuous innovation/continuous delivery which then improves our software delivery.
"This kind of collaboration, with Salesforce as an active participant in open technology ecosystems, is key to helping us move forward."
Salesforce World Tour New York
In December, Salesforce professionals took refuge from the chilly streets of North America to attend Salesforce World Tour New York. Attendees (and those watching live around the world) were treated to a keynote speech from Salesforce Co-Founder and CTO, Parker Harris, who discussed how users can take advantage of the Customer Success Platform to both learn and create new solutions.
Early access to the Spring '18 release
The highly anticipated Salesforce Spring '18 release isn't far away from being released, but Sandbox customers will be excited to learn that they have the opportunity to get early access to the update. Users are afforded the ability to test new features and customizations before the update is officially released, they must simply ensure their Sandbox is active on a Preview Instance before January 5th to benefit from the early access.
A progressive year for Salesforce
Salesforce continued to grow in 2017, bolstering its already extensive product selection with sophisticated AI, new software partnerships, and unprecedented access to big data.
While it would be difficult to gauge what the future holds for Salesforce, we asked some of the more prominent industry influencers to get a collection of Salesforce predictions for 2018 — check out what they said, and let us know in the comments below if you have any predictions of your own.