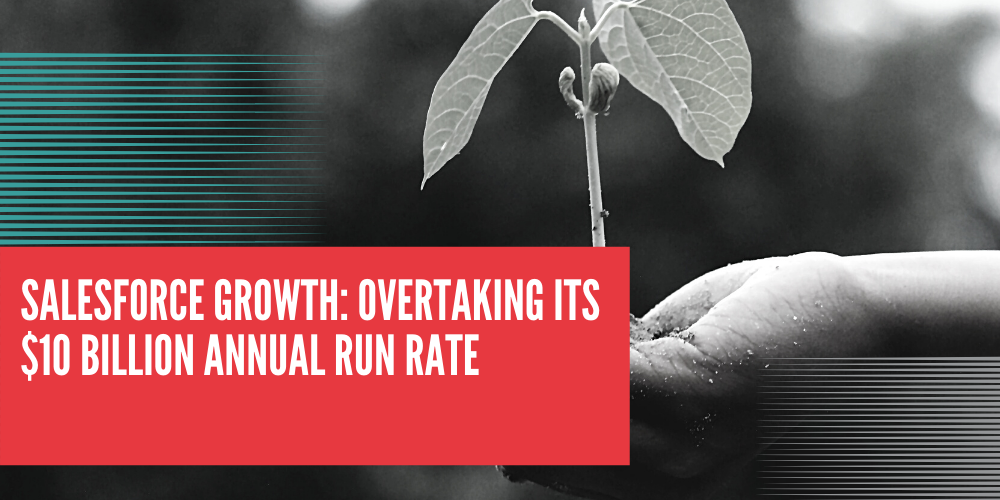 After a record-breaking year of success in 2017 so far, Salesforce growth has resulted in reaching their $10 billion annual run rate figure. CEO Marc Benioff stated, "We are on the fast track to $20 billion, and that is all that is on my mind right now, how fast we can get to 20. I have never been more excited about getting to 20, because 10 is behind me, and you always need to be looking to the future."
Tech Crunch adds, "While Salesforce may be on track to generate $10 billion in revenue, a lot of eyes are on the back half of the year for its annual Dreamforce conference. That's when Salesforce is expected to announce and unveil some new products, and there will likely especially be scrutiny on its so-called "Einstein" AI products."
Although we've recently reported on the increased stock value for Salesforce, the release of this financial report actually caused a small dip.
Marc Benioff states 'Our competitors have done a horrible job in the last few years' 

As Salesforce revenues increase by 26% this year, Benioff has also been in the news reflecting on the company's success.
"Our competitors have done a horrible job in the last few years, a lot of them have really abandoned the CRM market," the Salesforce founder and chief executive said. "We've talked to analysts, we're shocked, they're shocked at how these companies have walked out of the CRM market."
Salesforce and Amazon partnership set to create international growth 

In 2016, Salesforce and Amazon began forming their public relationship with shared positivity to each other's business model. Later that year, Salesforce selected Amazon Web Services (AWS) as their preferred public cloud infrastructure partner.
Since then, the organization has come forward and highlighted a benefit of this partnership: international exposure. Although traditionally, the bulk of Salesforce revenue has come from the US, this is something Salesforce want to change. Diversifying through strategic partnerships, such as this one, is a great help in tapping into new markets.
According to Salesforce, a partnership with AWS has opened markets including Australia and Canada. AWS helps Salesforce solve a significant data storage issue which was thought to hinder their abilities to tap into these markets. Many organizations are reluctant to store data outside of their residing country for safety. Salesforce can now utilize storage space from AWS who are more globally spread. Win-win, it seems!
Salesforce hire new Service Cloud senior vice president

Bill Patterson will be joining Salesforce's Service Cloud as the seventh vice president. This appointment is the fourth leadership change for the company in as many years.
Patterson spent 14 years working for Microsoft, most recently working with Salesforce's competitor, Dynamics. He is just one of the latest Microsoft employees opting to move into Salesforce with others including the business' first Chief Equality officer, Tony Prophet.
According to CNBC, Service Cloud is one of the biggest growers for Salesforce with nearly double in sales from 2014 to 2016.
Salesforce Provides New Personalization Tools for Community Cloud 

Salesforce.com has introduced changes to the Community Cloud in order to help companies connect better with their customers.
The changes make it easier to create online communities 'by leveraging the same tools companies may already be using to create their websites'. Salesforce says these changes hope to make it easier for the user to make these changes quickly and without a huge amount of learning required.
Shazam sees a 752% ROI in under two months with Salesforce Einstein Analytics

Shazam is an app designed to recognize and identify media such as music. It's one of the world's most popular apps having been downloaded over 1 billion times.
Most recently, the organization deployed Salesforce Einstein Analytics. This caused a dramatic increase in their productivity.
According to a press release from Salesforce, "With Einstein Analytics, Shazam has improved the quality of data from its massive user base, targeted more granular customer segments and reduced requests for reports from its core analytics team.
"In just more than six weeks, Shazam has experienced 752 percent return on investment (ROI) with its Einstein Analytics deployment, according to a study by Nucleus Research. Shazam also deployed Einstein Analytics without employing external consultants. The deployment provides an average annual benefit of $246,896 due to increased productivity and time saved."
In summary
We've been hearing a lot about Salesforce growth, market dominance, and expansion. From financial success to product success stories, this month has been very positive for the company.
For further insight on Salesforce's mammoth growth, be sure to subscribe to the Mason Frank blog.