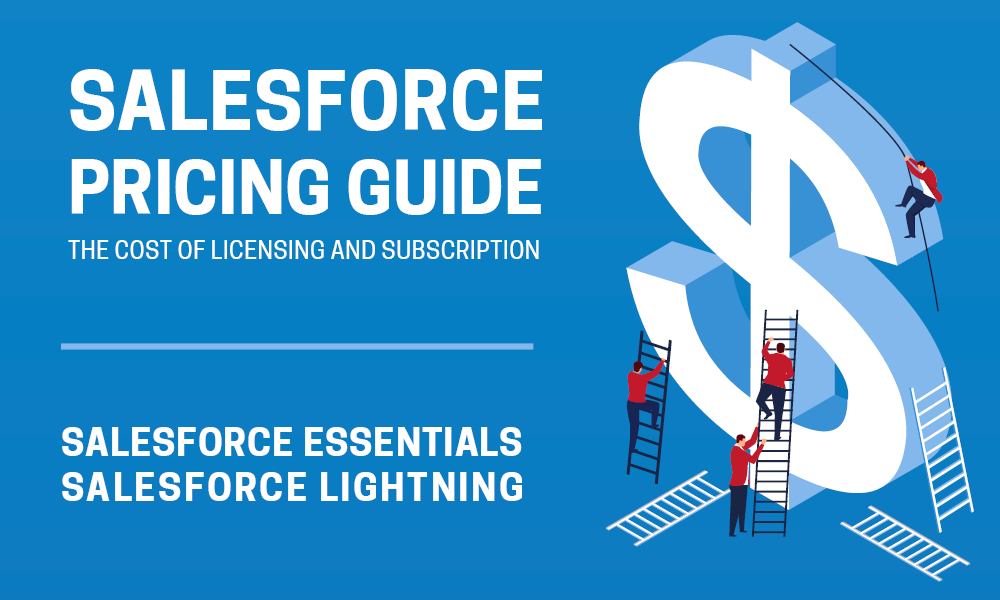 Salesforce is an incredibly versatile CRM tool, but to get the most out of it you are going to have to understand the Salesforce pricing structure and know which edition is best for you.
It should go without saying that the best edition of Salesforce is the one that can help your business streamline and develop its customer service offering, better connecting your staff and customers, and improving sales while boosting brand sentiment.
Salesforce has deservedly become one of the biggest names in CRM software over recent years. It's done this by proving itself as a program that provides real-world benefits to companies of all different sizes and types. From blue chips and international companies to SMEs, businesses across industries such as manufacturing, financial services, retail, healthcare and life sciences, the public sector, communication and media, and even government, have all been seen to absorb Salesforce pricing points into their budgets to utilize the CRM.
"As a popular CRM across various verticals, Salesforce is prevalent among mid-size organizations that include software, business services, and manufacturing industries," notes Ajeet Singh, Co-Founder and Director at Algoworks. "Mid-size companies using Salesforce see a profit of $1–$50 million per annum, and 63% of these companies are in the manufacturing, software, and business services vertical. Research has proved that organizations using Salesforce CRM have a strong significance in sales and marketing."
Different businesses will need a different level of functionality from Salesforce, so it's no surprise that pricing for Salesforce largely depends on which version of the program you use. The Salesforce cost to your business generally depends on several different factors, which we'll be looking at further throughout this guide, but you can get a basic answer to the question of 'how much does Salesforce cost' by looking at the out-of-the-box packages on offer.
Pricing for Salesforce packages
While it is possible to buy a separate Salesforce instance focusing on either Sales Cloud or Service Cloud (depending on your company's needs and intended usage), the most effective Salesforce packages can be found among those which combine sales and service functionality.
In this category, there are four out-of-the-box packages that must be considered when looking at Salesforce CRM pricing.
Salesforce Essentials — $25/user/month

A stripped-down version of Salesforce, Essentials comes available in two modules; CRM and customer support—if you want access to both then you will have to pay twice. Geared towards small businesses, the low cost of Salesforce Essentials gives SMEs access to applications that are easy to use and manage, with new functionality added every four months.
There's a maximum user limit of five, which will make it instantly unsuitable for many established businesses, but Essentials does come with some attractive features, such as:
Account management
Case management
Opportunity management
Contact management
Salesforce mobile app
Customizable sales process
Task and event tracking
Lead management and web-to-lead capture
Customizable reports and standard dashboards
Salesforce Lightning Professional — $100/user/month (billed annually)
Lightning Professional is the most basic out-of-the-box Salesforce package, and as such its more-limited functionality is reflected in its place as the cheapest in the Salesforce pricing structure.
For $100 per month, Lightning Professional gives you a solution suitable for mid-size organizations and finite product/service offerings. There is no user limit, which should prove appealing to those who are just starting out but do not want to pay the cost for more in-depth packages just to gain access to extra user accounts.
Lightning Professional is still, however, a basic CRM. While it is easy to use, it offers little in the way of customization, integration, or administrative features, and only comes with a finite number of permission sets, control profiles and record types. This means that your scope for security is limited, and you may have to upgrade to a different package in the future.
Salesforce Lightning Enterprise — $175/user/month (billed annually)
If you are wondering 'how much does Salesforce cost?', and are looking at comparing the Lightning Enterprise edition with Lightning Professional, the answer is that you will pay a marginal amount extra per month for each user.
Lightning Enterprise has been configured to better suit larger businesses. For your slightly increased Salesforce CRM pricing point, you get a greater focus on flexibility and customization, as well as enhanced options for both the sales and marketing teams to get to grips with. There are 100 validation rules, 200 custom objects (with 500 custom fields per object), and the capability for 25 Lightning apps included.
"If your organization has a large-sized business and needs more than 5 users and several permissions and profiles, then the new user should opt for Enterprise edition," Comments Ajeet. "After examining all the perspectives like functionality support, money, and many other important areas, new users should choose Enterprise edition."
Salesforce Lightning Unlimited — $325/user/month (billed annually)

The highest Salesforce cost comes with licensing Salesforce Lightning Unlimited. The cost per user, per month is significantly higher than that of the Enterprise edition, at $150 extra. While that may seem like a large outgoing though, the difference in functionality is worth it for businesses of a certain size.
With Salesforce Lightning Unlimited, you get:
500 validation rules
2000 custom objects
800 custom fields per object
Unlimited lightning apps
As you can see, the jump in Salesforce CRM pricing and the benefits on offer correlate well, meaning that Salesforce Lightning Unlimited is best suited to the largest businesses. Any company requiring large-scale customization, or relying on support and priority access, will find it with this edition.
Further considerations when calculating your individual Salesforce cost
Now that you know the Salesforce CRM pricing for each out-of-the-box package, it is time to look at the other considerations that come with establishing a Salesforce cost for your business.
One of the biggest factors for inclusion is the time that a Salesforce implementation is likely to take to achieve. While many smaller businesses can expect a functioning Salesforce instance to be available in as little as two weeks, bigger companies with larger scale roll outs (including more users, apps, objects, and all the rest) will have to wait significantly longer. If you are integrating or transitioning from an existing legacy system, your Salesforce implementation could take several months to be completed, and, as we all know, time is money.
The other major cost that has to be accounted for with Salesforce is that of the team tasked with the implementation. It may be that you have the internal resources to manage the process (in which case their wages must be counted towards the cost), however many will choose to leave the task to an external integration partner to lessen disruption of day-to-day processes that are already in place.
Browse our bank of pre-screened Salesforce experts to staff your CRM implementation or upgrade.
An external integration partner will not come cheap, and so may only be the option of choice for larger businesses that are implementing the most complex of Salesforce Lightning Unlimited CRMs. It is certainly a cost that can be worth paying for the benefit of your business, however, as not only do you keep your internal staff focused on their everyday job, but you also get the benefit of years' worth of specialist experience.
A Salesforce integration partner is unlikely to be fazed by the CRM requirements of your business, and will offer practical guidance and advice that has been learned from numerous projects within other companies. It may be a sizable financial outlay, but you may find that the long-term benefits of a smooth integration make it worthwhile.
As you can see, Salesforce pricing is, on the whole, fairly easy to get to grips with. While the cost of staff and an implementation partner is something to bear in mind, the real cost of Salesforce is likely to come down to the package that provides the best functionality for the right number of users.
Contact Mason Frank
for a free staffing consultation. We work with businesses all across the globe that have already implemented Salesforce, and so are well positioned to give you an estimate of staffing costs.