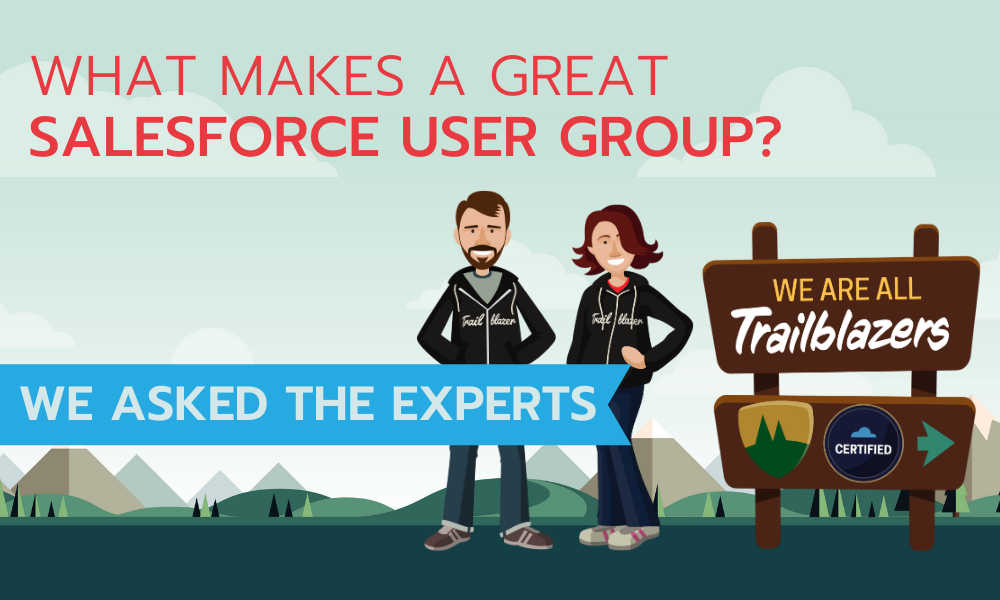 One of the things that makes Salesforce such an incredible technology is its user base, with Salesforce user groups popping up all around the world to support and inspire members of the ecosystem.
The community-oriented talent ecosystem has a long history of hosting exciting events and user groups, which are just as useful for connecting with fellow professionals on a personal level as they are for learning new skills and tech solutions.
But what makes a great user group? Is it the people organizing it; is it the depth of talent in the local area; is it the information and guidance on offer; or is it the catering?!
To find out more about these meetups, so that you can join a Salesforce user group near you or eventually even start your own, we've spoken to influential Salesforce professionals who've already taken that brave plunge and organized their own community event. Here's what they had to say!
---
Mark Jones — Salesforce North East
An 'accidental' Salesforce Admin
Specializes in Salesforce for non-profit organizations
Has spoken at Salesforce community events such as Inspire East
Aspirations of building his own Avengers-style Salesforce super-team
Beginning his Salesforce career in the third sector and continuing down that path, Mark is Data Coordinator at a Community Housing group in Gateshead, where he is a sole Admin in an organization with many teams of Salesforce end users.
While Mark only recently embarked on his journey to build the first Salesforce User Group in his native North East of England, he's been a leader from a young age. As well as being a member of Youth Parliament, he volunteered as an Advocate at Compassion International for five years, and as a Youth Leader at Urban Saints for over a decade.
His passion for helping others is deeply ingrained in his character, and he sees Salesforce North East as just as big an opportunity to share knowledge as he does to learn for himself.
Q:

Explain briefly who you are and what your role is in Salesforce.
My name is Mark Jones and I'm a Salesforce Admin!
I currently work as a sole administrator for a homeless charity in Gateshead, which uses Salesforce for its primary database. In addition to all the everyday tasks an Admin encounters, I also oversee training staff to use the system, and encourage user adoption by customizing the build to meet their requirements.
Q:

How did you first get into Salesforce?
Like many Salesforce pros, I started my career as an accidental admin. I started working with Salesforce technology around three years ago, when I was working for a youth charity in Gateshead in an administration role. Shortly after I joined they asked me 'have you ever seen Salesforce before?' and I confirmed I had, but had no experience on the platform. Soon after I was asked to develop their Salesforce org from scratch!
You may not be surprised to learn the project didn't go as we'd hoped! I was kind of dropped in at the deep end, which meant I had to learn on the job to move forwards with the project. It was really challenging but also the driving force of my Salesforce learning journey. Since then, I've worked almost exclusively with charities using Salesforce.
Q:

What do you tend to do in your job role on a day-to-day basis?
If I was to talk about my actual job role, a Salesforce Administrator, it involves basic things like password resets, generating reports, producing stats and looking at metrics in the database. However, I think the majority of sole admins in a business will tell you the same thing—if you're the only person who knows how to use Salesforce, you'll end up drifting into many different roles.
For example, I do a load of basic development work like building objects, flows and automations, and testing using process builder. But to be honest, a lot of my role is being the product champion in the business. There are lots of end users who all want Salesforce to help with their job role, so it's about learning their requirements and finding the best training and technical solutions to get them excited about it. I'm there to support Salesforce users in the businesses however I can.
Q:

Name an exciting project you've worked on.
My organization is using a managed app called 'In-Form', which was developed by Homeless Link to help charities such as ourselves. While it's a brilliant solution, it simply wasn't built for all of the business functions we wanted to use it for, so last year we started planning how to redevelop our Salesforce org from scratch to meet requirements.
This was a great challenge and gave me a lot of project experience in addition to technical Salesforce experience. We tried things a few different ways before settling on what we're working towards now, which is each branch of our organization having its own app on Salesforce where things are designed bespoke for them. I'm constantly working with the team to evaluate the needs of projects and departments, and tailoring each solution appropriately as time goes on.
Q:

What's your dream role in the technology/do you have aspirations of becoming an architect?
At the moment I'm happy where I'm at: getting my hands dirty on an executive level. In the long term, I want to bring other people into the business who I can help train and build a strong internal Salesforce team. So first I'd like to expand my knowledge and skillset, before eventually going on to share that knowledge with others.
---
---
Q:

Why did you decide to start a user group?
First and foremost I'm a North East lad born and bred—I'm from Sunderland and have always lived around the area. I decided to start a user group in the North East because we have a lot of Salesforce users in the region but we don't really tend to communicate as much as we could.
I've seen thriving communities in London, Cambridge, Manchester, but nothing like that in the North East. If you want to go to events you have to travel, which is challenging logistically and from a budget perspective.
There are more than enough Salesforce users in the region for the group to be a success; there's certainly demand for it. So moving forward my goal is to boost the presence of Salesforce in the North East, either through attracting new candidates, sharing knowledge, or even just providing a space for people to talk about the software with fellow professionals!
Q:

What do you think makes a good user group?
A good user group boils down to:
The people who are involved having a collection of experience and expertise, who can come in and offer something to the group regardless of the mix-up of attendees.
The networking opportunities making it realistic to speak to other professionals in a similar job role, learn from those who are further down the career path you're interested in, and even find a new professional challenge with a business desperately in need of Salesforce resource.
The chance to be part of a community where knowledge sharing is the ethos. As a lone Admin, sometimes my job feels like I'm on an island where the closest help is a million miles away. A user group offers the chance to talk tech with those who share your sentiments and frustrations, which is invaluable.
Q:

What should people expect from Salesforce North East?
A good user group should benefit anyone, no matter their experience level or qualifications. While our initial Salesforce North East events won't be particularly targeted, as we build our numbers, the aim is to eventually branch out into beginner/immediate/advanced groups as well as segment by technology if we can.
We're working hard to ensure attendees are consistently treated to high-quality educational content, expert guest speakers, and some of the famous North East hospitality to round it all off. This is our chance to establish a real network of Salesforce users in the North East, and I can't wait to get started.
---
Amanda Beard-Neilson — Salesforce London Admins
Started her Salesforce career as an Accidental Admin
Chief Experience Officer at ABN Pro Ltd, her own consultancy
Co-organiser of London's Calling, a Salesforce Community Conference
Former CTO and Head of Business Systems at end user companies and project manager at boutique Platinum Salesforce consultancies
Queen of cakes!
Q:

What makes Salesforce a great ecosystem to work in?
Having discovered Salesforce 12 years ago it has changed my career direction completely. Starting from a business development background, I became an Accidental Admin in Salesforce, and have progressed with my career to C-suite level.
Salesforce is an intuitive technology. Its formula stems from a blend of people, process and the platform. If you can understand this then you can be successful within it and grow.
Q:

What's your role in Salesforce and what do you do on a day-to-day basis?
I wear many hats but my most-frequently worn one is that of delivery lead. With a technical background I am able to guide a development team towards the best way of thinking in terms of solution design, whether it be in terms of getting them to think of simple solutions to get something over the line, to consider future proof and scalable options for iterative deployments.
Then there is the people and process side of implementations and understanding how something should land in a business for it to be adopted by both the end user and their customer. It's a role that sees me talk to all levels within a business and a knack to know how much information to give to whom and when.
Q:

You've been a member of the community for a long time, how did you get involved?
When I first discovered Salesforce in 2007, the vendor ran its own customer groups to encourage feedback and sharing. These soon fizzled out but I did value the ability to connect with others and ask about their experiences on the platform.
Fast forward 7 years and users groups were back, but now run by the community themselves, (with support and guidance from Salesforce). At the time I was working in a consultancy and in December 2014 I attended a joint Christmas Developer and newly founded Admin evening. Having discovered the Admins group from that moment I became a member and have missed only a few meetings ever since. In June 2016 the team asked me to become a co-Leader of the London Admins group.
Q:

What makes a good user group?
It's a blend of factors but I feel they are the following: people, presence, content, frequency and fun. Let me explain:
User groups are all about the people in the community. The point of them is that we come together. While remote groups do work, I personally find that face-to-face meetings can be more meaningful for individuals. Their presence at each gathering helps to forge the group together; it can be easier for people to talk with one another about certain subject areas.
Maintaining a regular cadence of meetings helps too and for us, a monthly meeting helps to keep the momentum of the group going. People come back each month to network and re-connect with new friends but also to learn from the content.
Delivering interesting and relevant content is key as it gives a reason for people to attend in the first place. At the Admins meetup we cover all types of subject areas, such as highlights from the latest Salesforce release notes, career advice, new apps to try, and customer implementation stories.
Meeting like-minded people makes them return each month. When people are happy and have fun then they can learn more and want to learn more. Making the meetings a fun and friendly environment stimulates a learning and caring place which is open to all who wish to attend.
I've found the Admin group to be a particularly open and friendly group of individuals who are always keen to know about the next meeting. It's a night for those to meet with their Salesforce friends and share more about their work and personal lives and real friendships have been made. We are a supportive bunch.
Q:

What prompted you to get involved in Women in Tech groups?
I belong to a few different WIT groups, but the first one I joined was a Salesforce Women in Tech group. For me, this was an extension to a community I was already part of and felt it was a natural addition. The others are Elpha and Ada's List. I wanted to expand my network and decided to look outside the Salesforce community for a wider opinion and reach. All groups tackle similar subject areas that face Women and allies working in the Tech industry.
Q:

How do WIT groups differ to regular Salesforce Community Groups?
Traditional Salesforce Community Groups are generally more tech-orientated, whether they focus on Admin-related items and declarative configuration, while the Developers may also cover programmatic related items.
WIT groups will often cover life skills that will enable the individual to nail that interview or promotion request. They will tackle subject areas that have previously not been discussed but what everyone experiences, including men, such as Imposter Syndrome, making personal goals, and better time management and planning. It may also be considered a more inclusive environment where speakers and the audience feel more comfortable to share personal stories and learn from one another.
---
Susannah St Germain — Ladies Be Architects
An 'accidental' Salesforce Admin
Salesforce Technical Architect at Odaseva
Graduate of the RAD Women Code program, which she now coaches
Co-Lead of Ladies Be Architects and the Boston Salesforce Admin User Group
Healthy obsession with Buffy The Vampire Slayer
Q:

What do you tend to do in your job role on a day-to-day basis?
I'm a Salesforce Technical Architect at an ISV called Odaseva. Day to day, I help ensure large enterprise customers have success with their data in the cloud. With more and more companies using Salesforce for their mission-critical applications, 99.999% availability is sometimes not enough!
Q:

What makes a good Salesforce user group?
I think that a good user group makes people feel included, brings good content but also some fun. And is the living embodiment of the #SalesforceOhana!
Q:

What prompted you to get involved in Women in Tech groups?
The first WIT group that I became deeply involved with was the Salesforce WIT Developers (WITDevs) group. I had attended WIT meetups in the past, but hadn't really connected with anyone. This virtua WIT group was ideal for me, because I'm a bit shy. Connecting with others virtually around a technical topic (development) was the way I was able to really "find my tribe" in the Salesforce ecosystem.
Q:

Why do we need Women in Tech groups?
WIT groups are a great safe space for women to connect with other women to learn and grow, and we absolutely need them in the ecosystem. We also need for all the WIT groups to work together. There is a lot of cross pollination between the groups, including "official" user groups and other great community groups. Ladies Be Architects, a community group that I co-lead, works very closely with WITDevs and RAD Women Code. We're all stronger together!
Q:

How are WIT groups different to regular Salesforce user groups?
I think it's important that Salesforce has all different types of user groups. Not everyone will find the same group right for them. The diversity in groups allows for people of all genders, ethnicities and interests to find a group where they belong.