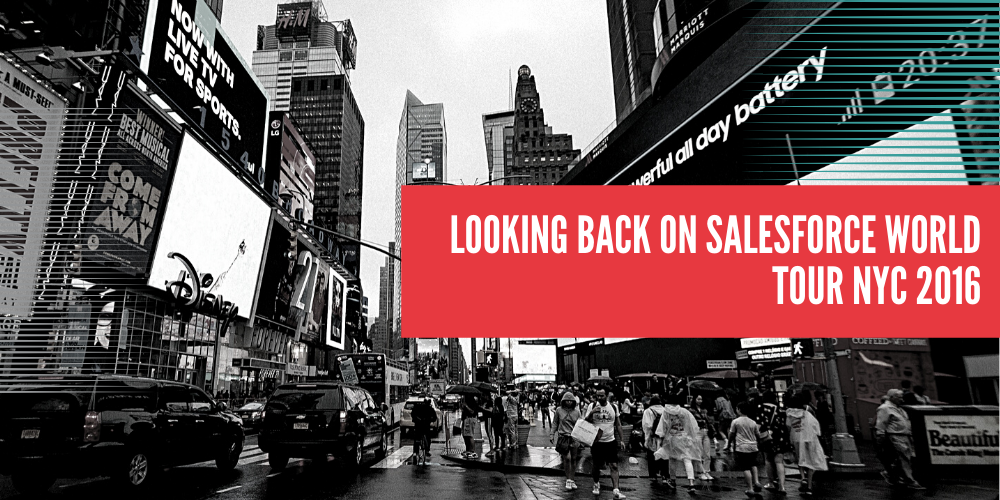 As Gold Sponsors, the Mason Frank team had a blast at yesterday's 2016 Salesforce World Tour in New York. The event can best be described as a "mini" Dreamforce, and it was clear that all attendees had a wonderful experience.
The day began with the Cloud Expo, where all the booths were set up. As attendees arrived, they were greeted by a smiling Salesforce staff and offered coffee and breakfast treats (which are always appreciated). This gave everyone a chance to settle in, network a bit and attend some morning breakout sessions.
Soon to follow was as inspiring and informative keynote titled "Our Path Together" with CEO Marc Benioff and special guests, including a musical performance from Andra Day, and an appearance from Colin Powell. The keynote featured powerful messages of innovation and the future of enterprise software. Salesforce executives took turns presenting various cloud, mobile, social, IoT and AI technologies and showcasing they are being used by companies to create a better customer relationship. We can't forget to mention the many Christmas elves who travelled all the way from the North Pole to appear in the presentations and add some holiday fun to mix.
The keynote left the crowd inspired and excited to jump right into the afternoon activities. A jam-packed agenda awaited attendees, offering 19 different Breakout Sessions, over 50 Theater Sessions, and 7 Workshops to choose from. Presentations included interactive product demos, engaging guest speakers, and an opportunity to hear from actual Salesforce customers using the products to grow their business. We also took a ton of cool pictures of the event, so you can see all the action for yourself by visiting Mason Frank on Facebook.
As the day came to an end, the Cloud Expo area become a networking reception where everyone got the chance to make contacts and discuss all of the cool stuff they learned throughout the event.
With an ever-growing list of innovative products, helpful applications and quality services, Salesforce has become one of the most successful and popular cloud companies ever! This is not just because of their innovative products, but because of the global community of talented Salesforce professionals who support it.
The Salesforce community is passionate and excited to learn and for this reason, Salesforce works hard to produce unbelievable industry events, like the Salesforce World Tour. Mason Frank looks forward to attending many more Salesforce events in the future.
If you weren't able to stop by our booth at the event and pick up a Salesforce Salary Survey, you can download it for free.