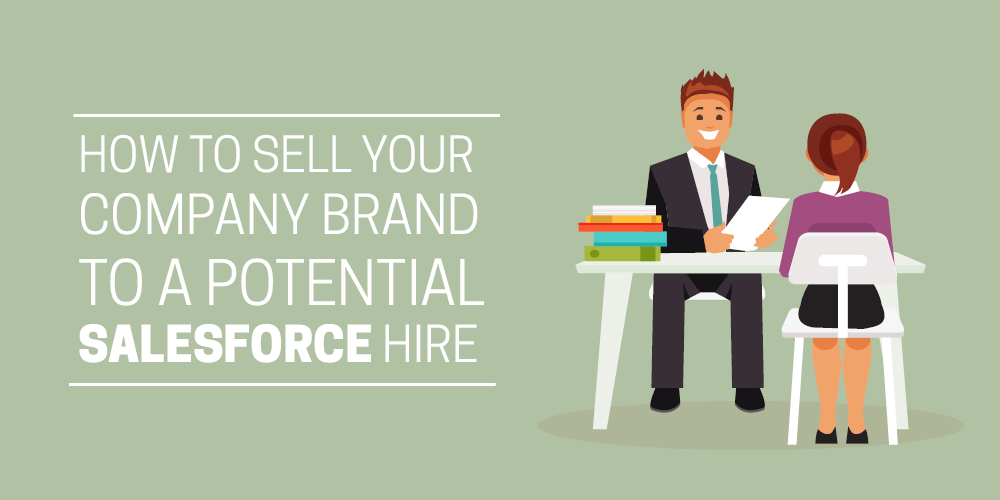 It's a job seekers' market out there.
Salesforce professionals have more choice than ever, and, believe it or not, they're no longer swayed by who's writing the biggest check.
In the talent-strapped tech industry, creating an attractive employee brand isn't just a nice-to-have anymore, it's essential—94% of job seekers are more likely to apply for a role with a company that actively manages its employer brand.
It's especially true in the Salesforce channel, where the customer base is growing exponentially, and skilled candidates have their pick of projects and employment prospects.
Job openings outnumber Salesforce professionals ten to one for some roles—so if you want to attract the best Salesforce talent, you need to demonstrate that you're offering them something valuable and exciting enough to tempt them away from other offers.
Here are six actionable (and cost-effective!) branding changes you can make to help you attract the best Salesforce talent on the market.
1. Define your EVP
At the core of your employer brand is your employer value proposition (EVP). Your EVP is the total sum of the rewards and opportunities you offer your employees in return for their service. That's everything from your culture and benefits, to training and career opportunities, even your company mission; it's your guiding light when it comes to developing and pitching your brand to potential recruits.
Think about what your business offers to its team. Speak to your current employees and find out what they love and value about your company culture—you may get some surprising answers!
Remember, when it comes to hiring Salesforce talent, you're competing with at least a handful of other companies, so try to discern what makes your organization unique. What will employees find with you that they won't get anywhere else? Do you have an enviable work environment, unusual benefits, or an outstanding training program? Map these factors out, and distil them into a few points that sum up the culture that your business promotes.
2. Showcase your company as an employer of choice
You don't need a big budget behind you to show off your brand and your culture. What you do need to do is make sure your employer brand is consistent throughout your entire hiring process, from job ads through to how you conduct your interviews, and any onboarding materials you roll-out.
Make your careers page engaging. Include quotes from or even short profiles of your current employees to give candidates a feel for what it's like to work for you.
Videos are a really good way to summarize your company "vibe" in a punchy, interesting way, and can be used across channels, from your website, to social media.
Show off any workplace or employer awards you've won.
The most important part of illustrating your brand is to be authentic; anyone can say that they're X, Y, and Z, but without the actual culture in place to back up your claims, your brand bubble will soon burst, and retention rates will nosedive.
3. What's your mission?
According to Neilsen's global corporate responsibility survey, two-thirds of workers would prefer to work for a company committed to making a positive impact on society and the environment.
Making a pledge to uphold CSR is great for your brand. Commitment to a cause, whether that relates directly to your business mission or not, can be a massive boon for your company's image, and do wonders for your employee engagement too; employees that have a cause to rally around are often more invested in your company, more engaged with their work, and more satisfied in their roles.
Corporate social responsibility is a big draw for candidates today; people want to do good things, and they want to work in a place that contributes to positive social change. Job seekers don't want to hear that your business is a "clock in, clock out" kind of place. They want to know they'll be part of something meaningful, something special—something bigger than themselves.

Shout about your mission and let job seekers know that by joining your business, they'll be working towards a common goal, and making a difference.
Again, great CSR doesn't have to mean spending big bucks. It's about more than throwing money at a charity. Giving your employees time off to do volunteer work, making a commitment to creating a more eco-friendly work environment, or devising an education program to help foster inclusion in your industry are just a few of the ways you can build your CSR brand without putting a dent in your budget.
Look at Salesforce itself; the company's Pledge 1% movement has encouraged thousands of companies to dedicate 1% of their equity, time, product, or profit to improve their communities, giving organizations a number of ways to commit to making the world a better place.
4. Make it about them, not about you
Do your job ads tend to be all about what you want, and what job seekers can do for your company?
The best Salesforce talent know their worth; they have no shortage of options on the table, and they're going to go with the company that can give them what they want. In a candidate-strapped market, job seekers have the upper hand; a job ad is as much, if not more, about you pitching your offer to a candidate than the other way around. Take out the "we" and add more "you".
Focus on training and growth, on benefits, on your unique EVP. There will always be bigger companies who can pay higher salaries, so what is it about your company that can trump that? Why should they work for you and not someone else?
5. Shout about your benefits
Money is no longer the bottom line for many jobseekers. Yes, a good competitive salary is an important consideration for candidates when weighing their options, but more people are willing to forgo a few extra dollars in favour of a better work-life balance, or contributing to a cause they feel strongly about.
Today's Salesforce professionals are not driven solely by cash, and appreciate that having a fat wallet doesn't mean much if you're miserable 40+ hours a week.
You might not necessarily be able to offer free vacations like AirBnB, unlimited parental leave like Netflix, or three gourmet meals a day like Google, but anything you do in your business to make your employee's lives easier, healthier, and more balanced is worth shouting about. Ask your employees what their favourite perks and benefits are too.
6. Create an internal referral program
There's no greater way to sell your brand than having a current employee vouch for you. Referrals are often the fastest and most successful way to recruit—the majority of candidates will trust the word of people they know over corporate ad campaigns any day of the week.
The Salesforce ecosystem is engaged and well-connected. Between conferences and events, online forums, and social networks, chances are your employees will be connected to tonnes of candidates who'd be a great fit for your organization. Of course, if you have an outstanding employer brand, your employees will be keen to recommend you to other professionals, but having an internal incentive program in place to encourage and reward referrals never hurts.
The Salesforce Ohana is an innovative, inclusive, and forward-thinking community; expectations for their employers are high, and with so many opportunities available to them, they're in a sturdy position when it comes to choosing the next step in their careers.
By building an attractive employer brand and positioning your company as an inventive and exciting place to work, you'll have the best chance of landing the finest talent in the Salesforce market.
Interviewing a Salesforce professional can be challenging, particularly if you aren't an expert in the technology. Read our guides on interviewing a Salesforce Admin and a Salesforce Developer to make the process as smooth as possible.