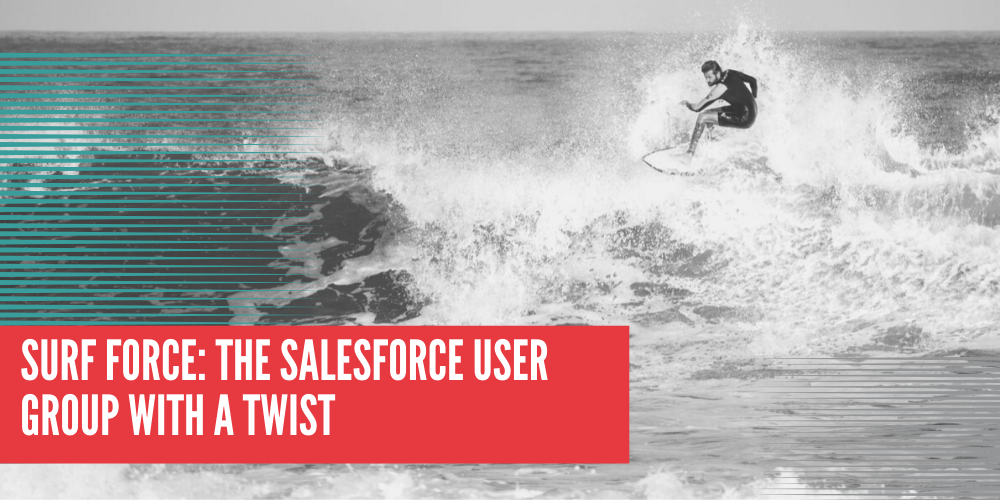 Surf Force is a Salesforce user group with a twist.
Sponsored by Salesforce, Mason Frank, Apttus and more, Surf Force is as the name suggests – surfing lessons and a Salesforce conference! Surf Force is a free event and a fun twist on a user group that will introduce Welsh trained Salesforce candidates but also welcome those new to Salesforce who are looking for career opportunities.
The event is also for businesses, entrepreneurs and graduates and will focus on the Salesforce jobs that are available immediately, the business opportunities and the free training resources that are available to all within the Salesforce ecosystem.
Surf Force is for:
Graduates looking for career choices
Job seekers who are looking for a chance to learn about cloud technology and Salesforce.com
Experienced Salesforce developers etc. looking to network
Businesses looking for an established platform that will allow them to sell internationally
Entrepreneurs looking to build products on an established international business platform
Why should you attend Surf Force?
Surf Force was created to help combat job losses in the Aberavon region and to showcase the Salesforce career opportunities that are available. Salesforce encourages and supports these types of User Groups and mini events put on by its community members and Mason Frank is proud to partner with Salesforce and Surf Force to encourage adoption of Salesforce jobs in Aberavon and support job seekers who are new to Salesforce technologies.
How many people will be there?
Surf Force can accommodate 130 people. If you prefer not to surf you can still attend the lunch, speaking sessions and drinks.
How much does Surf Force cost?
Surf Force is a free event, however, donations can be made to The Wave Project. The Wave Project changes lives through surfing courses.
What can you expect on the day?
08:30 – 09:30 Breakfast, introductions and day briefings
10:00 – 12:30 *Surfing
12:30 – 14:00 Lunch
14:00 – 18:00 Speaking Sessions
18:00 – 19:00 Drinks
If you're not surfing, the days begins at 12pm with lunch.
Information about surfing at Surf Force
Surfing limited to 30 people for instruction
It'll be run by professional instructors
All equipment will be supplied, wetsuits, etc
It should last for about 2 hours or less depending on stamina
There are changing facilities with showers and safe storage of your clothing etc
If the surf is bad or the weather atrocious we will arrange beach games or indoor equivalent
You must be able to swim
You must bring your own costume
You will be given a free towel
To learn more about the event and its speakers and sponsors visit the Surf Force website.