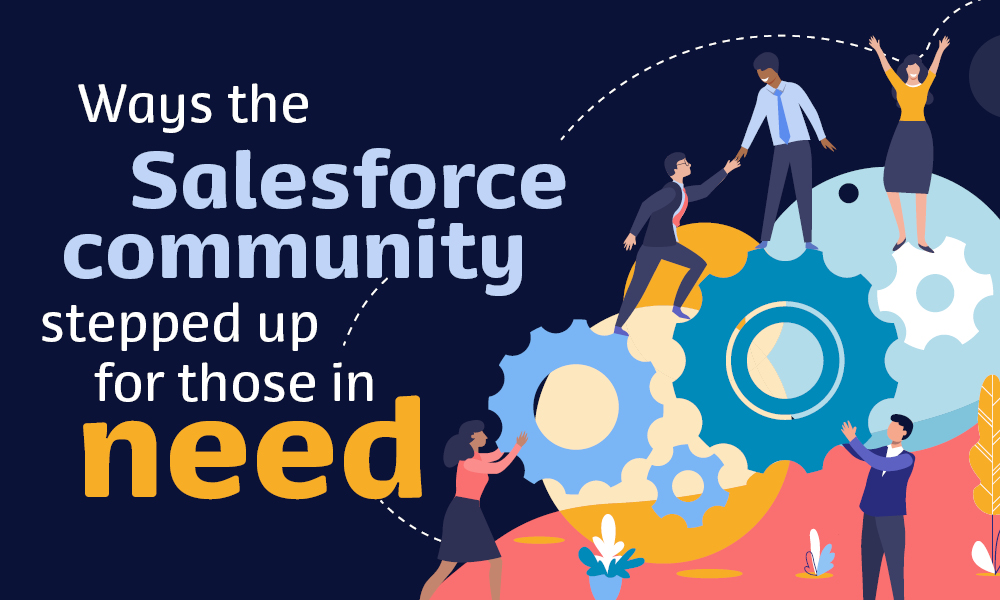 In a time when we're compelled to stay apart, it's fantastic to see people band together to help those in need, in whatever way they can.
For those in the Salesforce ecosystem, this has involved everything from helping the local community with volunteer work for health and welfare services, to making essential learning resources free for periods of self-isolation, to donating millions of dollars to relief charities.
Here are five ways the Salesforce ecosystem has stepped up during this time of crisis.
Salesforce donates to help battle COVID-19
Along with 24 other San Francisco-based companies, Salesforce has committed a substantial amount of funding to frontline organizations that are offering support to those impacted by the pandemic, with the initial figure at around 22 million dollars.
Free Salesforce training for those who've lost their job
This challenging time has been particularly unforgiving for the job market, and we've seen thousands of Salesforce professionals either lose their role or experience major uncertainty about their future.
To help out her peers, Salesforce MVP, golden blazer recipient, and all-around good egg Gemma Emmett is offering free Salesforce training to those who've fallen on hard times. You could even register as a volunteer if you'd like to help her out.
Salesforce eases certification concerns
While upskilling is always top of mind for any ambitious Salesforce pro, many have recently found themselves neither having the time or resources to study towards their certification. Some pros even had exams booked that it would no longer be possible to attend.
In response to this, Salesforce has removed the April 10th certification maintenance deadline, and is waiving all exam cancellation and rescheduling fees.
Salesforce community events being live-streamed
A number of huge Salesforce events have been either cancelled or postponed to adhere to social distancing guidance. Salesforce World Tour Sydney was the first to go, while World Tour London followed shortly after.
But Salesforce isn't a community willing to rest on its laurels, and organizers of both official Salesforce and community-led events have taken steps to ensure nobody misses out on the fun or the opportunity to learn.
Take London's Calling for example. This is one of the largest community Salesforce events in Europe, and thanks to the talented and innovative team behind the conference, those planning on attending were still treated to each session, only virtually via London's Calling TV! They even built a virtual expo so attendees could 'walk around' and speak to tech vendors, just like the real thing.
Covid 360 – treatment solution built on Salesforce
The healthcare industry has utilized Salesforce technology for a long time now, and a new solution on Salesforce is being harnessed to treat coronavirus patients.
Covid 360, an end-to-end centralized solution for coronavirus treatment, was built by Deloitte Israel, and uses Salesforce Health Cloud along with Diagnostic Robotics' AI triage and clinical predictions platform.
Not only does the system identify high-risk patients and suggest scalable solutions for keeping these people safe, but it can also define the appropriate care plan and automatically distribute it to millions of patients.
Be sure to follow us on social media, where we'll be shining a light on all the brilliant things being done by the Salesforce community in this time. And of course, please let us know if we can help you in any way.