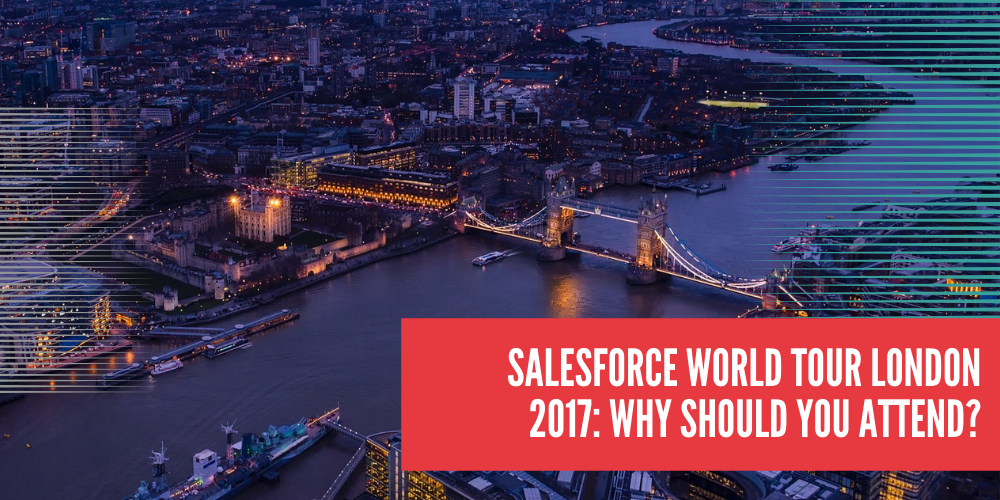 Experience the very best of Salesforce at the 2017 Salesforce World Tour London.
We are so very excited and proud to be attending the upcoming 2017 Salesforce World Tour London on May 18th, as Gold Sponsors. This global event is sure to be an incredible experience, consistent with all the other fantastic Salesforce events.
Here is why you should attend:
2017 Salesforce World Tour Agenda

This Salesforce World Tour London event is an amazing opportunity not only to network with the Salesforce Ohana but it is also a great way to hear about the latest and greatest Salesforce products and how they can help any business reach its highest potential.
The one-day event begins in the Customer Success Expo, where you'll get to walk around and experience the best of every piece of the Salesforce ecosystem. This is a great time to introduce yourself and chat with other Salesforce professionals and partners, including Mason Frank.
Explore and learn about the most innovative and new Salesforce products and technologies from the MVPs who know best. Attend break sessions to get insight into how people are using Einstein, Lightning, Quip, Commerce Cloud and more, to connect with customers faster and more effectively than ever before. Learn firsthand from leaders of various successful companies how to leverage Salesforce products in a variety of industries.
We can't forget about the incredible keynote and special guest speakers! Salesforce never disappoints when it comes to providing an array of inspirational speakers, that's something we can all agree with.
Keynote Line-up
Stephanie Buscemi, Executive Vice President, Product and Solutions Marketing, Salesforce
Tony Phophet, Chief Equality Officer, Salesforce
Richard Beaven, Distribution Director, Swinton Insurance
Nina Bhatia, Managing Director, Connected Home
Nagore Fernandez, Head of Clinical, EUCAN
Oliver Lee OBE, Chief Executive, The Challenge
Craig Walker, CIO, Shell
Explore the City
Don't forget to explore the city of London while you are there. Here are some of our tip sightseeing tips:
Tower of London
Built THOUSANDS of years ago, the Tower of London, officially recognized as Her Majesty's Royal Palace and Fortress of the Tower of London, is the world's longest running tourist attraction. Explore this ancient fortress, which has served as a royal palace, armory, a zoo and even a prison. The Tower of London is STILL home to her Majesty's Crown Jewels, which are on display for all to see.
Buckingham Palace
As one of the world's few remaining royal palaces, Buckingham Palace is a must-see for London tourists. As the London residence and administrative headquarters of the reigning monarch, this gorgeous building has been home to Britain's royalty since 1837. Luckily, the Salesforce World Tour is in May, which is a perfect time to visit the Buckingham Palace to see the Changing of the Guard ceremony.
London Eye
As the highest Ferris Wheel in Europe, the London Eye is the most popular paid attraction in Britain.  We recommend taking it during sunset for a breathtaking view of the city.
Paul's Cathedral
This towering iconic monument is an obvious choice for anyone visiting the city of London. Explore the ins and outs of this historic building, including the Golden Gallery all the way at the top, for a spectacular panoramic view.
Big Ben
Did you know that Big Ben is the largest four-faced chiming clock in the world? Visit this iconic London landmark and take a tour up 334 steps of a spiral staircase to hear Big Ben strike the hour. Don't miss out on this unique experience while you're visiting.
The Salesforce World Tour London is an event that provides a variety of opportunities to learn, network and explore the beautiful city of London. Register for free here. Remember to stop by our booth to chat with the Mason Frank team and enter our "Unlock the Box" competition. We have some really cool prizes to win, so we hope to see you there.