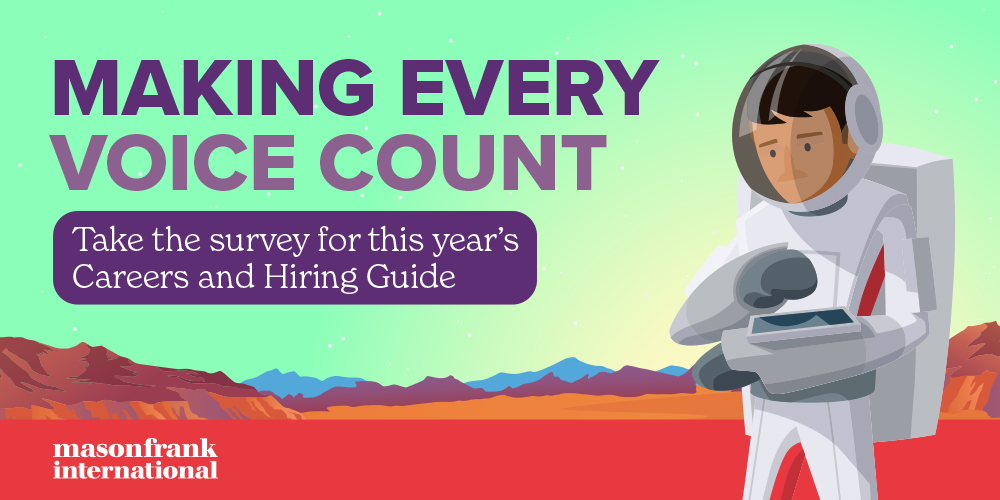 This year's survey is now open which means that Mason Frank's Careers and Hiring Guide 2022-23 is almost here and, as ever, we need your help to make sure it's the most accurate reflection of the global Salesforce community possible.
Last year saw a record 2,139 people around the world take part in the survey, and with the latest edition on the horizon we're hoping to smash that number. So much so, we're offering a $500 Amazon eGift card for one lucky participant!
With diversity taking an increasingly prominent part of the ecosystem, we particularly want to hear from those who may feel underrepresented within the Ohana to give their views, in order to gauge where they feel the industry stands. As an example, in last year's survey 60% of respondents felt that gender inequality still existed within the tech industry—however that was made up of 52% of men agreeing with this compared to 73% of women. These differences make it vital that every voice is heard.
Beyond diversity the guide also covers a range of employee sentiments from job satisfaction to platform trends, making it a vital resource for professionals and decision makers at every level. For employees, it offers a unique insight into what your peers are earning, as well as what's necessary to increase your own value as you look to progress your career and maximize your earning potential, plus a unique view of the platform's most in-demand products and certifications as well as what potentially lies ahead in the next 12 months and beyond. There's also a range of exclusive career advice and opinion from some of the leading voices within the Salesforce community that will help you make more informed career choices.
If you're a business decision maker, then you have unrivaled access to data that will help you benchmark salaries on your own Salesforce team, as well as information on what attracts Salesforce professionals and, just as important, what makes them stay. As the war for talent intensifies in the midst of a skills shortage, it's vital insight that could help you stay ahead of the game.
Take part in the survey now!
Making your view matter
As ever, producing the world's most comprehensive report on the Salesforce ecosystem requires your help. To make sure it accurately reflects as wide a range of the Salesforce community as possible, we're keen to make sure that every spectrum of the Ohana is heard. Last year's survey, for instance, revealed that 75% of the ecosystem believed that their employer was a champion of equal rights—does that reflect your own experience? We also saw that 36% of women believed there was equal pay between genders in their workplace across the same role, whereas 62% of men believed there was equal pay for equal work. We'd love to know if that measures up against your own view.
The guide also revealed that 72% of professionals agree that their employer promoted racial and ethnic diversity in their workforce—this insight is vital in order to shine a light and make sure tech employers continue to address these imbalances, and we really want to hear from as many voices as possible to ensure this accurately reflects the views of those from the more underrepresented groups within the Salesforce community in order to do so.
As the industry is staring directly at a skills gap that is on the brink of becoming a crisis, it's never been more important to gain an independent snapshot of the ecosystem we live and work in. From what motivates professionals on a daily basis, to the ways employers can help level up and make their Salesforce teams fairer and more reflective of the world outside our doors. We need as many voices to be heard so that this year's Careers and Hiring Guide is the most accurate representation of every corner of the Ohana.
The survey should take around 20-30 minutes to complete, and one lucky participant will be drawn to receive a $500 Amazon gift card to say an extra thanks for their time. It will be open until June 2022, with the full guide due to be published later in the year, and an exclusive first-look at the report available to everyone that takes part in the survey too. Together, we hope to continue producing an invaluable resource for everyone in the global Salesforce community.
You can take part and make sure your voice is heard by clicking here.
Have your say on the Salesforce community now!
---
To be in with a chance of winning a $500 Amazon gift card, as well as helping your peers by contributing your thoughts, sentiments and opinions, take our survey today.