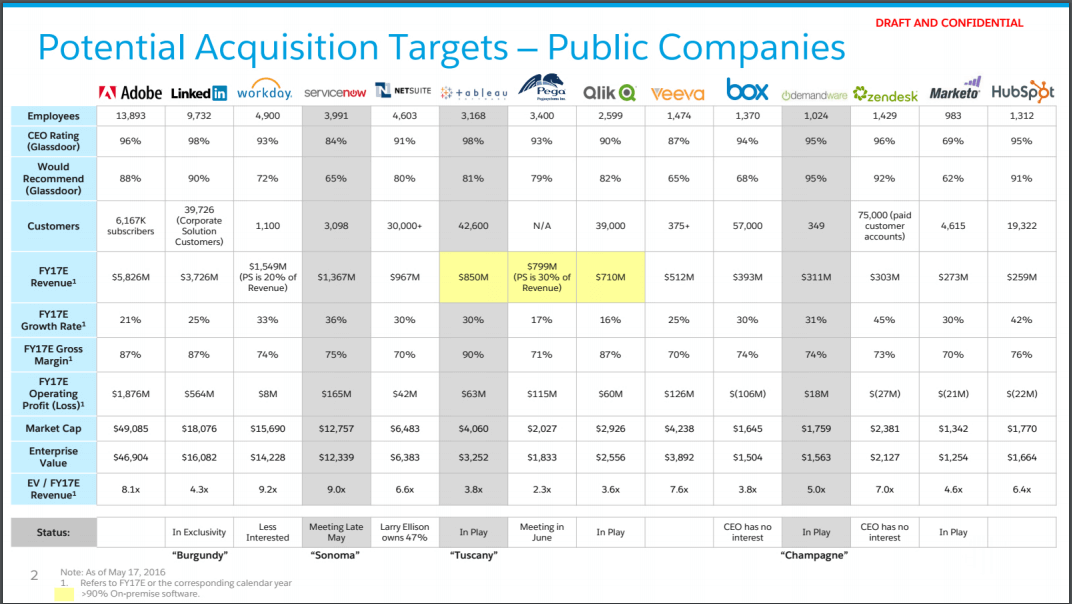 Back in May, Salesforce.com looked into 14 possible acquisitions according to leaked emails and an internal presentation, reported by The Wall Street Journal. With much speculation of Salesforce.com looking to acquire Twitter, the target list actually revealed that Twitter was not on the list.
The leaked emails and document came from a collection of former Secretary of State Colin Powell's emails, which were exposed in September by DCLeaks (a website of self-described 'hacktivists'). These released documents were from government officials and other conspicuous people that Colin Powell gathers with on Salesforce's board of directors.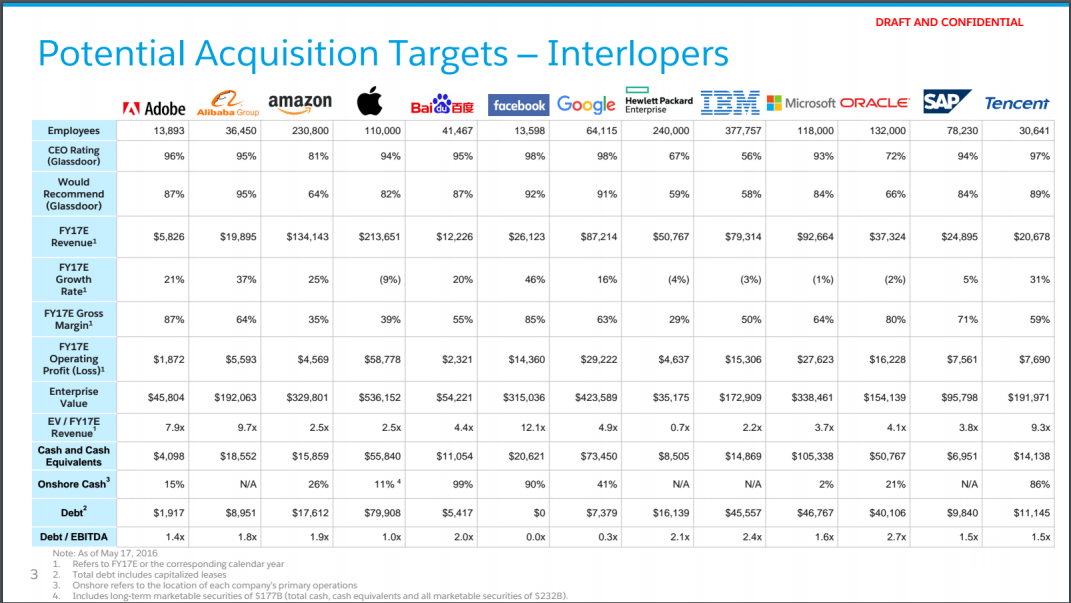 Above is a snapshot of the leaked presentation that was marked 'draft and confidential', and highlights all the companies that Salesforce.com had their eyes on. You can read more about the leaked document, and the notable highlights of which companies Salesforce.com have set their targets on, via Wall Street Journal .
Salesforce hopes to show it can make AI accessible with Einstein
Only a few months ago, Salesforce started talking about Artificial Intelligence (AI) – a software that teaches itself how to perform tasks. Salesforce has hopes to prove that they are ready to step into this new market with smart online services, some of which are available now, but most of them planned to launch next year.
Collectively known as 'Einstein', Salesforce chief executive officer Marc Benioff announced the initiative at this year's annual Dreamforce event. Einstein is not defined as a product, but more as a set of intelligence functionality that underlies the whole Salesforce platform, and the types of functionality that is currently enabled is slightly limited. The idea of Einstein is to offer a base on top of which the company is able to add new capabilities into the future.
You can read more about what the future holds for Salesforce and their Einstein AI initiative via TechCrunch .
Shares of cloud computing – Salesforce.com is down eight cents at $72.75
Despite a positive note from Rosenblatt Securities' Marshall Senk, who launched the coverage of the company with a Buy recommendation, and a nice $90 price target and classifying the company as the 'premiere name' in the playing field considering it delivers 'the strongest and most consistent results.'
Marshall Senk perceives flaws in the company's recent financials as temporary and that it is nothing to worry about quoting:
'Salesforce recently reported 2 Q17 results which were negatively impacted by currency and under performance in July, primarily in the US. After conversations with both customers and partners, we are comfortable viewing the issues as specific to the quarter and look for the company to rebound from billings to shortfalls again and again. Additionally, both our conversations during Dreamforce and our subsequent research point to a rebound in business following the weaker July.'
You can read more about how Salesforce will perform ahead to Q4 and into the next year, and how the addition of new products and platforms will better expand its use with their current customers in the next few months, via Barrons.
Looking for Salesforce candidates to join your team? Browse candidates here on our site, or upload a job.