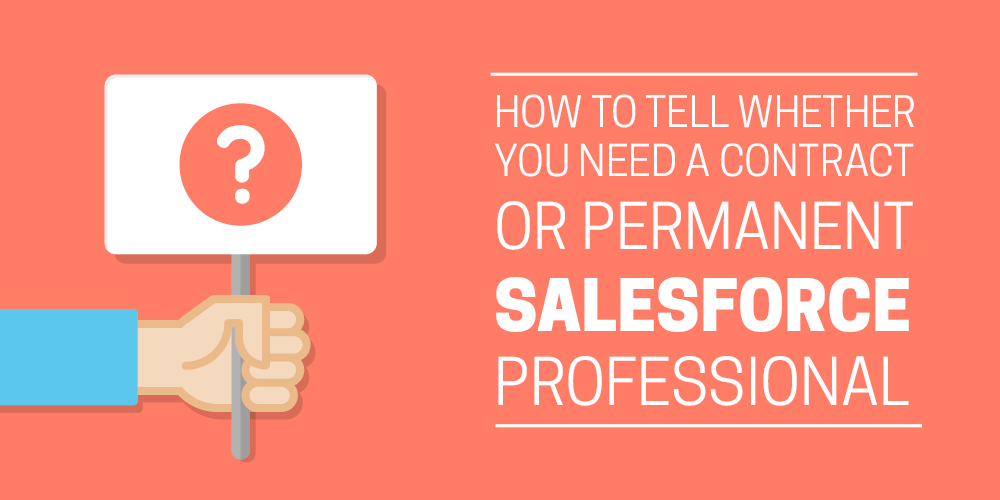 So you're looking to bring new talent into your team? In certain circumstances it makes more sense to make a contract hire. Here's why.
Whether your business is going through a period of growth, you're upgrading or implementing a new Salesforce product, or you're simply replacing a departing member of staff, hiring can be tricky, and there are many different options on the table.
As a specialist Salesforce recruiter we see this all the time, but depending on your requirements, bringing in a permanent member of staff isn't always the right approach. In some cases, hiring a contractor can be far more beneficial, both for the short-term success of your project and the quality of work that is produced, as well as for your finances.
Before we talk contracting, let's consider the benefits of permanent hires and why businesses tend to lean towards these as the default.
Hiring a Salesforce professional on a permanent contract
The reasons for wanting to bring in a permanent member of staff are fairly logical. Having a permanent resource ensures constant support throughout the project lifecycle and beyond. And with a full-time staff member, your Salesforce expert will be available for any assignments you see fit, within reason of course.
The value of on-site, in-house talent shouldn't be underestimated. Not only can it be more practical from a management and communication perspective, but it also allows you to oversee the skills and development of your staff member. Permanent hires are ultimately long-term assets; they will grow with your organization, particularly if you give them focus or direction onto a certain path.
This is why finding a good cultural fit is so important with permanent hires. What you have to remember with a permanent hire is that you aren't just taking on a person's skills, you're taking on their personality. Most workplaces see employees spend 40+ hours a week in each other's company, which can be a long time if there is a negative influence in the team.
Why hire a contractor?
While a contract professional could technically spend as much time in your business as their terms dictate, most Salesforce contractors typically spend between three months and a year working on a project. Contractors are generally brought in as a valuable short-term resource to either develop a product, speed up and/or complete a project, or act as a stop-gap replacement for a departed member of staff.
If those scenarios sound familiar to you, a contractor may be your best option. Let's go through each in more detail.
You've lost a member of staff
The unexpected departure of permanent staff is one of the most common reasons Salesforce customers utilize recruiters like us. While you may prefer to replace your departing staff member with a permanent professional, sometimes you just can't.
If you're working on a particularly time-sensitive project that desperately needs a technical resource, you don't have time to be talent sourcing, interviewing, screening, waiting for your new hire's notice period to expire with their current employer, and then inducting them to the business. Sometimes you just need someone who's going to come in, get things done, and be home in time for dinner. It's not really the cultural fit that's important, more their ability to get the job done.
As a specialist Salesforce recruiter, we've worked with many clients looking to quickly replace departing staff. Read our Salesforce hiring case studies, where we've helped businesses in this very situation.
That's not to say a contractor is a direct alternative to a permanent staff member, but it does allow you to continue with your project while your talent search is ongoing. You could bring in a contractor until you're satisfied you've found the right candidate to come in on a permanent basis, in which case the baton will be passed and you can move forward with your project road-map.
It's also a viable option if you are in the process of bringing in a new permanent member of staff but the acquisition falls through for whatever reason. You may not have the time to start your talent search again from scratch, and a contractor will provide temporary relief until you get the wheels back in motion.
You're implementing or deploying a new product
Having permanent expertise on-hand is a nice-to-have, but some job roles don't require a full-time hire. The implementation or deployment of a new product is a particularly challenging time. Not only do you need technical expertise to get the product properly set up and ready to go live, but also consultation, requirements gathering and planning from someone with experience of similar deployments in the past—someone who knows how to come in and get a project over the line.
It's a specialist role that isn't always suitable for a permanent hire. After all, you're only implementing a product once. After it's set up, you need to be more concerned with operating and maintaining it, which is a separate role entirely. So it makes little sense to hire an implementation specialist permanently; look instead for an experienced contractor who can come in on a short-term basis and do everything necessary for go live, before riding off into the sunset.
You need very specific expertise
While the Salesforce ecosystem is rich with skilled professionals, those whose experience floats in the deeper end of the Salesforce talent pool can be very hard to come by. Demand for roles such as a solution architect can be particularly high, so it makes more sense for these professionals to work on a contract basis rather than joining a company as an in-house worker (unless the project is particularly exciting or lucrative!).
As you might expect, professionals of this caliber tend to come at a premium, but this is all relative. If you balance it against the cost of onboarding a permanent member of staff, and a trial-and-error filled year to complete the project at hand, daily rates for a highly skilled professional who can produce the same work in three months start to make a lot of sense.
You need to cut down the time of a project
While in some cases you need specific expertise to guide you through a project, you often just need people power. If you have a particularly high number of outstanding issues or tickets that need to be resolved, enlisting the services of a temporary or contract Salesforce professional, such as an administrator, could be a great way to get back up to speed without having to take on an extra permanent member of staff.
Salesforce projects generally don't involve a consistent flow of work—it can deviate unexpectedly, so sometimes you simply can't account for being lumbered with extra work. You don't want this to slow your business down, so bringing in a contract worker is a healthy middle ground between scaling your team and struggling against the tide. You only have to pay for the work you need doing, which can massively cut down on potential staffing costs.
We could talk you through a million and one use cases for contract professionals, but ultimately the decision centers on two questions: what do I need in the short term? Do I need the same thing in the long term? If you answered no to the second question, the likelihood is that a contract Salesforce professional is probably the best option for you.
A quick plug: if you're looking to hire, Mason Frank's large database of pre-screened contract Salesforce professionals is the speedy solution to your staffing problem. We can deliver a shortlist of relevant candidates ready to be interviewed in 24 hours.