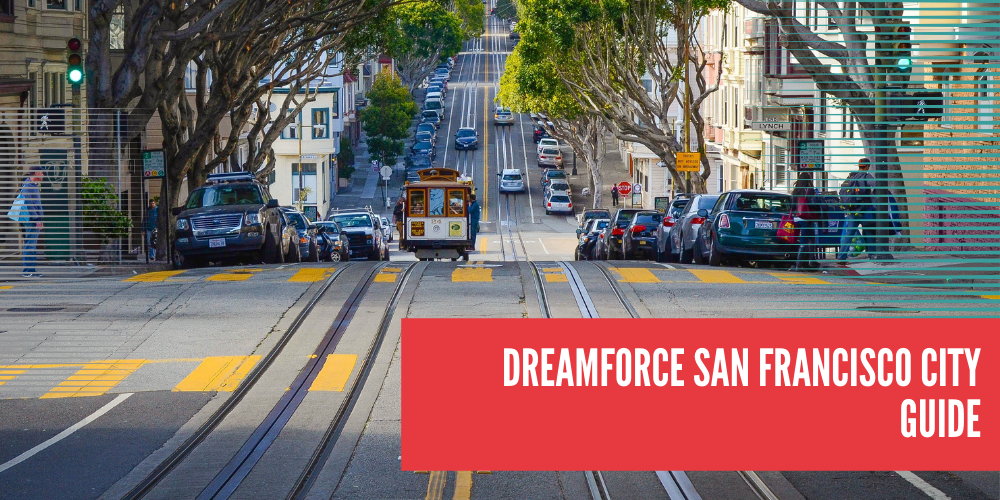 If you're headed to Dreamforce then look no further; we've put together a list of must-sees in San Francisco, local tips for getting around and dining out to help make your Dreamforce experience even greater.
Fun facts
Originally a Spanish, and then later Mexican mission and pueblo, San Francisco was formerly called Yerba Buena back in 1835, which is Spanish for Good Herb.
The U.S. Navy originally planned on painting the Golden Gate Bridge black with yellow stripes. The orange coating was only intended to be a sealant.
The city's cable cars are not only the world's last manually operated cable car system, but they are the only National Historical Monument that can move.
When notorious criminal Al Capone was held at Alcatraz, he played the banjo during regular Sunday concerts with the inmate band, the Rock Islanders.
And as far as famous historic endings go, the Beatles gave their last full concert at Candlestick Park on August 29, 1966.
Things to see in San Francisco
No visit to San Francisco would be complete without a visit to the Golden Gate Bridge, and not just because it's the perfect backdrop for selfies. There's a welcome centre at the bridge itself, and both ends of the bridge are in the Golden
Gate National Recreation Area, so there are plenty of opportunities for hiking, biking, and taking in the spectacular views across the bay. Goldengatebridge.org
Stage your very own 'Escape from Alcatraz' with a ferry trip and guided tour of one of the world's most famous prisons. As well as a look inside the old cells, you can walk round the now-restored historic gardens, and even take a special night tour. Make sure you book, as tours can sell out weeks in advance. Alcatrazcruises.com
The city is home to some beautiful park spaces, from the Golden Gate Park to the recently renovated Dolores Park in the heart of the supremely cool Mission district. On Sundays, the Golden Gate Park is car free, making it the perfect time for a stroll and a visit to the de Young museum. Sfrecpark.org
Fisherman's Wharf is one of San Francisco's busiest tourist spots, but if you head down early in the morning, you'll beat the crowds and be in with a good chance of seeing the sea lions that cluster around the Pier 39 Marina (but don't get too close, they can be aggressive). There are lots of great places around the marina for breakfast afterwards. Fishermanswharf.org Pier39.com
Step back in time and get a flavour of hippie counter-culture with a visit to the Haight-Ashbury district. Said to be the birthplace of the hippie movement, the Haight is now an upmarket residential district, but some of the old character remains. Browse the thrift stores, take in the colourful murals and iconic Painted Lady villas, and enjoy a great brunch at one of the area's numerous cafes.
For a little R&R, book a spot at the serene Kabuki Springs Japanese spa on Geary Boulevard. There's a hot pool, cold plunge, dry sauna and stream room available and a tantalising array of complimentary bath products and fantastic Japanese teas. The baths often reach capacity – if you want to avoid hanging around, then book a massage and you can skip the wait list. Kabukisprings.com
Where to eat and drink in San Francisco
Kate's Kitchen in the Haight offers a good old-fashioned American breakfast at a bargain price – try the Orange Spice French Toast, French bread dipped in orange-spiced batter, baked and sautéed with butter. Kates-kitchensf.com
Bourbon fans should make their way to the Hard Water restaurant at Pier 3, where they're famous for their collection of superior American whiskeys and great fried chicken. Hardwaterbar.com
The burger at Nopa has become a local legend. But if you're not a fan of burgers then there are plenty of other dishes to get excited about at this restaurant, from the Moroccan tagine to the warm strawberry Madeira crisp dessert. Reservations are taken up to a month in advance or you can take your chances and queue on the day. Nopasf.com
If you're a fan of live music then make sure you visit the Royal Cuckoo, where the cocktails are served with a side order of jazz, soul and rock and roll. There's a genuine Hammond organ in the bar and live music on most nights of the week. Royalcuckoo.com
At Zeitgeist, what was once a grungy punk rock biker bar has become a premier destination for craft beer. You'll still find plenty of tattoos on display here, as well as a warm welcome, unless you break the rule – no cellphones at the bar, so you can really enjoy the experience. Zeitgeistsf.com
Where to shop in San Francisco
Ghirardelli Square can be found in Fisherman's Wharf, and as well as being home to the famous Ghirardelli chocolate factory, it's a great place to pick up local treats, such as elizabethW candles, and San Franciscan art from Jackson & Polk. Ghirardellisq.com
If you're a foodie, make sure you don't miss the Ferry Building marketplace. Stock up on artisanal bread, cheese, coffee and wine and soak up the atmosphere in this historic building. Ferrybuildingmarketplace.com The Mission District is full of independent shops, from eclectic vintage stores such as Electric Blanket to up-and-coming designer boutiques such as Gravel and Gold, to the weird and wonderful world of plants and taxidermy at Paxton Gate. For a truly original gift to take home, visit the Pirate Supply Store and grab a tin of Mermaid Bait…
For late night shopping and designer brands, head to Union Square, where there's something for everyone. There are plenty of restaurants, art galleries and day spas in the area, too, when all the shopping gets too tiring. Visitunionsquaresf.com
Getting around San Francisco
With its famous streetcar and cable car network San Francisco has some of the best public transport available, and some of the most fun, too. Get yourself a Muni Passport for unlimited rides across the entire network – see sfmta.com for details of prices and where to buy.
If you really like walking then you could try a free City Guides walking tour. Organised in conjunction with San Francisco Library, the tours take in all the tourist hot spots, including hikes around the Golden Gate Bridge. Book online before you go at sfcityguides.org
One of the most popular ways to cross the Golden Gate bridge is to rent a bike, ride across, then take the ferry back, which also gives you great views of Alcatraz whilst you sip a well-earned glass of wine. What could be better?