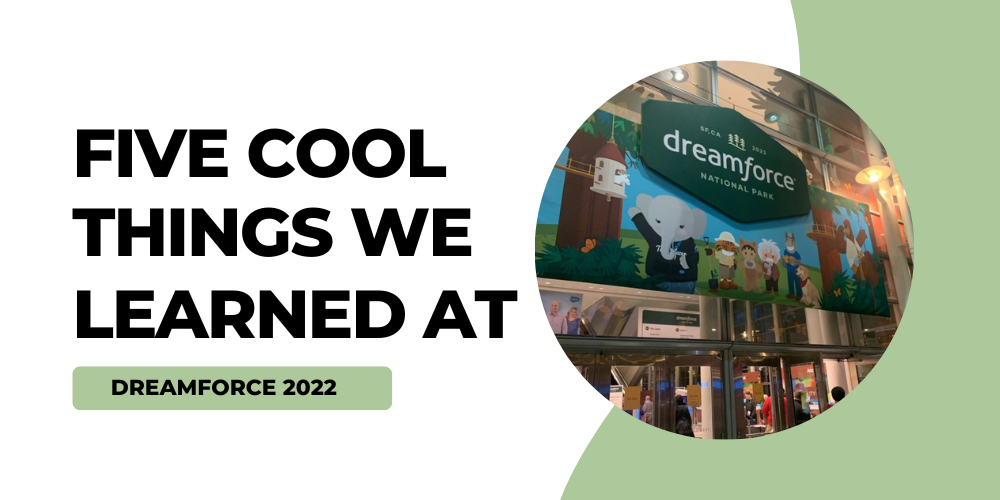 Okay so maybe it wasn't all bad, but after years of virtual Dreamforces it was great to be back in San Francisco for the real thing. Three days of geeking out with contemporaries and finding out about the latest products, innovations and trends is nothing short of bliss, right?
From talks to breakouts, and keynotes covering the latest product launches, it'd be impossible to cover everything we heard in one article. And, while everyone will have their own stand out moments, here's five things that caught our attention from Moscone Center this week.
Genie
The most obvious starting point is of course the announcement of the Genie platform—it's been billed as the single greatest innovation in Salesforce's history. Okay, so essentially it's Salesforce CDP, but with a major revamp that offers plenty to get excited about. Plus, Salesforce CDP is an organic Salesforce product that they've been building since 2007, so it's sure to add value from the very beginning, rather than the teething problems that sometimes occur with acquisition products.
The headline-grabbing statistic is that organizations use, on average, 976 different applications to run their business—meaning multiple versions of your customer exist virtually. Genie will cover the entire Salesforce platform, processing data streams across applications and combining them with Salesforce data to offer a quicker and more accurate view of the customer for a more personalised and improved user experience.
Slack got even better
Tucked away in the middle of Benioff's keynote was a major upgrade for Slack, with the Canvas and Huddles features really upping the game as companies embrace the future of work and make the office experience easier in 2022 and beyond.
Slack Canvas was the big announcement, with a demo showing it as a useful accompaniment to the real-time messaging in Slack, that can be shared either in a DM or a channel. Imagine a world where you don't need to leave Slack to manage your workflow and you're getting close. Essentially, it's Quip integrated natively in Slack, for those of you familiar with it.
Huddles is designed to make meetings more effective, with the aim of turning half-hour calls into ten-minute chats with an array of functionality. With an ability to contribute to post-huddle threads and create notes and tasks both during and after the call, as well as each participant being able to share their screen simultaneously, it offers the potential to revolutionise collaborative project work.
And if it cuts the length of those dreaded 30-minute calls that clog up our days? It might just elevate Slack to a god-level product!
Net Zero Marketplace
Salesforce's commitment to global sustainability isn't exactly news, but creating a platform that will help its customers also become carbon neutral is. The Net Zero Marketplace, built on Commerce Cloud, will offer customers a way to build a carbon credit portfolio by connecting them with trusted ecopreneurs.
Billed as Salesforce's three-pronged program to help create a better environment, Net Zero Marketplace will allow Salesforce customers the opportunity to purchase carbon credits in a trusted and transparent manner, while discovering projects aligned to their own values, and also being able to manage your carbon portfolio at the same time.
Essentially, it will become a climate action hub that allows businesses to take action as well as find out the latest insight and updates around environmental issues. As we've seen extreme weather impact the world with greater severity in the last few years as a result of the climate emergency, this could be Salesforce's most important product ever.
Salesforce enters China
We also heard more on Salesforce's partnership with Alibaba Cloud. The two organizations are working towards an agreement to launch Salesforce Social Commerce, a product that will help multinational businesses grow their operations in the region. Alibaba is the world's largest online retailer, so being able to connect with the platform and do business in China is a major requirement for many Salesforce customers now.
With Salesforce Social Commerce, the company is promising to offer a new, localized product that takes advantage of the growing trend for social commerce, with China having seen a 44% rise in 2020, and an expected  growth by another 35.5% in 2022 to reach of a total of $363bn by the end of the year. While it feels like there really aren't many more frontiers for Salesforce to conquer, entering the Chinese market looks to be an exciting move that could generate further innovation and new products.
Although the agreement isn't finalised yet, the intent is clearly there and assuming it is completed, Salesforce Social Commerce will help businesses with Chinese operations to integrate them with key local systems.
It's good to be back
Okay, so Benioff is usually a pretty compelling figure anyway, but during his keynote alongside co-CEO Bret Taylor it was clear just how excited they were to be back in the Ohana—even going so far as to title his keynote The Great Reunion. That buzz wasn't just seen on stage either, as a palpable sense of joy filled the Moscone Center and beyond. The amount of excited hugs in the corridors and streets outside was noticeable as old friends were reunited once again.
Even the simple things, like seeing the streets of San Francisco filled with Dreamforce backpacks, was enough to bring a smile to our faces. Regardless of any improvements to Salesforce+ over the last 12 months to enhance the virtual experience, there's no denying that Dreamforce is at its best as a live event packed full of Trailblazers, MVPs and the many other people that make up the wonderful Salesforce community.
From the Red Hot Chilli Peppers to product announcements, and the incredible breakfasts to help kick-start the days after those much-missed parties, Dreamforce 2022 had it all. After a difficult couple of years where the world had to adjust, our annual pilgrimage to San Francisco is back—and we couldn't be happier about that. We'll see you again in 2023!
Want more insight from the Salesforce community?
---
The Mason Frank Careers and Hiring guide is the biggest independent survey of professionals anywhere in the world.