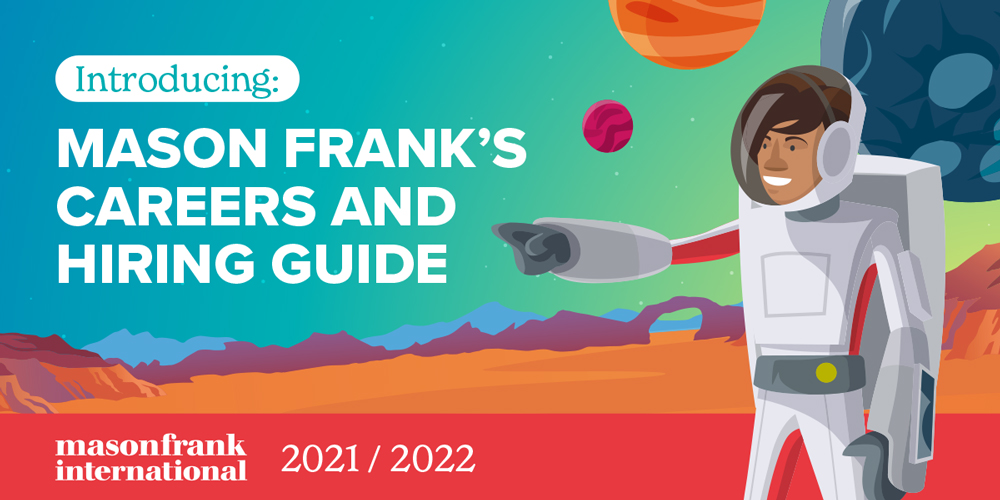 After months of anticipation across the community, the newly rebranded Mason Frank Careers and Hiring Guide: Salesforce Edition has launched.
Replacing the annual salary surveys, the Mason Frank Careers and Hiring Guide is now an even bigger and more in-depth study of the ecosystem and professionals that work in it. Also new for this year is an exclusive foreword from Salesforce Trailhead Vice President Stuart Mills, as well as a range of career advice and insights from leading professionals that work across the platform.
"We know what a valued resource this report has been for many years, and I'm delighted that we've been able to improve our offering," said Kashif Naqshbandi, Chief Marketing Officer at Mason Frank. "From talking to the community at Salesforce events around the world, we knew we could provide something that made an even bigger difference to people, and I'm proud of our team for pulling this industry-leading report together."
A record year
Compiled using the data from over 2,100 responses to our worldwide survey of Salesforce professionals, it's the most comprehensive gauge of the thoughts and feelings of those working within the Ohana. From in-demand Salesforce products and certifications, to job satisfaction and salary expectations, it's a vital resource for candidates looking to either further their career or increase their value, as well as employers looking to improve the way they attract and retain talent and benchmarking salaries.
The Careers and Hiring Guide also comes at a particularly important time for employers and employees alike, as the world of work has transformed over the last 18 months. For instance, this year's report reveals that 86% of Salesforce professionals now have the option to work remotely full-time, compared to 22% pre-pandemic. With 48% admitting they'd prefer a hybrid approach to their working week once normality resumes, getting this right couldn't be more important as the hunt for great talent intensifies.
What do professionals need?
For candidates, a year of rapid digital transformation has meant that career options are also aplenty. But what should you do in order to stand out and command a greater salary? With 76% of professionals holding at least one certification, getting qualified has now become almost a pre-requisite for those with an eye on further progression—84% of respondents believe they help professionals stand out in the job market, and 63% reported an increase in pay since gaining a qualification.
There's also a closer look at diversity, which has really moved under the microscope as businesses use the shift to remote work as a chance to level up. While the opportunity is there to bring in an even more diverse generation of tech talent, at present only 61% of women believe they are treated equally, with 60% of Salesforce professionals believing that there is gender inequality within their workplace.
New features
Away from the statistical analysis of the ecosystem, the new Career Spotlight section shines a light on some of the roles available for candidates—with practical advice on how to get there, including the skills and certifications you need. There's also tips on how to make the move from working for a Salesforce end user to a Partner, as well as going it alone as a contractor, and help for those who've already made the switch but are looking to make themselves more marketable to potential employers.
There's a range of other invaluable insight from Salesforce MVPs, platform experts and business leaders that will help everyone within the ecosystem reach their goals, as well as getting the most out of their Salesforce implementation. That's alongside our comprehensive salary tables, which give a detailed breakdown of remuneration for a variety of roles across the ecosystem, on a city-by-city basis across the USA, as well as around the world.
The Mason Frank Careers and Hiring Guide: Salesforce Edition is available free of charge from the Mason Frank website to download now.
I'm in! How do I get my copy?
---
It's as easy as clicking a link.