‌‌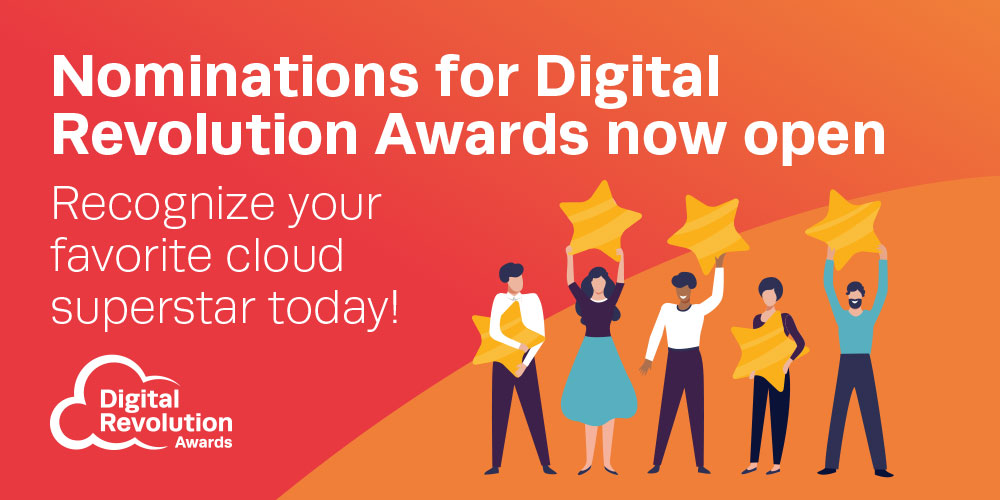 The Digital Revolution Awards are back again this year, giving you the opportunity to recognise and celebrate those who've made a difference to the Salesforce ecosystem.
‌After a hugely successful debut in 2021, 2022's event promises to be even bigger and better. Aimed at showcasing the efforts of all those in cloud technology that make it a better place to work, Salesforce picked up several gongs last time out, and your chance has come to make sure the Ohana is represented once again.
Nominations for your cloud heroes are now open, meaning you can put someone forward that you feel has truly made a difference in the last twelve months. Categories include:
Tech Star of the Year
Outstanding Leader of the Year
Tech for Good
Rapid Business Innovation Champion
Diversity and Inclusion Employer of the Year
Outstanding Contribution to Salesforce Ecosystem
Outstanding Contribution to the AWS Ecosystem
Outstanding Contribution to the Microsoft Ecosystem
Excellence in Learning and Development
Digital Transformation Project of the Year
Cloud Technology Employer of the Year
Nominate your cloud MVP!
"I'm really excited to be involved in the Digital Revolution Awards again," said ceremony host and entrepreneur Maxine Nwaneri.
"It was a real pleasure to be part of an event that celebrated achievement, innovation, and progress in this vital space. I'm ready to dig into a new set of nominations and see what amazing things have been happening in the industry this year."
Last year, Gertrude Van Horn was one of a number of winners to pick up a gong for her work with Salesforce. She won the Outstanding Leadership Award, CIO, for her role in launching Salesforce on Force.com using her company NCH's own proprietary software. In the Diversity and Inclusion Employer of the Year, Partner award, ClickDimensions won for the core values of inclusiveness within their team of almost 40 Salesforce professionals, which has resulted in a near 50/50 gender split, zero gender pay gap and zero turnover.
Gemma Blezard also won the Outstanding Contribution to the Salesforce Ecosystem Award, for her work on The Architech Club. Her YouTube series provided a way for people who had been furloughed or lost jobs last year, to get access to expert-led Salesforce training free of charge. The end result was a number of brand new professionals beginning exciting new careers within the cloud.
Nominations for this year's awards will remain open until September 30, 2021 and anyone can submit a nomination – either for themselves, their own organization or on behalf of somebody else. Finalists will be announced on December 6, ahead of a virtual awards ceremony on February 25, 2022.
"We were thrilled with the success of the first-ever Digital Revolution Awards earlier this year, and we can't wait to get to work on the next event," said Kashif Naqshbandi, CMO at cloud talent solutions firm and awards organizer Tenth Revolution Group.
"Cloud technology will play a big part in helping us bounce back from such a difficult time. I'm looking forward to hearing from the cloud industry about their successes and achievements, and once again highlighting the outstanding efforts of our peers.
"The 2022 awards will be bigger and better, and hopefully we'll be able to get together in some capacity on the big night and celebrate alongside some of our sponsors, judges, and nominees."
Founded and organized by Tenth Revolution Group, the event will once again be supported by a wide range of leading businesses and groups from across the industry, with IBM, Barclays Women in Technology, SumUp, Copado, Brown Girl, Tech World and Code First Girls all partnering with the awards in 2021.
The panel of judges will also be moderated by Daljit Bamford, Chief Customer officer at Tenth Revolution Group, with an amazing line-up of judges set to be announced in the coming months.
Want more information?
---
To nominate your own cloud hero, or to find out more about the Digital Revolution Awards, visit their website.