‌‌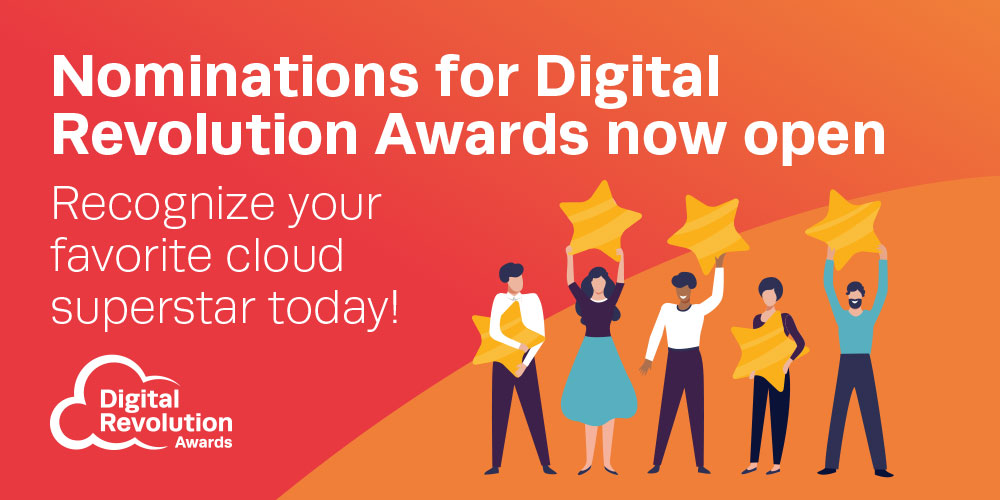 The Digital Revolution Awards are back again for 2023, giving you the opportunity to recognise and celebrate those who've made a difference to the Salesforce ecosystem.
‌With events taking place around the world, 2023's awards promise to be even bigger and better than previous years. Aimed at showcasing the efforts of all those in cloud technology that make it a better place to work, those from the Salesforce community have picked up several gongs in recent years, and your chance has come to make sure the Ohana is represented once again.
Nominations for your cloud heroes are now open, meaning you can put someone forward that you feel has truly made a difference in the last twelve months. Categories include:
Nominate your Salesforce hero today!
"I'm looking forward to returning for a third year to host the Digital Revolution Awards," added Maxine Nwaneri, who returns to host the awards ceremony and fundraisers for a third year. " It's always a real joy to be part of an event that celebrates achievement, innovation, and progress in what is an undoubtedly vital space. I can't wait to see some of the amazing achievements that have been made in the last year."
This year, Rackspace Technology won the cloud Technology Employer of the Year award, after recognizing that innovation is sparked by diversity. That realization resulted in them creating several ways to allow professionals to be their authentic selves at work, including a number of employee resource groups to support those from different backgrounds.
Gaspar Rodriguez, founder of RefugeeForce, was the winner of the Outstanding Contribution to the Salesforce Ecosystem award. His work in helping to support asylum seekers gain the skills they need to gain employment resulted in 87 participants in the program being fully trained in Salesforce, completely free of charge.
In 2021, Gertrude Van Horn was one of a number of winners to pick up a gong for her work with Salesforce. She won the Outstanding Leadership Award, CIO, for her role in launching Salesforce on Force.com using her company NCH's own proprietary software. In the Diversity and Inclusion Employer of the Year, Partner award, ClickDimensions won for the core values of inclusiveness within their team of almost 40 Salesforce professionals, which has resulted in a near 50/50 gender split, zero gender pay gap and zero turnover.
Gemma Blezard also won the Outstanding Contribution to the Salesforce Ecosystem Award, for her work on The Architech Club. Her YouTube series provided a way for people who had been furloughed or lost jobs last year, to get access to expert-led Salesforce training free of charge. The end result was a number of brand new professionals beginning exciting new careers within the cloud.
Nominations for this year's awards will remain open until October 31, 2022 and anyone can submit a nomination – either for themselves, their own organization or on behalf of somebody else. Finalists will be announced later this year, with global fundraiser ceremonies taking place next year around the world (in Las Vegas, London and Frankfurt), as well as the virtual event that is streamed online on June 2, 2023.
"The Digital Revolution Awards have become a fixture of the calendar for those working across all platforms in the cloud technology community," said Kashif Naqshbandi, CMO at cloud talent solutions firm and awards organizer Tenth Revolution Group.
"It has, and will continue to, play a big part in helping us bounce back from some difficult times. The success stories we have heard in the last two years have been inspiring and heart-warming in equal measure, and proves it's the right thing to do to shine a light on some of the brilliant work that is being done.
"I'm looking forward to hearing about more successes and achievements from those in the Salesforce community, and celebrating together in person at our fantastic events we have planned around the world."
Founded and organized by Tenth Revolution Group, the event will once again be supported by a wide range of leading businesses and groups from across the industry, with sponsorship opportunities also available for the first time for businesses wanting to support the event.
The panel of judges has also included some big name leaders from the tech world in previous editions, and this year's amazing line-up is set to be announced in the coming months.
Want more information?
---
To nominate your own cloud hero, or to find out more about the Digital Revolution Awards, visit their website.