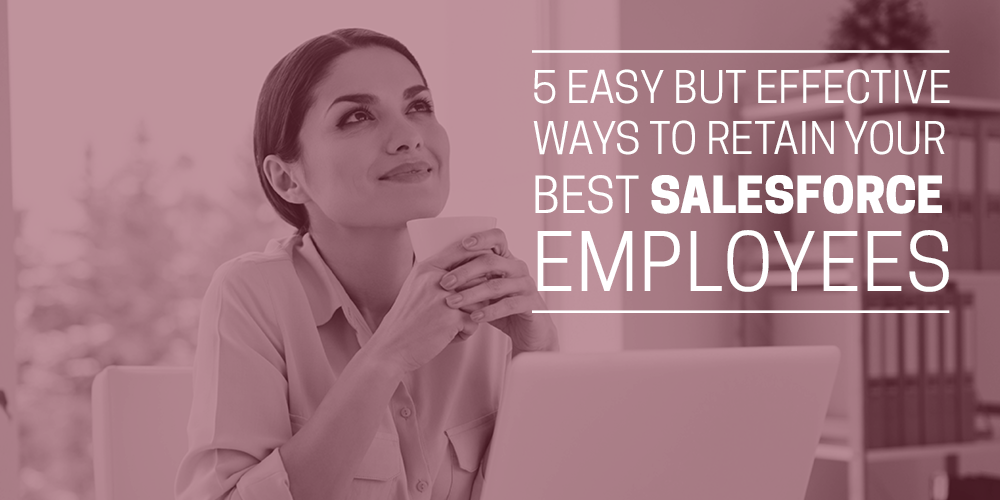 It's imperative you proactively explore ways to retain your best Salesforce staff. As a specialist Salesforce recruiter, we've outlined five ways to keep your employees in good spirits and committed to your organization. 
As businesses move in greater numbers towards CRM solutions, the demand for technology professionals who can improve your Salesforce team is on the rise. Attracting the best talent is vital, but keeping them is just as important.
Here, we detail five simple changes that will ensure longevity from your tech hires.
1. Exposure to Salesforce products
Many professionals have revealed that a lack of exposure to Salesforce products is a reason for them reconsidering their position. That seems crazy when you've invested in a technology with one of the most open training programs around: Salesforce Trailhead.
Salesforce is the world's number one CRM solution, which means it's ever-changing and expanding, so those new products will likely benefit your company.
You want people in your teams who are engaging with Salesforce and who have a curiosity about its potential. You need to nurture that, as employees with that hunger are the ones you want on your side.
If your tech teams want to look at new products then encourage it and make sure you provide time for them to learn and develop themselves. If they want to attend workshops and seminars, make it happen. Remember that investment in people is also an investment in your company. Better people make a better team.
2. Flexible working
One of the most significant changes you can make is also the easiest. You've noticed the culture of work change as technology evolves, but home life is moving on too.
Childcare is a big worry, travel is becoming more expensive, and affordable housing in metropolitan areas is virtually non-existent. Allowing flexible working to accommodate this will make you a highly valued employer that people want to work for.
If someone needs to leave a couple of hours early, you can bet your life that the two hours spent making up that time will be far more focussed than if it was spent working at their desk with their mind elsewhere.
Your employee feels valued, and you get better quality time out of them; everyone wins.
3. Feeling under-appreciated
Salesforce is likely to be one of the critical components of growing your business, so surely the people making it work are your company heroes? No? If not, then you might be setting yourself up for a fall.
Technology professionals are often hidden away somewhere in a corner, with your sales team front and center, winning exciting deals, and working toward lucrative bonus schemes. Is it any wonder that those propping up the business in support roles can feel under-appreciated, or that those around the business don't value them?
It's hard to improve the situation when you may not understand exactly what their job involves, but that's also a big part of the problem. The easiest fix is improving communication.
Ensure there's a simple way for your CRM employees to engage with you and provide feedback, and don't just assume that silence means everything is okay.
They may not want to speak out, in which case you need to be proactive and make sure that, as valued employees, you want to know what can be done to make things better for them. Understand their job and appreciate it, and make sure those using Salesforce in your company do too.
4. Lack of employee benefits
Your technology teams may love their jobs and what they do, but they also want a competitive salary and bonus, and the Mason Frank Salary Survey will give you a good idea of what you should be paying people in your Salesforce team.
However, it can be simpler than that. Make sure new recruits are made aware of every benefit available to them. From a laptop to discounts at local eateries, only the employee will know what they can make the most of.
Even on a limited budget, you can introduce an employee recognition scheme that rewards those going above and beyond. Awarding time off to high-achievers is an easy option, but you can be creative and think of other incentives such as gift cards for somewhere useful.
Those extra hours at home or a few free trips to a coffee shop won't go unnoticed and, as well as improving performance, will keep people happy.
Also, nobody wants to get ill, but sickness is inevitable. Help foster a positive environment by making sure sick leave is ample. Health insurance will also act as a reliable back up and provide peace of mind.
If you want to have fit and healthy staff, then offering gym membership and encouraging fitness is another way to help. There's not a lot you can do to prevent your technology team being fairly sedentary during the day, but maybe try to provide an hour a week where people are encouraged to pursue physical activity or mental wellbeing.
5. Working environment
There are many ways to encourage a better working environment, but making sure the culture is right is absolutely vital. When inducting employees, make them aware of your company values and sell the organization to them.
Don't just make this another desk that they're working at; tell them how you reward employees and want them to achieve greatness with you.
Make sure they know everything that makes your organization the best place for them. Try to promote from within, so that your teams can see that progression is available rather than having to look elsewhere. It's essential that people have evidence of what is on offer to them if they produce results.
In terms of retention, look at who you're bringing in. Quitters will quit, so avoid hiring them in the first place. Someone who moves around a lot is likely to do the same with you, no matter how exceptional you are to work for. Instead of simply opting for the headline-grabbing resume, go with someone likely to be with you in the long term.
During the interview process, try to get a grasp of how keen they are to improve. Skills can be taught far more easily than loyalty can, meaning you have a better hire in the long term.
Mason Frank's 2018/2019 independent Salesforce salary survey gives a fantastic insight into how you can boost your retention rates.
It contains a comprehensive breakdown of the working habits and remuneration details of professionals in the Salesforce ecosystem, giving you the best understanding of what is likely to keep the top technology professionals working for your organization.

Complete the form below and receive your PDF report in seconds.