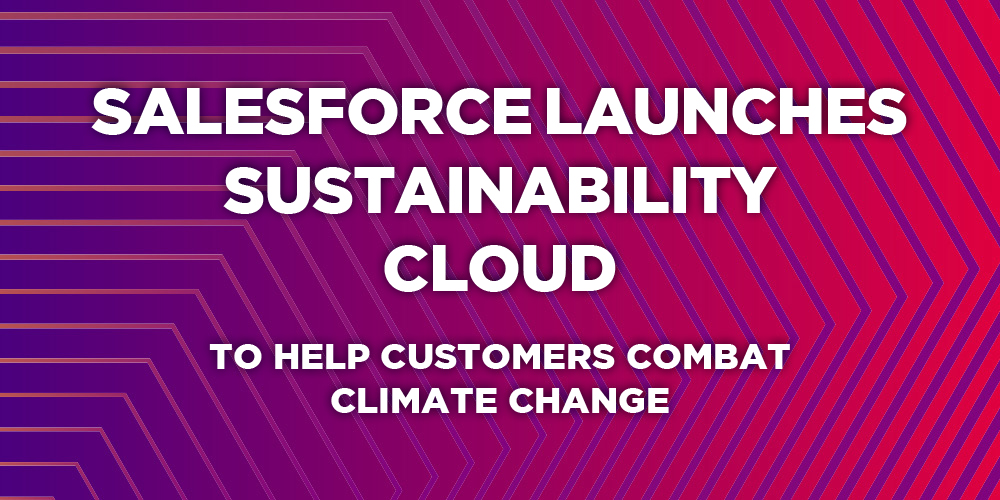 Salesforce has been creating products to help its users deliver great customer experiences for two decades; now, it's empowering them to tackle climate change.
Yesterday, the company announced the release of its new "carbon accounting product", developed to enable Salesforce customers to better understand their impact on the environment.
Aiming to accelerate efforts to address the global climate crisis, Sustainability Cloud will be available before the end of the year.
The goal of the new app, Salesforce says, is to give businesses the tools they need to quantify their carbon footprint, allowing them to put great focus on sustainability throughout their operations.
The platform will give customers "a 360-degree view of their environmental impact and provides data-driven insights to make change the planet will notice". With Sustainability Cloud, users can track, analyze, and report environmental data about their carbon output.
This information can also be fed into Salesforce Einstein Analytics, enabling users to pull together dynamic reports, dashboards, and insights to help businesses take action to offset their emissions.
Patrick Flynn, vice president of sustainability at Salesforce, said of the move: "We created Salesforce Sustainability Cloud to help our customers easily generate trusted investor-grade data to inform their climate action programs.
"Climate change is the biggest, most important and most complex challenge humans have ever faced, and we all have a role to play based on our resources to deliver a healthier planet for future generations."
Patrick Flynn
The release is the latest in Salesforce's efforts to support its Step Up Declaration; a series of commitments designed to foster a sustainable, low-carbon future by delivering carbon-neutral cloud products to its customers. The company has also made a public commitment to reach 100% renewable energy usage by 2022.
"At Salesforce, we've always believed business is the greatest platform for change," added Suzanne DiBianca, chief impact officer and EVP of corporate relations at Salesforce.
"Addressing climate change with speed and at scale is critical to see a turning point by 2020. Businesses must work together to be the greatest force for climate transformation the world has ever seen."
Free Candidate Search
Looking to bring skilled Salesforce professionals into your business?
---
Browse our bank of fully qualified and vetted Salesforce talent.
It's completely free.