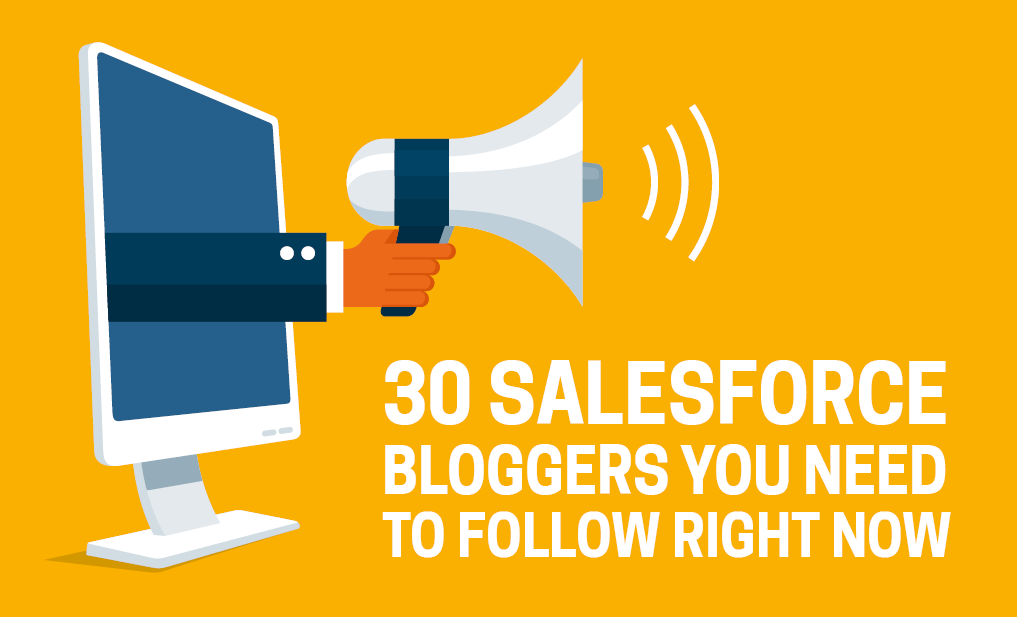 Salesforce is a hugely popular platform for a reason. It's customer-centric, effective and efficient. However, it's the community of experts surrounding it which makes it truly special. Whether it's through social media, blogging, contributing to forums or being active at Salesforce events, members of the Ohana strive to improve their work, deliver a better customer experience, and make Salesforce a better organization to be part of.
The Salesforce MVP program runs twice a year to acknowledge those who've made outstanding contributions and proven their commitment to bettering the wider community. Alongside this year's MVPs, we have compiled a list of Salesforce bloggers and experts we consistently see add value to the online Salesforce community.
Bookmark their blogs, follow them on Twitter and spread the word about these committed Salesforce influencers!
Our recommended Salesforce bloggers
Shonnah is an active voice for women in technology and equality as a whole, blogging thought-provoking insights on the topic.
---
Ben is a valued blogger who shares not only his own wisdom but also provides a platform for others to deliver their insight through his blog. Covering anything from practical tutorials, technical breakdowns, and explorations of the culture behind the platform, Salesforce Ben is a helpful resource for anyone in the Salesforce ecosystem.
---
David's blog, SFDC99, is not only a platform supporting learning and certification training, it's also the place to read Salesforce success stories from people across the community. If you need some inspiration or motivation, this site is a must.
---
Phil is the VP of product management at 7Summits, as well as a Salesforce MVP. On the Weinblog, he is dedicated to sharing the power of the platform online and at various events throughout the year.
---
As far as Salesforce experts go, Sakthivel is pretty qualified. He's Platform Developer II-certified as well as a holder of the Advanced Admin cert, so a brilliant resource for those who approach Salesforce with a hands-on attitude.
---
As well as being a Salesforve MVP and Architect at Blue Wolf, Gemma Blezard is a prolific blogger and the recipient of a prestigious golden hoodie!
---
Mary is a developer evangelist and a huge supporter of diversity in Salesforce and wider tech industry. Her blog is full of explorations of how we can be more inclusive in tech.
---
Oliver has created a virtual one stop shop bringing together many blogs from across the Salesforce community. His site helps you navigate through topics, jobs roles, and geographical locations to help you tap into the knowledge you need. An absolute must resource for any Trailblazer.
---
Enrico's developer blog is a mecca of technological insight with practical, clear and easy to follow tutorials on a huge range of topics.
---
James has been working with Salesforce for a long time and it really shows through the information he shares. His blog is particularly helpful for Administrators troubleshooting quirks.
---
As a Salesforce platform expert, Luc has experience in both working directly for Salesforce in the product team, as well as managing Salesforce instances with Salesforce customers. The perspective this allows him to bring to the table is hugely valuable!
---
Louise Lockie is a London-based Salesforce expert with over 7 years of experience in roles ranging from Admin to Solution Architect. She's also a guest speaker at many community Salesforce events, as well as a leader of the London WiT branch.
---
Chris Edwards is a 13x certified Salesforce MVP, as well as a blogger for SalesforceWeekly, a community blog coordinated by some of the sector's finest minds.
---
Rakesh is a multiple time MVP, Evangelist, and trainer. His blog, Automation Champion, is a useful tool for Admins and Developers alike. With frequent guest posts as well as personal insights, it's a crucial tool in anyone's Salesforce belt.
---
Iain is not only an active Salesforce expert though social media and his personal blog, but also offers services through his company, CloudUrsa, to provide customers with a wide range of services including configuration and application development.
---
Smriti is a Certified Salesforce Developer, evangelist, and an avid blogger and YouTuber. She believes there is no end to learning, and dedicates her time to learning new tools and sharing her knowledge with the community.
---
Jina is a self-described, 'consultant, community builder, and advocate focused on design systems'. She organizes a whole host of design conferences and was, in fact, the lead designer on the Lightning Design System.
---
On his blog SimplySFDC, Johan Yu is a prolific writer and thought leader. His two published works on Salesforce reporting and dashboards have also helped establish him as an important thought leader in the Salesforce space.
---
Praneel is a Salesforce Platform Technical Lead with a huge amount of knowledge. His blog is a very easy-to-follow stream of information and tutorials.
---
Brent's blog, Admin Hero, is something of a fixture in the Salesforce world. He focuses on providing insight for other Admins after picking up a trick or two on his own journey. Brent's Zero to Hero program is an amazing guide through resources to help kick start anyone's journey to professional Administrator.
---
Andrew has a great deal of technical knowledge which he shares through his blog and Twitter feed. Andy is even a published author with his book, Force.com Enterprise Architecture.
---
Keir is somewhat of a pillar in the Salesforce world. He is a developer who is enthusiastic about Salesforce, an author of the Visual Development Cookbook, and a blogger with valuable insights.
---
Salesforce Saturday leader and a member of the 'GifSquad, Bill is a trusted voice in the community. His blog is also a great source of personal experiences with Salesforce.
---
Melinda is a passionate Trailblazer, co-host of the Two WIT podcast, #GifSquad co-founder, and one of the brains behind WIT Success. Her Twitter is a hub of Salesforce activity and she proudly shares the community's successes.
---
Sagar is relatively new to the Salesforce community but his passion and drive mean he's made our list. He's a Developer who we will enjoy watching grow!
---
Chris is a 25x Salesforce-certified consultant, working for the implementation partner Simplus. He's also the Salt Lake Pardot User Group Co-Leader.
---
A leader of user groups, multiple-time MVP and an experienced Salesforce blogger, Phil is well worth a follow for valuable insights into the platform.
---
Helping Admins and Developers alike, Meighan shares her extensive knowledge of Salesforce through her blog. Not only does she teach you how, she also shows you why, meaning her Salesforce advice is thorough, useful and a true lesson.
---
Salesforce MVP and Sr. Technical Architect at Bluewolf an IBM company. His technical blog posts are a wealth of information for both prospective and experienced Salesforce pros.
---
Jodi is an activist and huge supporter of women in tech and diversity. Aside from her day job as Project Lead, she runs multiple user groups and shares her experience online with others.
---
A five-times Salesforce MVP, Amit is the driving force behind Apex Hours as well as a frequent video blogger on a variety of subjects from across the Salesforce universe.
---
We hope you check out our recommended Salesforce bloggers and spread the word in supporting them. Salesforce is uniquely supported by the people who work with it and display a genuine passion for their work.
Who else would you add to the list? Why not drop us an email with your favourite Salesforce blogger.