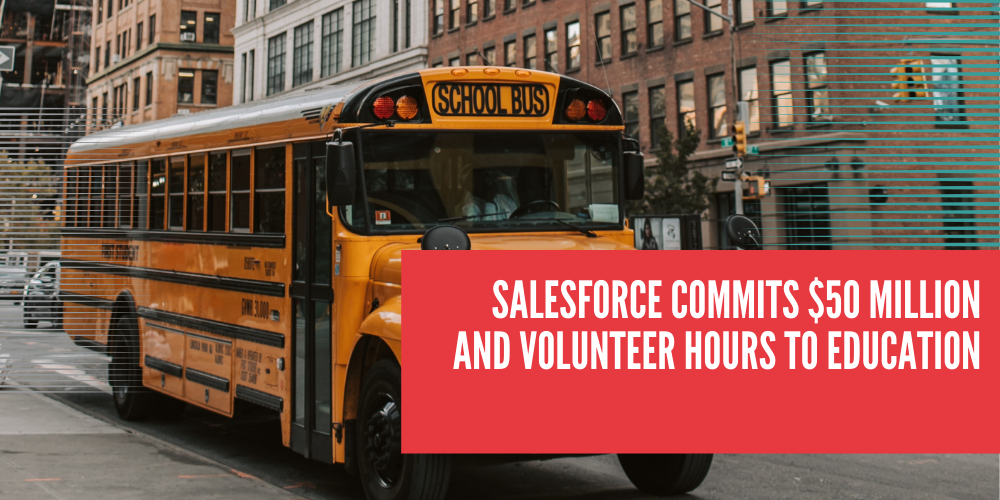 Salesforce has always been committed to giving back to the community, be that on a local or international scale. From its inception in 1999, Salesforce has given $65 million and 175,000 volunteer hours towards education.
Most recently, the organization has pledged to be part of the $300 million Internet Association initiative to advance computer science in public schools across the US.
Salesforce will donate $50 million and one million volunteer hours as part of this pledge. Other companies contributing to this educational support fund include Amazon, Facebook, Google, and Microsoft.
Salesforce stock increases by 40%
Over the last year, Salesforce stocks have risen by over 40%. This growth is no surprise for a market leader in CRM.
This success is reportedly balanced by 'profit margins are under considerable pressure due to big expenses in stock-based compensation' which some argue could be a reason to sell while levels are high.
That being said, their future investments in AI through Einstein are set to secure their innovation capacity and maintain their growth.
Comparably rate Salesforce number one for company culture 
Through compiling thousands of rankings submitted anonymously by employees, Comparably has created a list of top US tech companies for company culture.
With a score of 72, Salesforce top these rankings.
Their company culture is often hailed as some of the best in technology. 'Ohana' is a term adopted by the organization to describe their family-like operation among employees, partners, and customers alike.
Salesforce predicts Black Friday will be the busiest ever online shopping day
Insights from 500 million global shoppers across 53 countries have been analyzed by Salesforce to determine 2017's Black Friday sales will attract the highest numbers of online shoppers in history.
The company has released several key predictions this month on global shopping trends for this year. Some key findings include revealing that online shopping is most popular between 8pm to 10pm and that use of mobile to online retailers will grow to dominate at 60% with desktop lagging behind at just 35%.
Happy Birthday, Einstein!
Einstein first launched in September 2016 as an innovative platform with hopes to advance and harness AI. By tapping into the talent of 175 data scientists and acquisitions of groundbreaking startups, Salesforce launched this technology just a year ago.
Their first birthday will be celebrated along with some exciting new enhancements.
Einstein Forecasting is a tool that uses machine learning and data mining to analyze data and make predictions.
Opportunity Scoring is designed to keep on top of the sales pipeline.
Smart Email Assistant helps organize inboxes by highlighting important emails.
As always, there's been a lot going on in the world of Salesforce, and with Dreamforce just around the corner, there's a whole lot more to come.
With increased investments with Salesforce.org paired with financial growth, we're excited to see what will happen in Salesforce in the months to come.