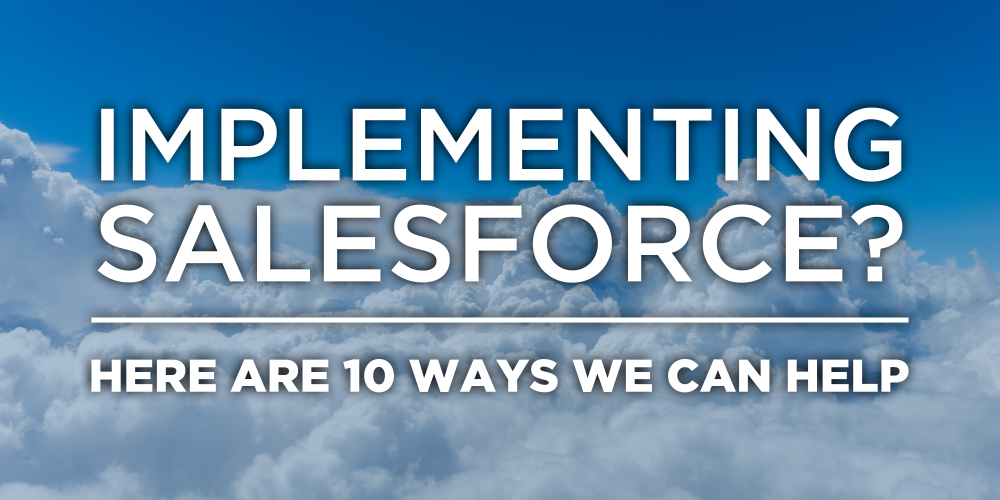 As specialist Salesforce recruiters, we're constantly working with businesses currently in the midst of a Salesforce implementation. It can be one of the most-challenging periods for a company, but we're on hand to offer the following assistance to organizations in need.
The Beatles didn't have Salesforce implementation when they wrote "With a Little Help from My Friends," but they might as well have been. Salesforce implementation is a big deal, and like almost all challenging things in life, it's easier with helpers in your corner.
There are a lot of choices to make when it comes to rolling out such a wide-ranging, transformative system as Salesforce across your organization. One of the biggest is whether to engage with a Salesforce implementation partner, to bring in contractors, utilize internal resources, or come up with a mixture of all three.
---
---
Whichever way you plan to implement Salesforce, having Mason Frank on your side will help your project go as smoothly as possible at every stage.
As the leading name in Salesforce recruitment, we match businesses with the best Salesforce professionals in the industry, but that's not all we can do for you. Here are just a few—potentially surprising—ways your friends at Mason Frank can support you through your Salesforce implementation and ensure your rollout is a success.
Before your Salesforce implementation
We offer free implementation advice
You want your Salesforce project to succeed, and so do we. There's a lot to consider when planning a Salesforce implementation before you even think about how you're going to staff it, and we want to set you on the right path from your very first steps into Salesforce.
If you're thinking about taking your business to the next level, we can get you facetime with an experienced Salesforce expert who will help you draw up a project roadmap—for free. Yes, we offer a free, two-hour consultation with an independent Salesforce Program Manager who'll advise you on the best strategy to take and how best to achieve your business objectives through Salesforce.
We bring you cutting-edge market intelligence
Knowledge is power. The more informed you are about Salesforce and its ecosystem, the better equipped you'll be to make it work for you. Take putting together your implementation budget, for example: it's a lot easier to draft up a realistic budget when you know exactly how much you can expect to pay a Salesforce contractor in your area, wouldn't you say? Our market intelligence reports, including our independent annual Salesforce salary surveys, give you the inside track on trends, movements, and the latest wages in the Salesforce community.
We source—and create—the best talent in a challenging market
The Salesforce market is tight. Already the market leader in CRM by a considerable stretch, the platform's user base is expected to grow considerably in the next three years, driven by businesses' desire to digitally transform their operations and take advantage of new tech like AI.
This mounting uptake of Salesforce is estimated to create 3 million new jobs by 2022—but whether there'll be enough talent available to fill those roles is another matter. Right now, the demand for Salesforce professionals massively outstrips the size of the talent pool, leaving many Salesforce users high and dry without the skills they need to implement and operate the software effectively.
A healthy supply of talent is vital to maintaining the strength and durability of the Salesforce ecosystem, which is why we decided to launch a dedicated training program to plug the growing skills gaps in the market.
The Mason Frank Tech Academy aims to take the best IT talent and put them on a fast-track to a great career in Salesforce. Beginning with an intensive eight-week training program that instills both Salesforce knowledge and valuable soft skills, the program culminates in participants earning a Salesforce Administrator certification. Once they've completed their initial training, graduates receive a two-year contract with us, and begin their career as a contract Salesforce professional, while undertaking ongoing training.
How does this benefit your implementation? Not only are we injecting more talent into the candidate pool for you to choose from, but you can also take advantage of our stable of talented Administrators, Developers, and Consultants at reduced rates when you need to flex your team. Our Salesforce pros are available to start work immediately to help you achieve your digital transformation vision.
We also offer a stack of diversity and inclusion initiatives to identify the best talent, from watching out for new blood entering the Salesforce ecosystem, to looking into alternative candidate sources, we ensure you're at the front of the line for the freshest talent. With sister brands focused on CRM technologies like Microsoft Dynamics, NetSuite, and SAP, we actively work to pinpoint cross-training opportunities from competitor vendors too.
We qualify and validate talent with technical testing
Authenticating a candidate's technical skills can be tricky, especially if you're new to Salesforce, or aren't especially tech-minded. When you're undertaking a major implementation, it can feel like there aren't enough hours in the day. You don't want to be wasting time interviewing candidates who don't have the hard and fast skills you need—or worse still, hire someone only to discover months down the line that they don't know as much about Salesforce as you thought.
We don't just rely on our experience and instincts to size up a good candidate. We also offer technical testing to make sure that any candidates we put forward match up to your requirements before they get to the interview stage. You tell us what skills you're looking for, and we'll put our candidates through meticulous aptitude tests, so you know exactly what you're getting.
---
---
During your Salesforce implementation
We find resources that fit your needs
Salesforce is the CRM of choice across a whole heap of industries, thanks to its broad feature set and customizability. With Salesforce able to be shaped to suit any number of industry-specific needs, one of the core factors of a successful implementation is finding Salesforce pros that have experience with similar businesses in your vertical.
From manufacturing to healthcare, retail to transport, government to not-for-profit, each sector will have varying needs and goals for their Salesforce implementation—it's just as important to find professionals who are familiar with how you operate as a business, as it is to focus on their technical prowess.
Luckily, we have more dedicated Salesforce staffing experts than any other recruiter; technically savvy consultants who've spent years building relationships with professionals in the ecosystem. Those networks and the trust that we've built mean you get access to an unrivaled range of the most talented Salesforce administrators, developers, consultants, project managers, architects, business analysts, and program managers with experience in every sector.
---
---
We deliver skilled contractors at lightning speed
There are likely to be times during a Salesforce implementation when you need more muscle. Maybe you need some extra hands to help with data migration, or perhaps you've decided to customize the platform further and you don't have the right skill sets on your team.
Contractors are a terrific resource for when you need flexible resources on your team, and can swing in at any stage during your implementation to offer a little extra help. But time is money when you're mid-project, so when you need to bolster your team, you need people who can get to work fast.
Once you let us know that you need a hand, we'll help define your requirements and assign you a dedicated account manager within a couple of hours. Our expert staffing consultants will then get to work finding candidates that match your needs, starting by searching through our database of 70,000+ pre-screened professionals. In 90% of cases, we'll have a shortlist of hand-picked candidates in front of you within 12 hours. 
We aim to have interviews with motivated, fully-screened candidates carried out within 24 hours—the successful contractor will typically be working on your project within 48 hours of your first contact with us. How's that for fast?
---
---
We take care of (your) business
Salesforce implementation takes time and a tremendous amount of focus. If you're trying to balance the workload of a Salesforce rollout with business as usual tasks, you don't have time to be dealing with the administrative hassle of hiring. We can take all of that off your hands, so all you have to do is make the final choice.
When time is tight, you don't want to be interviewing people in dribs and drabs. To help you make the best use of the time you have, we arrange dedicated interview evenings, giving you the chance to screen multiple candidates at a time and location that works for you.
We'll even take care of the paperwork. Reference checks, contracts, documentation, and payroll details will all be handled on your behalf. If you decide to bring a contractor on board, we'll payroll the contractor and invoice you for their work after 30 days, so that you can focus on the job at hand.
We help your contractors upskill
With a product as fast-moving and ever-improving as Salesforce, keeping up with the times is essential. To that end, official certifications are a fast and easy way to validate a candidate's skills. The more certifications that Salesforce candidates have, the fresher and more thorough their knowledge is likely to be.
To support Salesforce professionals in their continued upskilling, we fund certifications for our most valued and dedicated contractors—meaning you get the benefit of their authenticated, cutting-edge know-how.
When it's time to go live
We put your business in the spotlight
If you're implementing Salesforce, you should already be thinking ahead to your long-term hiring strategy, and working out what roles you'll need on your permanent Salesforce team. With competition for the finest Salesforce talent at an all-time high, positioning your business as an employer of choice can go a long way toward attracting top professionals.
As a respected and highly visible presence in the Salesforce ecosystem, we can help put your business in front of the best candidates. We invest more than $5m every year in marketing and candidate attraction, including sponsoring over 50 user groups and events like Salesforce World Tour and Dreamforce. Featured clients on our website are seen by over 350,000 visitors annually. Our email marketing campaigns promote your jobs and your organization to 16,000 subscribers actively looking for new opportunities every day.
We're there every step of the way
The resources you need will grow and shift as your implementation progresses. You'll need consultants, business analysts, and architects to help you design your ideal Salesforce platform. You'll need developers to configure and customize it. You'll need administrators and trainers to help you drive user adoption and get the most out of Salesforce on a day-to-day basis.
Our experienced staffing experts have been involved in thousands of Salesforce implementations, and have the proficiency to help you get your hands on the talent you need at every stage of your implementation.