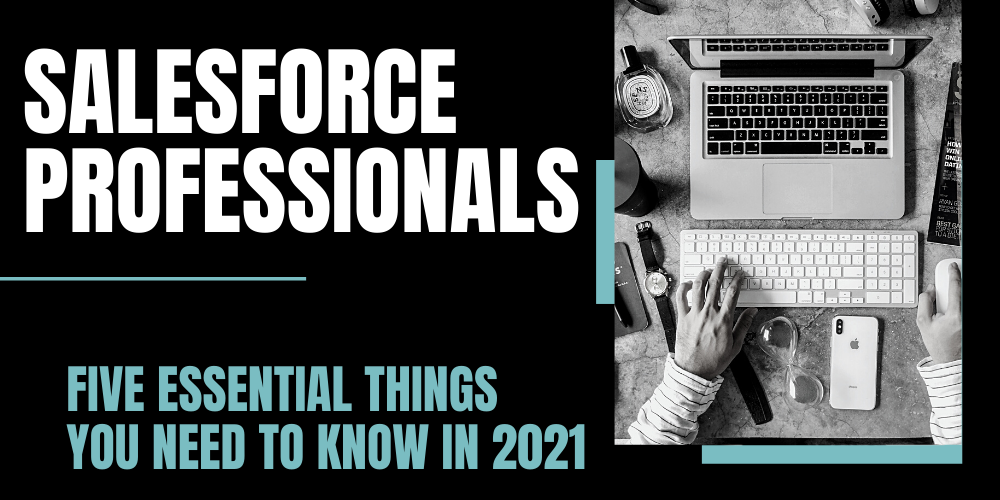 Earlier this year, we brought together some of Salesforce's most influential voices for a series of virtual clubhouse sessions. Hosted alongside Salesforce Ben, our exerts discussed the platform, current trends and how they think things will look as we head into 2021, and beyond.
The content was fascinating for professionals at all stages of their careers, so we thought it'd be useful to recap some of the key topics that came up across the three events. From certifications, to how roles on the platform have evolved, and how to embrace what it all means for you, the insights were varied, and given by an incredible range of people.
Panellists included our own Chief Customer Officer Dal Bamford, who held the same role at Salesforce UK for six years, as well as Ben McCarthy, AKA Salesforce Ben himself. Across the three sessions we also heard from Mellissa Hill Dees, Andy Engin Utkan, Stuart Mills, Adjetey Clarence Lassey, Lucy Mazalon, Eric Dreshfield and Justice P Sikakane.
There was so much to digest that we'll return soon with another blog containing further thoughts from the panel. You can sign up to our newsletter to be alerted when we post those but, otherwise, continue reading to get the first round of exclusive insight from some of the best Salesforce names in the world.
Has the Salesforce Administrator role changed forever?
The overwhelming response was yes, it has. The collective opinion is that it's an inevitable consequence of the continued transformation and expansion of the Salesforce platform. So, if you're an Admin who's wondering why your job has changed so much, then it's likely down to the evolution of Salesforce itself, rather than your employer. "As the stack has expanded, the customization possibilities have increased, which has led to more responsibilities for you as an Admin," said Lucy Mazalon, although there was also agreement that the role will continue to evolve beyond how it looks now. "The core tools available as we look at the customer 360 have changed huge amounts," added Justice P Sikakane, "and with the addition of Quip, and then Slack, those changes will continue to impact the role."
Essentially, the Salesforce Administrator has become a much more specialist position that should be elevated and respected more within any highly-functioning Salesforce team, as the skillset required to thrive will become more dependent on experience specific to certain industries or product sets. As Andy Engin Utkan put it, "previously the role of the Admin was to be the professional who knew where all the critical dials were within the platform. Now, while that remains important, there's been a big shift into specialising both within industries and specific product sets."
That means that Administrators are becoming a more pivotal part of any successful cloud team, and need to be more empowered and included in discussions about where an implementation is going—and as an Administrator, you should be pushing to be part of these conversations. "The role of the Admin should not be trivial," concluded Eric Dreshfield. "The role encompasses so much now, it needs to be viewed as a more strategic, business analyst type of role."
In short—as an employer, are you maximising the value that your Salesforce Administrators can bring to your business? And as a professional, are you an advocate for this change, and best placed to take advantage of it? The consensus is that, as the platform continues to grow and change, the Salesforce Administrator role will continue to evolve with it.

How can Admins futureproof their career?
As the platform continues to expand and the role of Administrator evolves towards more product ownership, becoming a product specialist (rather than an all-rounder) will put you in a great position. Not only that, but as it shifts towards something akin to a Business Analyst, you need to be comfortable asking "why." You need to truly understand people's frictions with the platform in order to provide user-friendly solutions, so being able to pair them against business requirements, and question everything, is vital before you begin making recommendations. While this may be unfamiliar territory to you as an Administrator the great news is that, as you can probably expect from anything to do with Salesforce, there's a fantastic support network available to build up your skillset.
"If you want to get better at analyzing business processes and requirements, get on platforms such as Salesforce Answers, Slack, and Discord," added Andy Engin Utkan. "Users there are sharing their use cases—try and build those into a Dev org and help them in the process."
There's also an array of non-profits that will benefit from the skills you already have, as well as increasing your confidence and expertise in a real-world environment. Many of these organizations use Salesforce because of the 111 model, so it really is a fantastic way both of making a contribution to the ecosystem, while building up your hands-on experience.
What's the best way to break into the Salesforce ecosystem?
The one common belief across all panellists taking part was that your experience (or lack of it) won't prevent you from joining the Ohana. Whether you start within a non-profit and get hands-on experience , build up your knowledge through Trailhead, or simply dive in head-first without any platform-specific background, there's a terrific support network in place, regardless.
"It's definitely not a big disadvantage to not have any technical skills," said Ben McCarthy. "When I started in Salesforce, I was the only one coming from a computer science background at my company, but it really didn't matter because they put in the time and dedication to help me learn the platform and skill up. My advice to someone who's looking to breaking in is to completely absorb yourself in everything that is Salesforce. I think now Salesforce has evolved massively, it is a huge platform with so many products, and understanding the business implications is more important than diving in straight away and starting to customize Salesforce."
Adjetey Clarence Lassey agreed that it's a technology that anyone can learn. "To me, when it comes to choosing your Salesforce career path, everything starts with Trailhead" he said. "I love the Career Paths Trailhead because it shows not only the different certifications, but the expanded roles that certifications may qualify you for. It really gives you great detail on what each certification does, and the career paths that you may see with those certifications. I really like that it gives someone who is potentially outside the ecosystem the opportunity not just to learn about the different certifications, and but learn about the career paths too."
In short, the Ohana is such a supportive and welcoming environment that there's no set career path for Salesforce. There are a number of networks that can provide you with learning and advice, starting with Salesforce Trailhead. If you have the drive and enthusiasm and the soft skills that employers find so desirable in candidates, then the technical proficiencies can be learned. Our own Salesforce Salary Survey will also give you an indication of some of the paths that professionals working within the ecosystem have taken, as well as ideas for the most popular certifications and Salesforce products.
Ultimately, the only thing that will prevent you from a career in Salesforce is yourself. As Salesforce Trailhead & Ecosystem VP Stuart Mills says, "I work with a lot students and learners and some of our Salesforce development partners, where candidates would actually take themselves out of a job in technology because they haven't learnt computer science. Don't let that be the barrier for you. Even for more technical roles, you can certainly do some development with Salesforce without necessarily needing to have had a big background in computer science and certainly not a degree in it. There is so much on how to code on YouTube, that with a bit of effort and passion you can work out something."
Want to get the latest Salesforce jobs delivered straight to your inbox? Sign up for our Jobs by Email and get a daily list of the latest opportunities, tailor-made to your own requirements.
Talk about certifications
On the subject of education, one of the most interesting topics of conversation was around certifications. While most panellists agreed that they weren't an essential pre-requisite to break into the Salesforce ecosystem, there was a lot of great advice about the way they can be used not just to help your own career, but the companies that you work for. "You need to think of the role first," advised Stuart Mills. "Be clear about what sort of role you want to be doing."
That was backed up by Andy Engin Utkan, who added that certifications also allow professionals to become more than just Salesforce superstars, they provide scope to become specialists within the platform. That journey can be influenced by a number of factors, including your experience before Salesforce, as well as the areas that actually interest you. However, he warned, "one point that many people seem to miss is looking at the number of job ads that require a certification and think this is highest in demand. While this is true, there are a bunch of jobs out there just looking for Marketing Cloud, so you're going to be in a very good position if you know Marketing Cloud very well." Essentially, don't just look at what's in demand before embarking on your next certification, look at trends around the ecosystem beyond that and speak to your own organization, to get a feel for the skillsets they're most in need of.
Ben McCarthy wondered why Platform App builder isn't talked about more in the conversation regarding most important certs. "I think it's one of the most fundamental ones next to Salesforce Admin," he said. "It teaches you the fundamental skills to customize the platform and using all of its qualitative functionalities. Everything in that certification is so core, that I would suggest to anyone looking at their next certification, that Platform App builder is one to have."
As for the Admin certification, Adjetey Clarence Lassey added a great point about why it's such a fundamentally useful qualification for professionals to have. "When we look at the growth of Salesforce as a company, there are a lot of new customers, who is going to implement all those new technologies?" As the platform continues to expand at a ferocious pace, having the skills that allow you to help a company transition to Salesforce will ensure not just that you're in demand, but that you can bring genuine value to an organization.
The world of Salesforce is so open that it would be impossible to direct you to one specific certification. However, look at what your own employer needs, how Salesforce is used across your vertical, and try and make an informed decision based on that. Certifications may not be essential for breaking into the ecosystem, but they will add value to you as a candidate as you look to progress through your career.

Your future in Salesforce
On that note, the discussion moved onto how professionals can build a long-term career within the Salesforce Ohana, from first breaking into the ecosystem, to finding a specialist area. Ben McCarthy was quick to point out a key soft skill that will stand any candidate in good stead as they look to progress, and that's their communication skills.
"It might seem pretty obvious, but to some people Salesforce can be a bit hard to understand. The most talented professionals that I've ever worked with are just so clear at communicating. When I was running a Salesforce consultancy, you'd be working with a lot of very different customers. Some may be very technical, but others won't be technical at all. You need to be able to adjust your tone appropriately, whether that's increasing the amount of jargon or removing it completely, during any conversation you have."
Dal Bamford added some insight for those who may wish to move towards working for Salesforce themselves. "One of the best ways to network into Salesforce is building yourself a Salesforce relationship, connect with people there and get them to see if they can push you forward. An internal recommendation is worth so much. Salesforce is almost the mothership that a lot of people are aiming for, and so the ecosystem around it is huge. The Partners, the ISVs, they are all doing some really great work that can help you get where you want to ultimately be."
She also added: "Salesforce is really fantastic on its community meet ups and you get some really great people going there from a real mix of Partners, ISV, end users and Salesforce themselves. Dive in and join one of the groups that are local to you, because that's also where the jobs come from. as well as potential moves."
However, as with any career path, that advice does come with one caveat, as Stuart Mills pointed out. "Salesforce is just one company in an amazing ecosystem of customers and partners all sharing great value, great work, and part of the Trailblazer community. If you have a passion for Salesforce technology and the values of trust, customer success, innovation, and equality, then keep your eyes out for roles that fit with your strengths across all the employers in Salesforce's ecosystem. As your career evolves, I would just follow the path as it happens. Salesforce is great but there are so many different teams, at a number of wonderful organisations."
So, focus on your soft skills, look to build connections with those already within Salesforce, but don't let that inadvertently become a barrier. There are some incredible projects you can be involved with both inside and outside of Salesforce, so keep an open mind when it comes to your career.
In short
The future for Salesforce professionals is incredibly bright. Its continued growth will provide opportunities not just within the organization itself, but across the entire ecosystem. The platform has some exciting changes ahead, and while at first glance that offers the potential for businesses to transform themselves beyond recognition, the same goes for those working within the Ohana. Those willing to adapt and roll with that evolution won't just enjoy a varied and challenging day-to-day workload, they'll also be incredibly in-demand, as Salesforce continues to grow.
Looking for your next Salesforce opportunity?
---
Browse our full selection of the newest and most exciting vacancies on the market.