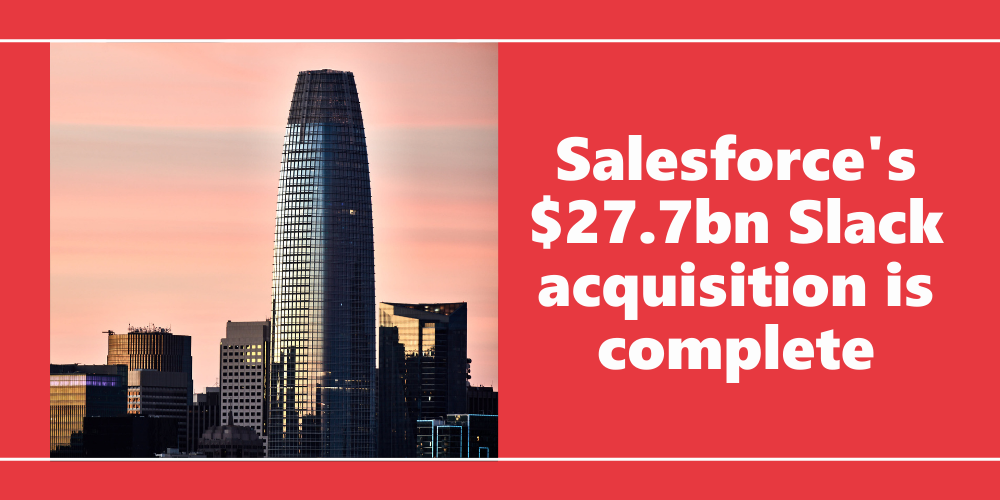 While the Ohana has spent what feels like an eternity guessing how the platform will evolve in the near future, Salesforce is finally set to reveal all as the $27.7bn acquisition of Slack has been completed.
The details will be unveiled in a live virtual broadcast next month. The event, taking place on Tuesday, August 17, will be hosted by Salesforce President and COO Bret Taylor and CEO and Co-founder of Slack, Stewart Butterfield. In it, they'll reveal how the two companies are creating a Slack-First Customer 360 that helps organizations around the world adapt to a new way of working.
"We've learned over the past year that the workplace isn't snapping back to the way it was," said Bret Taylor. "Together, Slack and Salesforce Customer 360 will give every company in the world a single source of truth for their business and a single platform for connecting employees, customers and partners with each other and the apps they use every day."
---
Slack is already acknowledged as one of the world's leading way for organizations to collaborate more efficiently, and adding it to the planet's number one CRM gives the potential for businesses to supercharge the way they communicate with their customers and each other.
While it now joins the Salesforce family, Slack will continue to operate under the Slack brand name as it works towards making Salesforce an online HQ for businesses around the world. "We have a once-in-a-generation opportunity to rethink and reshape how and where we work," added Stewart Butterfield. "Salesforce and Slack are uniquely positioned to lead this historic shift to a digital-first world."
"We couldn't be more excited to have Slack as part of the Salesforce family," concluded Marc Benioff. "Together we'll define the future of enterprise software, creating the digital HQ that enables every organization to deliver customer and employee success from anywhere."
In a recent Mason Frank blog post that previewed Dreamforce, many Salesforce influencers told us they were looking forward to hearing more about the acquisition of Slack. That is finally set to happen as the deal has now been completed—and we don't even have to wait until September to get all of the details!
The event takes place at 10am PT / 1pm ET / 6pm BST on August 17, 2021 and can be accessed here.
Want more insight into the future of Salesforce? Download our Mason Frank Salary Survey and get the most detailed view of the Salesforce ecosystem, from those working in it.