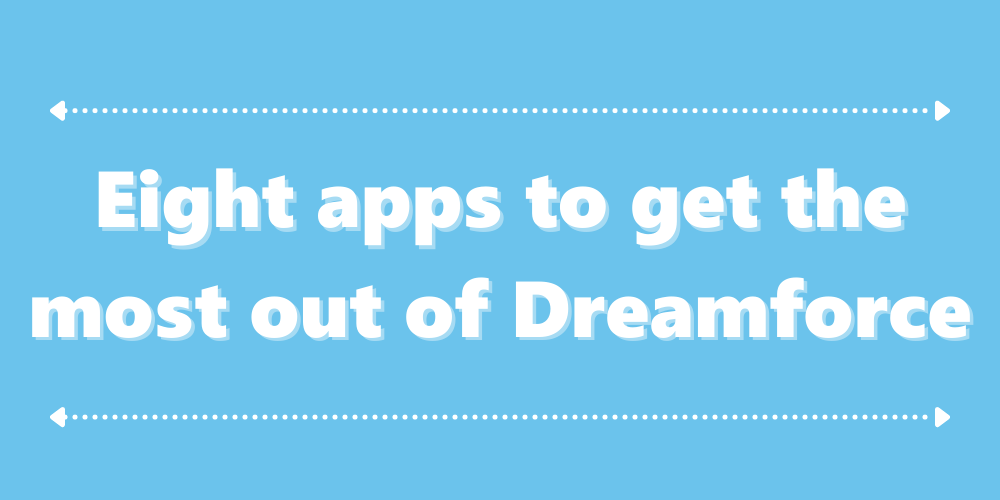 Making the most of Dreamforce can be a monumental task, especially if you're not a San Francisco native. With over 1,500 sessions spread over four days, the city can look forward to welcoming approximately 135,000 people to navigate their way around the unique campus.
To make sure you get the most out of your Dreamforce experience, we've compiled a list of the top mobile apps that can help you unlock the full potential San Francisco and the event have to offer, while meeting new people and discovering new places. These Dreamforce apps will make navigating California, and the biggest Salesforce event of the year, that much easier.
AroundMe is the must-have app for anyone travelling to another city. Tackling the daunting task of finding a good restaurant, cinema and ATM all in your location, AroundMe can locate them all in one swoop. Not only is it free on iOS and Android, but it is also offered in most languages including English, French, German, Italian, Japanese, Korean, Russian, traditional and simplified Chinese, Portuguese and Spanish.
If you have colleagues or friends who, sadly, can't make it to Dreamforce 2015, Periscope will let you live stream video content to them. Choose the private option before going live with any content and you can choose who you want to invite to your broadcast. You can also post a link to your twitter account and followers can view the video in their feed and from your profile.
If you don't already have Uber, where have you been? Making transportation as simple as a click of a location, the free app makes getting about easy. Rather than having to search for local taxi numbers or gamble with fees, you can have a driver with you at the station, hotel or airport quick and painlessly, and the cost of your fare upfront.
The great thing about the free San Francisco Exploration Guide is it gives you real-time experiences and provides a platform to ask specific questions about what to see and do. Providing a clear and concise guide to all the major San Francisco attractions and opportunities, it's a great way to see the city with your own digital pocket guides.
Find My Friends' GPS tracking data makes it easy to locate groups and individuals in real time. Able provide ETAs of the people you're meeting as well as share your location throughout all of Dreamforce, Locate My Friends if the perfect app to help with socialising over the long weekend, or simply keep track of that one directionless colleague we all have.
Helping you to be your most productive self, Evernote is the perfect way for you to take notes on all the Dreamforce sessions, keynotes and happenings from your day. You can add photos and create an agenda and share across all your devices. However, Evernote does have another seven apps that can help you do incredible things with personal and team data.
Want to know which bars are busy, the average age of patrons, or the ratio of men to women? SceneTap lets you see just that on both Android and iOS devices. Letting you know exactly what you're going to see on the other side of the door before you even walk in, the app can help limit the time spent searching for the right watering hole for both natives and visitors alike.
While the app hasn't been released yet as it is still under development, it's a Dreamforce essential for anyone looking to maximise their opportunities at the event. Due for rollout a week before Dreamforce gets going; if last year is anything to go by, it's a must-have.
Need a little more support? After you've downloaded these Dreamforce apps, check out our San Francisco city guide for useful information on navigating the city.