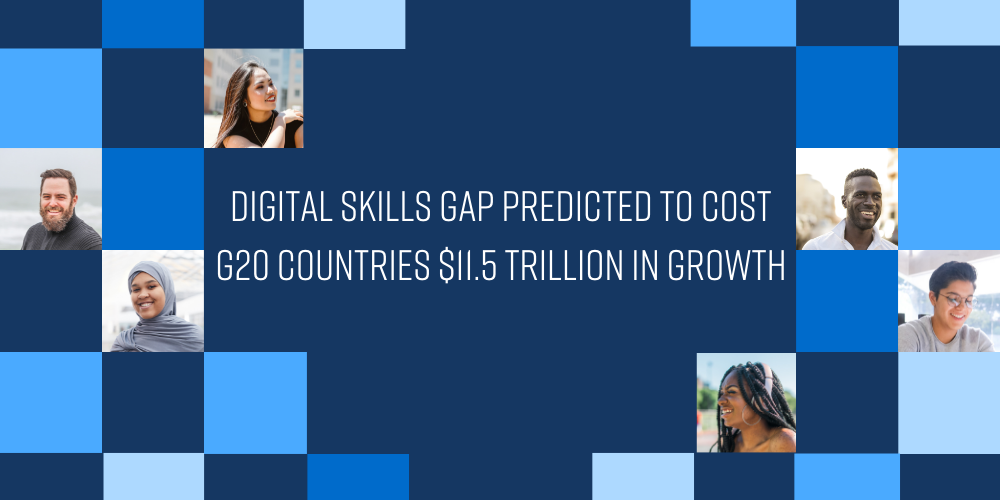 A recent study commissioned by Salesforce looking into the growing demand for digital skills has revealed just how much the global economy will suffer if the problem isn't addressed.
Carried out by RAND Europe, the report tackled a number of aspects associated with the skills gap that the industry is facing. Their conclusion was without the shortage being closed within the next five years, there'll be an impact on product development, delivery and innovation, and customer experience and satisfaction.
One study by Accenture has predicted that this would mean the 14 G20 countries could miss out on $11.5 trillion cumulative GDP growth. And yes, you read that right – trillion. That's a big enough number to have a significant impact on any organization that relies on digital talent.
What's causing the digital skills gap?
According to RAND, the main driver is that demand for talent is already outstripping supply. In addition, there are a number of emerging technologies amplifying the need for those skillsets, which only serves to intensify the shortage as we move forward.
Added to that are the high costs involved and disorganized approach taken with traditional education methods, which is often a blocker when it comes to injecting more talent into the ecosystem. That's why Salesforce has committed to work with those across the Ohana to play a part in fixing the problem.
There are a number of ways that Salesforce helps professionals to cross-train into a career in the cloud, as well as assisting businesses with getting access to that talent. Ultimately, the report acknowledges that it requires a joint effort from all parts of the ecosystem in order to address the issue.
Getting started
While Salesforce has a world-leading free educational program in Trailhead, its 1-1-1 model also means many non-profits have access to Salesforce.org, and are in need of talent to help contribute. This provides opportunities for budding professionals to get hands-on experience in a real world environment.
While there are a number of grants and programs available, such as the Salesforce Talent Alliance and Salesforce Military, to encourage the next generation of cloud superstars, the onus is still on businesses to help support new talent.
That means creating a recruitment strategy that isn't as fixated on traditional education and looks more towards actual skillsets and potential for development. This will encourage applicants from a more diverse talent pool, as well as creating newer pathways into digital careers. A degree isn't a prerequisite for a career in Salesforce, and adding it as a job requirement can ultimately narrow your hiring range.
While the need for action to be taken has long been discussed, the report finally puts a firm timeline on how quickly progress needs to be made before it costs businesses dramatically in terms of growth.
Read more on the results from the study here.
Need Salesforce talent immediately?
---
We have the largest database of Salesforce professionals on the planet, with many available to start now