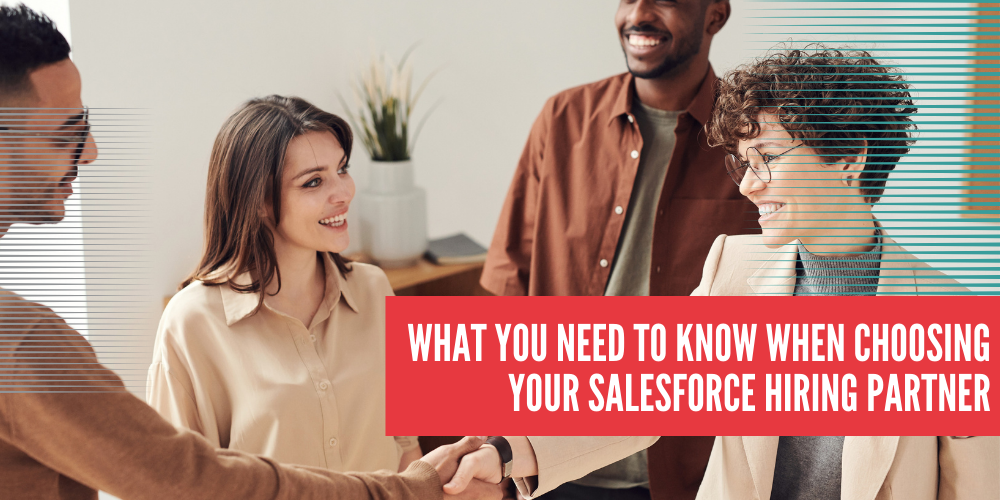 It's safe to say that digital projects are on a sharp increase at present, which means that when you're looking for the best Salesforce candidates for your vacancies, there's a good chance you don't have time to spend filtering through resumes.
In a dream world, you want a select group of interviewees who've been hand-picked because they have that specialist knowledge you're looking for, without having to waste time vetting them and sifting through resumes first. And, as this help is available to businesses struggling to find and attract the best Salesforce talent, it makes sense to find yourself a recruitment partner who can do the heavy lifting for you.
So what should you be looking for when you need to get hold of those amazing candidates at pace? Let's be honest—we may be biased in suggesting that you'll need help from a staffing firm, but if you are in need of assistance when it we also know what you should be looking for when it comes to choosing your recruitment partner.
Taking the scenic route
Many industries floundered during the Covid pandemic: employees were laid off in hospitality, travel and retail amongst others, and many will never go back to those roles. It's safe to say that tech, however, flourished, and undoubtedly alerted ambitious professionals who want to be in-demand.
With a rush across many industries to provide their staff with the right home working set-ups, IT specialists have been busier than ever, and that looks set to continue, with the popularity of hybrid work models and job seekers being more vocal about wanting the best conditions for their personal needs.
However, the demand for digitally-literate candidates is still outstripping supply, an issue that's facing companies globally. A recent article from Fortune stated that for anyone looking for a job today, tech skills are essential, not a nice-to-have. This tech skills gap is a real problem for people, especially if they're considering roles in a different industry, where they might not have experience.
Mason Frank's Careers and Hiring Guide: Salesforce Edition 2021-22 highlights that many employers look for certifications when they're shortlisting candidates, and for those looking for Salesforce-specific roles, extensive knowledge of the platform is essential, as is continual development in order to keep up-to-date with the platform. Fortunately, Salesforce offers their own comprehensive training tool, Trailhead. Online learning is free, and there is an active and engaged community of 'Trailblazers'.
So while talent can be upskilled and cross-trained if you have the time, it doesn't answer the question of how you attract professionals in the short-term and even medium-term.
Will a jack of all trades work?
There's no doubt that a good recruiter can make life easier for your HR team—supplying role descriptions and candidate specifications to them means they can spend time find the best potential hires for your business.
A good recruiter will take time to get to know your organization, its structure and culture, asking pertinent questions about the skills and experience your desired candidates need. They'll also want to find out about any role-specific knowledge, and check which software and tools you're using. If you aren't being asked this of your recruiter, the likelihood is they don't have the specialist knowledge needed that will bag you an elite hire.
For that reason, when one of your main requirements is an in-depth understanding and familiarity with Salesforce, it makes sense to use a recruiter who works specifically with that type of candidate, rather than a generalist agency. Okay, it might sound obvious that we'd say that—but think of it this way: a generalist recruitment agency=generalist tech hires.
Want access to thousands of pre-qualified Salesforce candidates now? Try our Candidate Search Tool for access to some of the hottest candidates on the market.
The Importance of Industry-Specific Knowledge
We'll hold our hands up at this stage and openly admit: for many vacancies, a generalist recruiter will be able to find you a great selection of candidates. But we know how rapidly Salesforce projects are scaling, and that nine times out of ten, your hires need to be able to hit the ground running. In this case, a specialist recruiter is always a better bet.
Using ourselves as an example (and why would we use anyone else?!), we have worldwide expertise and are embedded into the Salesforce ecosystem. Staff from Mason Frank regularly attend Dreamforce, and host, sponsor and attend other Salesforce events around the world, to network, exhibit, and speak. This enables us to speak directly with Salesforce customers and partners beyond just who we work with, to really get to grips with the challenges facing the community.
In turn, we give back by producing resources like The Mason Frank Careers and Hiring Guide, the world's largest independent survey of Salesforce professionals, which has proven to be an invaluable resource for employees and employers alike for several years now. As a dedicated Salesforce recruiter, we can afford to invest that time into the world we live and breathe, and in turn that gives us the sort of knowledge that is unmatched compared to a generalist recruiter. No matter where in the world you are, your industry or how your implementation looks, or what you need to hire, we've been there, done that and probably have the t-shirt. Anyway, enough about us.
The dreaded "other options"
There are plenty of other ways to find staff for your vacancies, of course, and you might want to look for alternatives to a recruitment partner regardless of whether they're embedded in the community or not. There are pros and cons to these options. For instance, going it along.
It's probably cheaper to find, interview and hire staff in financial terms, and you know your company better than anyone else. However, the cost in man hours can't be understated. Every minute you spend on looking for staff is a minute that takes you away from your core responsibilities. Advertising can be expensive, and candidates look in a wide range of places for vacancies so you could miss out on key talent pools without even knowing.
Plus, while you know the job description, finding people with the right skills and experience, especially if they need to use Salesforce from day one, is another matter. Someone that hires in the community day in, day out knows the market better and can match you with talent faster. But we can't deny that it's cheaper to do it yourself (as is fixing a car, building a house or defending yourself in a court of law—but it's pretty unlikely you'd tackle them alone!).
You could go down a different route and share your adverts on jobs boards, or even use companies like Fiverr or Upwork. Set your requirements and parameters, and the platform can filter and find you candidates. But you, or your HR team, will have to comb through them to find the best potential interviewees. That's time-consuming and there's no guarantee you'll find the right person.
There's also graduate programs. Many colleges and universities have initiatives that help newly-qualified students to find work. This is great, because they'll have up-to-date knowledge of their specialism, and it can be cost-effective. However, they'll have no real-world experience, and it's unlikely that they'll be familiar with a tool like Salesforce in the sort of depth you need.
Why You Need a Diverse Tech Team
Before you make a final decision, it's worth pointing out the importance of diversity in your teams, and your recruitment partner should be able to help with that. A recent article by BetterUp explains that tech diversity allows businesses to both stay relevant to their customers and competitive in the talent market.
"It creates more resilient communities and a more equitable world, yet 68% of business leaders report a lack of diversity in their tech workforce," it reads, and while it concedes that while those in the industry are working hard to improve things, it's still a struggle for many.
Today's customers are diverse, and it's not unreasonable for them to expect that the employees they interact with understand and respect their cultures and challenges. For instance, women control around $20 trillion of consumer spending in the US alone, yet they frequently feel underserved. It's not true that only women can create products and services for other women, but it will improve things, and help you provide more rounded products, solutions and services.
Not only that, but when your customers feel represented, that increases their trust and confidence in your business. In turn, they're more likely to be repeat consumers, and they'll recommend you to others as they're invested in your brand.
So how can you ensure that you're not one of the companies struggling to achieve diversity and good representation of a wide range of communities? By putting diversity at the forefront of your recruitment process.
Tell your recruitment partner that this is one of your business priorities, and they'll work with you to find hires who are diverse, knowledgeable and enthusiastic to join your team and make a difference for themselves and your customers. They should be more than happy to help you. And if diversity isn't at the forefront of your hiring strategy, maybe it's time to look at someone that can help?
Ready to make your next Salesforce hire?
---
Submit a job with us, and you'll receive a shortlist of suitable, available candidates within 24 hours.