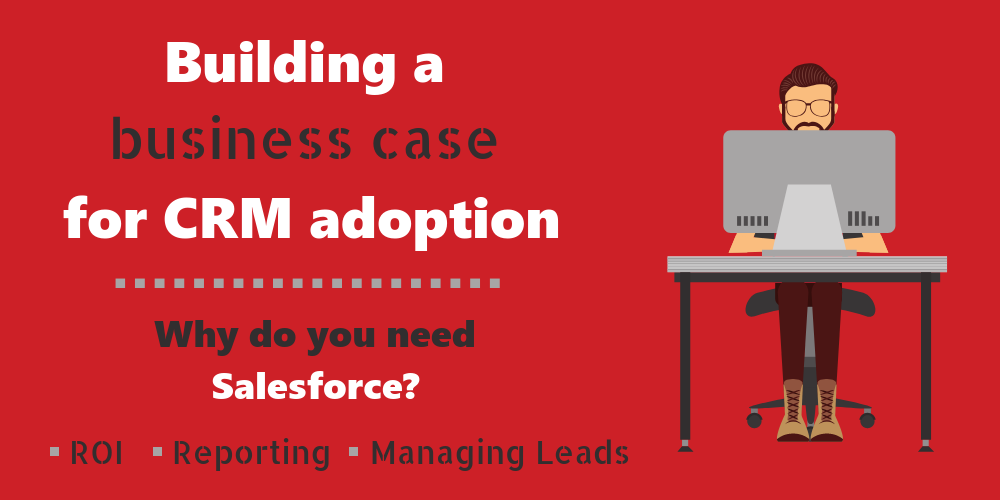 Building a business case for CRM change can be a daunting task. How do you know for sure that changing from a legacy system, a system that has worked in some way for a number of years, to a new platform will work? Or that it will definitively make things better for everyone across the board?
In order to make a business case for CRM change work, you need to demonstrate the benefits for stakeholders, such as users, and the potential for growth in revenue and productivity that is not being realized by the current system.
While there are a number of fantastic CRM platforms to choose from, Salesforce is one of the biggest names in business technology today, and a tool that has been proven to provide huge benefits to companies of almost any size; from huge, international, blue chips to SMEs. Building a business case for Salesforce using the criteria above is, in theory, pretty simple, such is the power of the platform.
Of course, you should always be mindful of the time that a Salesforce implementation is likely to take. Small businesses should be able to expect a functioning Salesforce instance in as little as two weeks, but larger rollouts, especially those where an integration or transition from a legacy system is necessary, can take months to achieve fully.
But what business types will benefit from a Salesforce implementation? Well, the fact is that Salesforce's inherent versatility allows it to work for the advancement of many different industries, providing a solution for almost all industry verticals.
Industries that have built a business case for Salesforce, and adopted it successfully, include:
Financial services
Communication and media
Government and the public sector
The retail industry
Manufacturing
Consumer goods
Healthcare and life sciences
One of the main reasons for the exponential growth of Salesforce over a relatively short space of time is the way in which it has helped each of these areas to thrive. A full and exhaustive package, Salesforce allows for complete management in every key area of your business.
Building a business case for Salesforce: the benefits
Salesforce is a system that draws a lot of admiration, and a lot of use from established and start-up businesses around the world. Why? For a start it's a comprehensive tool, as Rajeev Gupta, CEO of DBSync notes: "[Salesforce] has a great configuration/security capability, and along with Workflow and Apex, you can model most of your business processes without leaving Salesforce. It also has a large ecosystem of apps, so if you need Salesforce-to-accounting integration, then there is one on the AppExchange — you don't have to build it."
For those who don't know, the Salesforce AppExchange essentially acts as Salesforce's store. It's where you will find all of the add-ons and plug ins that you could possibly need to maximize the efficiency and potential of your instance, creating a more personal platform to suit the specific requirements of your company.
Of course, when building a business case for Salesforce, it's well worth acknowledging that the industry-leading CRM has a lot of functionality out of the box. Here are just a few of the biggest, most cited benefits:
User experience and ease of use – The Salesforce CRM has a strong focus on user interface and design, creating a system that is intuitive, and even pleasant, to use. Because of this, contacts, accounts, opportunities and more are easily found in one place.
Report Generation – Generating reports based on multiple different fields is made simple with Salesforce. Members of the sales team and others can create reports on the likes of tasks finished, opportunities, products bought and sold, active work flow and accounts that have lain dormant.
A Diverse Offering – Salesforce's experience and expertise in on-demand software not only helps it to reduce the cost for customers (through a common networking, software, and hardware platform), but has also led to the team behind the CRM innovating the 'Software as a Service' (SaaS) approach in the enterprise domain.
Accessible anywhere, any time – Because of Salesforce's all-in approach to the cloud, the system has rapidly become a leading name in cloud computing. With a complete set of CRM apps available on the cloud alongside a cloud-based platform and a cloud-specific infrastructure, your team can access Salesforce at any time, no matter where they are in the world. Such quick and easy functionality not only boosts productivity, but also improves your ROI when purchasing Salesforce.
Salesforce for your team

While we've already established the positive elements that Salesforce can bring to a business as a whole, to build a business case for CRM platforms like Salesforce, we must also look at how it can have an impact on the day-to-day tasks faced by your team.
Due to the wide-ranging nature of its problem-solving potential, a Salesforce instance can provide solutions at many different levels of the business.
Ajeet Singh, co-founder and Director at Algoworks, comments: "Salesforce is a highly valued cloud computing and CRM product that can change your business relationship and your team's working life. Many businesses have seen growth and have sold more with the initiation of Salesforce."
Here's what a Salesforce instance can do for your various teams:
Salesforce for sales managers
Salesforce provides real-time monitoring, so you can keep up to speed with the activities of your team and individual members. As well as giving you the tools to measure effectiveness, you can also use this data to more accurately, and confidently, forecast future sales figures.
Salesforce for the customer service team
Customer services teams have to track and participate in conversations across more channels than ever before. With Salesforce, you can connect all the conversations that take place across social media networks in one place. As well as providing a streamlined 'lobby', this method also keeps the essential data that your team relies on at their fingertips, and also allows for much faster responses.
We can give you a free staffing consultation to help you calculate the total cost of Salesforce implementation. Request our terms of business to be contacted by our specialist implementation team.
Salesforce for the marketing department
The ability to create a stronger social media presence is also one that should appeal to those in the marketing department; it will help to create more meaningful connections with customers and other stakeholders. Using Salesforce to better manage your social media presence will lead to a more focused projection of the company's brand voice, engaging better with existing customers, and reaching fresh audiences to help build that customer base even further.
Salesforce for the sales team
You'd be surprised how long a sales time must dedicate to simple data administration, that is unless you have an intelligent to CRM to do this for you. Salesforce tools allow the sales team to spend less time managing data and gathering it into relevant groupings manually. That means more time to spend engaging with customers, as well as planning better processes.
Salesforce for customers

Of course, such a broad range of benefits and abilities doesn't just benefit the company that buys the CRM and the staff who use it, it also has a huge effect on customers, and the positive aspects for them should always be taken into consideration when building a business case for CRM programs like Salesforce.
"Keeping the customer in mind, Salesforce CRM is designed in a way that empowers organizations to help customers, address their concerns, look for solutions, and provide value," notes Ajeet.
"It helps you in keeping your customers on top priority while allowing you to focus on your performance improvement."
According to Ajeet, Salesforce can enhance the inner working of an organization in the following ways:
Improved customer visibility
Salesforce provides a platform that is suitable for maintaining all information related to your customers and helps you treat each of your customers as your only one. This enables you to understand your customers better and predict more-feasible future actions.
Superior time management
Salesforce helps in serving your customers better by incorporating all of your agents' schedules, calendars, activities, etc. This leads to the reduction in downtime and stress related to deadlines.
More efficient sales pipeline
Salesforce makes it easy to track individual prospects, including their expectations, pain points, or any other data that might prove to help a potential customer along the path to the sale. This way, you will be able to track exactly where a lead stands in your pipeline, as well as know what step they should take next.
Enhanced collaboration
Having a cloud-based and cross-department platform signifies that all authorized individuals can work together, and ensure customer success. Various teams can have access to relevant data, and communicate and collaborate together to offer a smooth customer service experience. This can be done by merely logging in to the company's database from any device.
Better support
When any sort of issue arises, Salesforce ensures that everything is back on track by taking immediate steps. As the entire platform is cloud-based, the maintenance requires no technicians or additional expenses.
Increased efficiency and productivity
Salesforce offers various functionalities like automating tasks, removing the need for managerial micromanagement, and trimming wasteful processes. This makes the system highly efficient and gives your company and your customers real value for every action. This, in return, increases your company's productivity. Adopting Salesforce has shown an increase of 34% in sales productivity.
As you can see then, a Salesforce instance can have many positive impacts across your business; for the company as a whole, the individual teams, and, perhaps most importantly, the customer base.
When it comes to building a business case for CRM implementation, these are the key aspects that must be taken into consideration. If you are currently in the process of assembling a business case for Salesforce in your company, we hope that all of your questions and concerns have now been answered.
For more insights into CRM and Salesforce technology, subscribe to the Mason Frank blog.