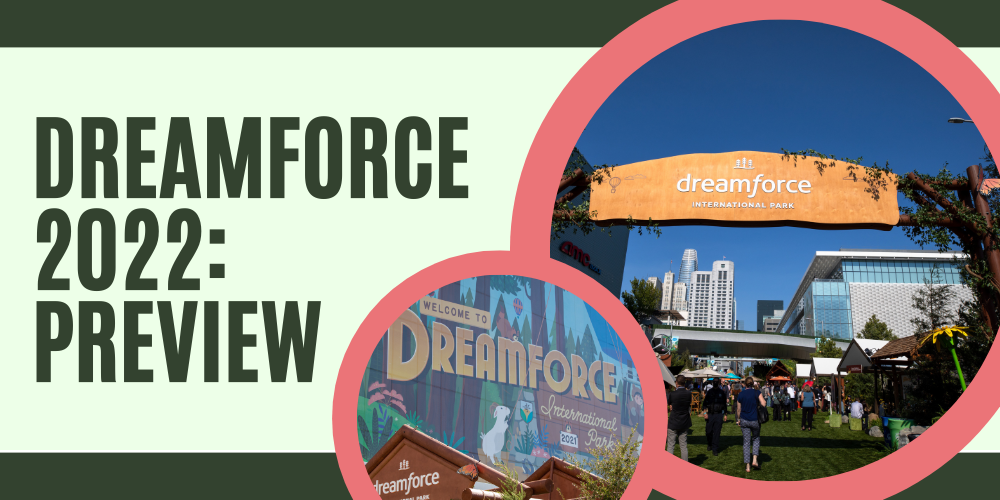 While Dreamforce may have returned with a 5,000 capacity last year, there were still plenty of us that missed out on our annual pilgrimage to San Francisco. Needless to say that 2022 feels like a big deal, and as we all begin to charge our pedometers and bookmark talks and breakouts we can't miss (and parties!), there's much to look forward to.
Whether that's meeting up with familiar faces to catching Benioff's keynote, or rocking out to the Red Hot Chilli Peppers, Dreamforce 2023 promises to be epic. And that's before even thinking about product innovation and learning! So what are some of those attending (and speaking at) Moscone Center most looking forward to?
We caught up with some familiar faces from the Salesforce community in the run-up to 2022's event to get their thoughts.

Are you excited to be back in-person?
I remember my first Dreamforce in 2008 after the company I was working for was acquired by Salesforce. I went without any idea where I was going and I was shocked when I arrived, it was truly amazing to see so many people excited to be going together for a technology conference. Since then, Dreamforce has become bigger and even more amazing. The energy that you get, the knowledge that you learn, the people that you meet. It is unparalleled, so yes, I'm super excited to be back in-person.
This year is going to be epic as Dreamforce celebrates its 20th anniversary and of course, as a Groundbreaker sponsor, Odaseva have a ton of activities that we're organizing to make it even more exciting. I'll be speaking at our session on Backup & Restore on Thursday, September 22 at 9:30am. We also have other sessions focused on Data Archiving, Data Privacy, and our latest addition, Data Automation. We'll be located at booth #1226 so come say hi to find out what else we're doing.
Is there anything you're hoping to hear more about/see announced?
Salesforce has historically been on top of any industry trends. What you hear at Dreamforce is not only going to pave the future direction of Salesforce, but also pave the future for the whole industry. The biggest topics I think we will hear more about include how the recent announcement around Net Zero Cloud will transform, and how any company can start to adopt it since it is now a topic that every enterprise should address.
With the recent Slack acquisition, I really want to see how they are going to transform all of Salesforce's engagement layer to bring it together. Dreamforce is also going to be about Customer Data Platform and the ultimate vision for Salesforce to have a centralized customer data repository that will be able to fuel Salesforce's full suite of products.
What's your top tip for surviving Dreamforce?
Dreamforce is a marathon and like any marathon, you need to be prepared for it. You need to know what your objectives are. Do you want to learn more about a specific Salesforce product? Do you want to hear more about customer experience? Are you looking for a specific Salesforce ISV that you want to connect with? Do you want to connect with a certain person?
And don't forget to have fun. You need to prepare and don't forget to plan for the best party but be warned—the best partiess usually sell out fast!

Are you excited to be back in-person?
I'm very excited about attending Dreamforce in-person this year. I had already booked my flight and hotel before the official event proceedings were announced, hoping that everything would go ahead. Having to participate on a virtual format doesn't quite capture the full experience of Dreamforce for me—I have missed the theatre of the exhibitions of bringing the functionality to life, the atmosphere of the Trailhead zone and of course, the ability to meet up with the Salesforce Community family and re-connect again. It's those elements that you can't quite match in a virtual format.
Is there anything you're hoping to hear more about/see announced?
Indeed! Marc Benioff tweeted the other day about a new self-service suite called Salesforce Easy, the ability to bring Sales, Service, Marketing and Commerce together for customers to buy and grow as they scale. I'm very interested to learn how this package will work for customers in terms of contracts. Historically, these elements have been separate license types, sold via different account teams with different structured purchasing formats. These have been confusing for customers and challenging to reconcile. If Salesforce has now made buying these products easier for customers to understand and grow with, then this will be a massive win.
What's your top tip for surviving Dreamforce?
Dreamforce is a marathon event which takes careful planning. You cannot do everything. I construct a trusty spreadsheet to plan my event which includes the timings of any presentations I am giving, meeting commitments, the keynotes and other unmissable talks I wish to attend, and the evening networking events that I have signed up for. I then see what time I have left to cherry pick one or two other talks per day, knowing that moving around the Moscone site will take time due to the volume of people and also bumping into familiar faces. Don't get precious about your schedule, except for your 'must haves' and enjoy the Dreamforce atmosphere.

Are you excited to be back in-person?
I am very excited and feeling very fortunate to be able to attend in-person this year. It's going to be amazing to reconnect with so many peers face-to-face again and feel that energy. I will be speaking at Dreamforce for the first time this year and can't wait—you can find me in the Admin Theatre delivering the session Craft Your Salesforce Resume: How to Stand Out! I'm pleased to see that Salesforce will be making masses of content available to those attending virtually via Salesforce+ as well!
 Is there anything you're hoping to hear more about/see announced?
I have added SO many sessions to my favourites via the agenda builder already—the Admin Keynote, True to the Core, plus I'm looking forward to learning more about the future enhancements coming to Dynamic Forms, Security (profiles/permission sets) and Forecasting.
What's your top tip for surviving Dreamforce?
It's a delicate balance between making the most of your time and avoiding overdoing it! Try not to over plan or overbook yourself with too many sessions. Be strategic about which sessions you go to—and look for ones that are more unique to Dreamforce, such as True to the Core, for an honest and candid conversation about the roadmap. This is a great opportunity to meet other Salesforce professionals and make connections and friends for life—for me, that's more important.
If you have a bit of extra time in San Francisco, be sure to check out Alcatraz, the Golden Gate Bridge and the Fisherman's Wharf—keep an eye out for the Sea Lions! I'm obsessed with breakfast in America, so for me, it's essential to hunt out pancakes to fuel a busy day at Dreamforce.

Are you excited to be back in-person?
I'm so excited for in-person Dreamforce! I had the opportunity to attend in-person last year for DF '21 as well, but it was so small and felt more like a family reunion than a Dreamforce. I'm excited to be able to attend sessions in-person again, network, and just really nerd-out with Salesforce. I'm a little cautious with the number of people attending still, and I plan on wearing a mask the whole time. If you're attending virtually, I recommend actually setting aside time to attend Dreamforce virtually. Meaning, don't double book meetings and think you can just have Dreamforce on in the background and still get the same experience. I'm totally guilty of this, and I definitely don't get as much out of it.
Is there anything you're hoping to hear more about/see announced?
Big announcements are one of the most exciting things about Dreamforce! I love attending keynote sessions and hearing about all the cool things I can get my hands on. I also love these sessions for the storytelling! It's one thing to hear about a company implementing a cool new process, but Salesforce storytelling is the best and they bring those stories to life in a way that really helps me connect, relate, and see the possibilities. I think that's a big reason I love Dreamforce—you get to hear so many more stories from other people and how they are using the platform. I always leave so inspired and with a notebook full of ideas!
What's your top tip for surviving Dreamforce?
My biggest tip for surviving is to definitely have a plan, but be flexible. There are so many sessions (1000+), networking events, parties… no one can do it all. Really sit down and think about what you are planning on getting out of the experience and try to focus your energy on those things. If that's learning more about the platform, then map out learning sessions to attend. If you're more interested in networking, then stick to the expo hall and all the networking events that are being posted all over social media. It's very likely that even if you go in with a plan, it's going to change as soon as you see all the cool things and the cool people you can talk to and learn about. Compare each opportunity to your goals. Am I going to learn more about CRM Analytics if I go to this? Am I going to collect more stickers if I go here? Am I going to meet other people that I could study for an exam with? Am I going to learn about being a Developer from this keynote? Set some goals and stick to them, but don't forget to have fun too!
Kristi Brown
Want access to one of Dreamforce's most exclusive events?
---
Register now and join Mason Frank at our guestlist-only Dreamforce residency at The House of Shields in the heart of San Francisco.