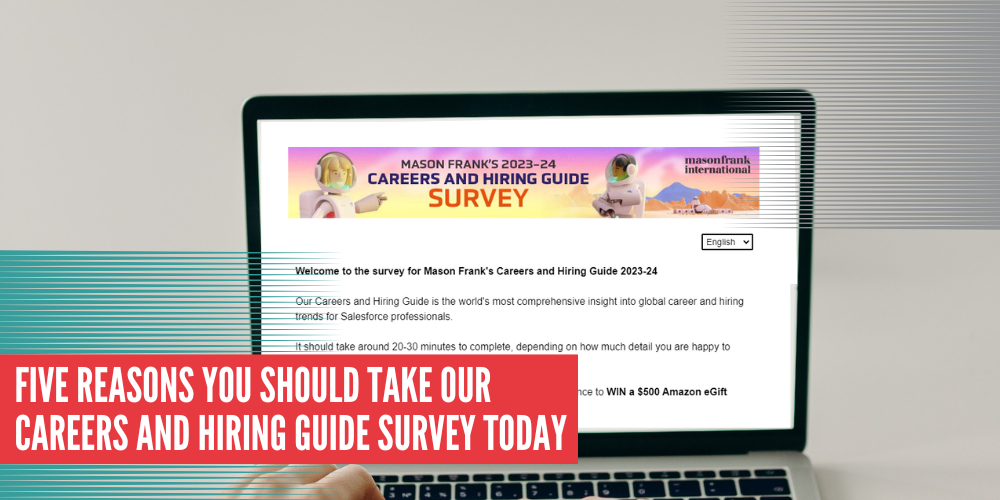 The survey for the next Mason Frank Careers and Hiring Guide is now live, giving Salesforce professionals across the planet the chance to have their say on what it's like working with the world's leading CRM.
The guide, which will be published in late summer, is into its tenth year—and remains one of the community's most valued resources by both employees and employers alike. From benchmarking your team's salaries to being able to gauge your own worth ahead of negotiations, as well as seeing a wider snapshot of the sentiments of those working within the ecosystem, it's a detailed report packed full of data, analysis, and insight from some of the stack's leading figures.
However, none of this is possible without your input. The guide remains a resource for, and by, the community. We want as many people to take part in order to ensure it's as accurate as possible, before we start the hard work of compiling (and presenting) it back to you. We also get that taking surveys may seem boring—so here are five reasons why giving up a small amount of your time means so much.
Diversity
It's safe to say that EDI plays a major focus for virtually every employer on the planet right now. Beyond it fundamentally being the right thing to do, it will also play a huge role in helping to address the Salesforce skills gap (you know, the one that two-thirds of hiring managers believe exists and 55% have said has gotten worse in the last 12 months, and that RAND Europe believe will cost $11.5 trillion in cumulative GDP growth if it isn't addressed).
However, last year's survey respondents were made up of 17% Asian, 5% Hispanic or Latino, and 4% Black, African or Caribbean. That means a small sample size to gauge the experiences from a diversity perspective, risking the guide not offering a true reflection on the ecosystem for those from underrepresented groups. While it's already vital to make your voice heard, without everyone speaking up, employers aren't able to get a true handle on the landscape in order to improve things as well.
Help shape career decisions
Last year saw the report being rebranded from its previous guise as the Mason Frank Salary Survey into our Careers and Hiring Guide. What does that mean for you? Well, beyond the usual statistical analysis of the Salesforce ecosystem, it now contains an even wider range of employee sentiment and career advice from industry experts. That includes the most in-demand products, services and certifications, giving you the inside track on what you need to know to help give you an advantage as you look to make the next move in your career. Whether that's looking for new employment or how to increase your value where you are, our guide contains it all—but we need you to take part in order to make it as accurate as possible!
Play an active part in the Salesforce Ohana
In last year's guide, 57% of survey respondents reported that they felt a part of the Salesforce Ohana, with the knowledge shared in the community (85%) coming out on top as the main reason for this. It goes without saying that technical knowledge is perhaps the most important component to helping improve lives on a daily basis, but success as a Salesforce pro involves much more than just checking best practice when needed. So, sharing knowledge on your own professional thoughts, feelings and experiences is another way that you can contribute your knowledge to the Ohana in a way that is truly meaningful and helps your peers make more informed decisions.
A pivotal moment in time
Our guides offer an essential snapshot of the Salesforce ecosystem and this year's couldn't come at a more important time, with a number of factors leaving those within the community looking towards the future. The invasion of Ukraine, the increase in energy costs and a cost of living crisis, redundancies in tech, plus interest rates increasing and fragility in the banking sector, have meant that tough decisions for employers and employees have either been made or lie ahead, with a desperate need for both sides to know what the other wants and needs. Add this into a digital skills gap that is causing a massive problem across the community, and there's a desperate need to accurately reflect what is happening in order to navigate what are undoubtedly some tricky waters across the globe right now.
Money money money
Okay, let's be honest. As with every year, we're also including a prize draw for everyone that takes part—and this year one lucky participant will win a $500 Amazon gift card*. Not bad for twenty minutes of your time! Whether you have your eyes on a new set of headphones, some swag for your home office, or want a head start on Christmas gifts for others, it's the perfect incentive to get involved in the survey. While the reasons we've listed above should be the primary reason for wanting to take part, there's no denying that the chance to win a sizeable prize is also good enough. Last year Irvan Kowaas was the lucky winner—will it be you this time around?
So, what are you waiting for? Take the survey now to make sure you're in with a chance of winning $500 AND to make the Salesforce ecosystem a better place for you and your peers.
*terms and conditions apply, one entry to the prize draw per person
Want some Salesforce insight now?
---
This year's Careers and Hiring Guide is available now, packed full of exclusive insight and advice on Salesforce careers and hiring.