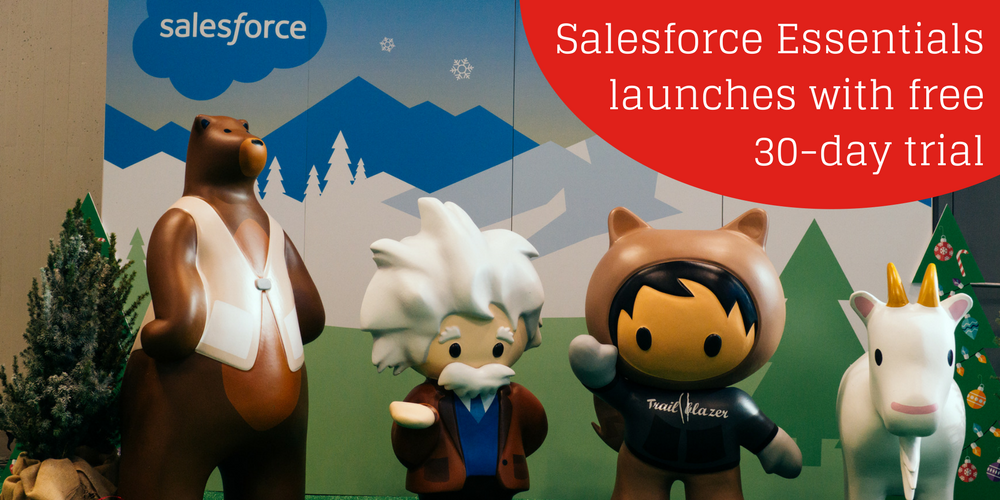 Salesforce's new sales and customer service solution 'Salesforce Essentials' is now available to businesses around the globe.
Salesforce Essentials is a product specifically tailored for small businesses, which will benefit from the simplified and stripped-back versions of Salesforce's market-leading Sales and Service Cloud platforms.
According to research from Salesforce, small businesses can spend 23% of the workday manually inputting data. Not only can this be tedious and time-consuming, but it prevents skilled professionals from adding value to the business through other tasks. Salesforce Essentials aims to relieve businesses of this burden.
What is Salesforce Essentials?
This collection of easy-to-use apps for small businesses utilizes the power of Salesforce Trailhead, Einstein AI and AppExchange, and is built on the Salesforce Lightning framework. It offers a fantastic opportunity for growing enterprises to harness the power of Salesforce's flagship services in a manageable subscription package.
In a press release issued today, Mike Rosenbaum, Salesforce's Executive Vice President of CRM Applications, said: "There are more than 125 million small businesses around the world all working toward one common goal — growth.
"With Essentials, we've taken the full power of Salesforce and tailored it for the unique needs of small businesses. Essentials is easy to set up and use, and it's future-proof, so small businesses can add new capabilities quickly and easily as they grow."
Training can be a stumbling block for small businesses, but Salesforce Trailhead offers users of Salesforce Essentials a free and easy route into the technology. Users will also benefit from AI modules such as Einstein Activity Capture, which automates data entry to keep customer records updated without manual input.
The Lightning framework makes navigating these products very simple across multiple devices, and can be customized with simple drag-and-drop functionality. While a perfectly capable CRM solution in its own right, Salesforce Essentials offers users a glimpse of the Salesforce ecosystem in which additional Salesforce apps and modules are available to enhance the functionality.
What's included in Salesforce Essentials?
Recognizing that small businesses need to start out with a modest collection of Salesforce applications, Essentials users will not be given access to the full Salesforce suite, but rather to the more-refined Sales Cloud and Service Cloud. These services will be stripped down to their core functionality, giving businesses everything they need to start managing the growth of their outfit, without any additional, unnecessary services that could eat up costs.
Sales Cloud Essentials
For sales-oriented businesses, particularly in this era of stringent data collection and protection regulation, a useful CRM could be the make or break for a business. Not only can a functional CRM be useful for logging essential data, but can also be extremely beneficial for sourcing sales leads and acting upon them in the appropriate way.
If your business has a small sales team, Sales Cloud Essentials contains everything you need to give your reps a comprehensive view of the customer and any associated details, including key contact information, activity history, and any discussions related to the account. All of this data will be stored in the cloud and can be accessed from any device, including from the Salesforce Mobile App.
Kenny Hodge is the director of business development at Handstand Innovations, and believes that Sales Cloud Essentials is 'a great place to start if you're new to CRM'. He said: "The setup assistant was incredibly helpful, making the product feel intuitive, easy to customize and powerful for sales right out of the box. Now we can turn our data into action and easily add new functionality as we grow."
Users will also have access to reporting facilities and dashboards, to analyze sales performance and areas for improvement. For a business that has not yet adopted an effective CRM solution, this collection of core functions in Sales Cloud provides a fantastic starter pack. For other businesses, it provides a boiled-down version of Salesforce's award-winning functionality — the best of the best.
A free, 30-day trial of Sales Cloud Essentials is available
Service Cloud Essentials
One of the more common problems that a growing organization faces is customer service. This is such an essential part of modern business but can be difficult to get right — often you don't understand the limitations of your own customer service until a bit of negative PR or a complex customer complaint arises, in which case it's too late to do anything about it.
Service Cloud Essentials brings customer service into one unified platform, where customer interactions and brand mentions from all corners of the internet can be monitored, managed, and resolved. Users have access to a customer's essential contact details, but also benefit from integration with Twitter and Facebook — all of this is available in the cloud or on mobile, so the customer experience can be managed even if you are out of the office.
Most small businesses can't justify the additional outlay for a member of staff focused solely on customer service, and so opt for another staff member to adopt the role in a part-time capacity. Service Cloud Essentials eliminates this need, boasting all the functionality to adequately service a customer's concerns and complaints with easy-to-use applications, ready-made templates, and guidance on case management that would be of great use to someone with no training in customer service.
"As a small business, our support team often needs to answer sales-related questions in addition to typical customer support questions," said Justin Mauldin, who is a customer support advocate at TrackVia, Inc. "I really like that Salesforce Essentials provides a comprehensive view of customers, with sales and service data in one place, so that support reps can easily access the information they need to deliver fast and personalized service."
Free trials of Service Cloud Essentials are available
How much does Salesforce Essentials cost?
The motivation behind Salesforce Essentials was to offer blossoming enterprises a scaled-down version of Salesforce's celebrated individual products. Likewise, the pricing has also been scaled down. Sales Cloud Essentials and Service Cloud Essentials are both priced at $25 per user, per month.
The idea is that once a business starts to feel the positive impact that Salesforce Essentials provides — both in terms of functionality and boosting that bottom line — there is always the option to upgrade or 'upscale' the subscription if additional applications are required.
Given the size and cost of some of its core offerings, Salesforce has always experienced difficulty appealing to small businesses. With Salesforce Essentials, however, the CRM provider may finally be covering all bases and could snatch this final portion of the market share.
If you want to stay up to date with the latest developments in the Salesforce ecosystem, subscribe to the Mason Frank Blog today!