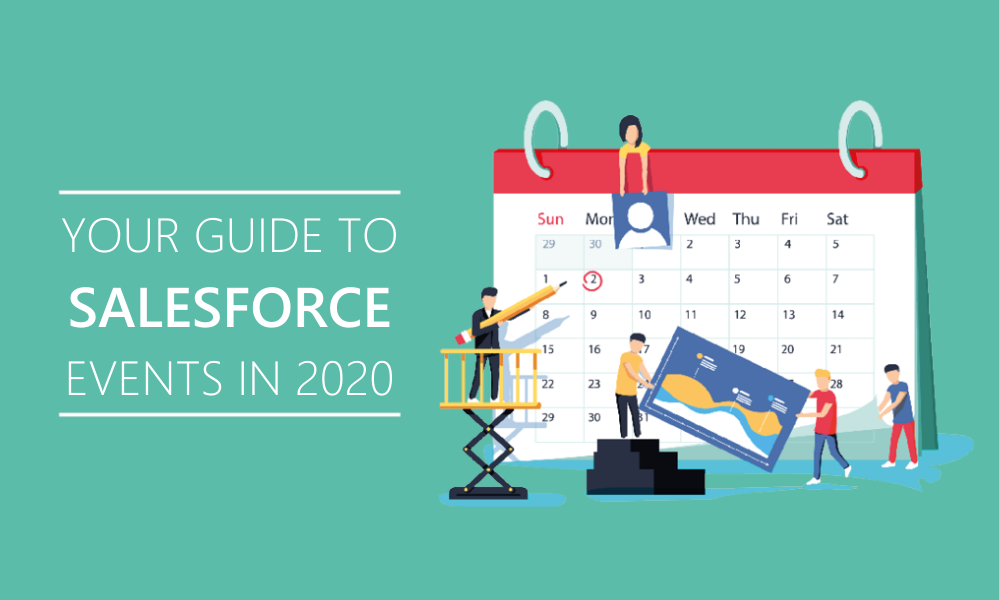 Our guide to Salesforce events in 2020 will keep you up to date on the latest conferences, conventions and user groups in the Salesforce community.
As a Salesforce professional, attending events is a fantastic way to learn more about the world's number one CRM product, as well as network with fellow professionals to discover new opportunities and ways to increase your proficiency in the technology. Salesforce events can be expensive, however, and so it's important you learn about them with enough time to make a business case for attending, or to secure the budget yourself.
Read on to find out what the year ahead has in store for Salesforce professionals. Got an event of your own to add to the list? Send us an email or reach out to us on social media.
---
Fill your Salesforce events calendar with the following items, or consider attending a Salesforce user group…
Salesforce events USA / The Americas
Salesforce events UK
Salesforce events Europe
Salesforce events Australia and Asia
---
But first, let's answer a few of the most burning questions…
What are the Salesforce events in San Francisco, California?
Anyone familiar with Salesforce will have heard of Dreamforce, the technology's flagship event, which takes place annually in San Francisco. But with San Fran being such a hotbed for tech talent, events tend to pop up around the year, organized by the many Salesforce user groups in California.
What are the Salesforce events in London, England?
The Salesforce user base across the UK is forever increasing, and London is the epicentre of that, with Salesforce tower standing 230 metres above the nation's capital. There tend to be two big Salesforce events in London each year: Salesforce World Tour London, and London's Calling, both of which are detailed later in this article.
What are the Salesforce events in Chicago, Illinois?
The only official Salesforce event in Chicago that has been confirmed thus far is Salesforce Basecamp in March at the JW Marriott. You can register for that event for free.
Is there a comprehensive Salesforce events calendar?
With Salesforce having such a large community of users, new events are organized and announced all the time, and so it's difficult to produce a conclusive Salesforce events calendar. Rest assured, we'll try to keep this article up to date and list the newest events as soon as we learn of them!
---
London's Calling 2020

London, England
March 20, 2020
The Brewery, 52 Chiswell St
London's Calling was the first community-led Salesforce event in Europe, and will continue its tradition in 2020 with another exciting educational event. Taking place at the Skills Matter complex, right next to Finsbury Circus Gardens, London's Calling will feature over 30 sessions that are catered specifically to Salesforce Admins and Developers, with platform experts leading these workshops throughout the day.
One of the event's core organizers, Kerry Townsend, has likened the event to TED talks, where a community comes together and listens to people who have ideas worth sharing. With this format, users are often inspired by the success of other professionals, and can enjoy an environment where knowledge sharing is casual and conversational—perfect for those looking to advance their Salesforce career but are unsure where to start.
Salesforce TechnoJam 2020
London, England
TBC
What happens when you combine ISVs and Technical / Solution Architects? Salesforce's first ever TechnoJam!
In a techy twist on Dragon's Den, Salesforce ISVs are tasked with pitching their groundbreaking applications to Technical and Solution Architects, with opportunities to ask questions to the app's development team.
2019's event was co-organised by the Ladies Be Architects and the Salesforce ISV Meetup user groups. With a range of ISVs on show, and the promise of a trip to the pub after the show, this could be one of the most-entertaining community events of 2020!
Higher Ed Summit 2020
San Diego, California
April 29–May 1st, 2020
Register your interest for the event
Salesforce has a fantastic open learning platform where educational materials are never more than a click away, but to unlock the platform's real potential you need to hear success stories from other Salesforce customers. This year the Higher Ed Summit will take place at Indiana University!
Higher Ed Summit 2018 featured 180 sessions in just two and a half days, and 2019's event in San Diego was even bigger. There's never been a better opportunity for education establishments to come together and reimagine the journey of prospects, students, alumni and faculty.
"One of the things I really appreciated about Higher Ed is the willingness of competitors to share," said Robert Weir of the University of Massachusetts Boston. "You're able to connect with other organizations, find people to emulate, and offer whatever you can to them."
PhillyForce 2020
World Cafe Live, Philadelphia
May 6, 2020
The 8th annual PhillyForce conference is set to be one of the most engaging events of 2020 for Salesforce Developers. Building upon the success and glowing reputation of previous years, this conference is packed full of presentations and workshops delivered by experienced members of the Salesforce community.
Taking place at World Cafe Live on Walnut Street, Philadelphia, the event includes both free breakfast and lunch, as well as a networking Happy Hour at the end of the day. And with attendance from a range of user groups such as the Philadelphia Trailblazer Group, the Women in Tech Developers Group and the Philadelphia Nonprofit Group, this could be a fantastic opportunity to link up with like-minded individuals.
TrailheadX 2020
San Francisco
June 9–10, 2020
Save the date for TrailheadX
TrailheadX is a prime opportunity to learn, plan your career, and connect with fellow Salesforce professionals in an environment offering world-class training and insights. What's more, it isn't just for beginners on the platform, as there's even Architect training for those looking to reach that upper echelon of Salesforce skills.
Salesforce Connections 2020
Chicago, Illinois
May 4–6
Save the date for Connections 2020
Connections is an event that promotes customer centricity on the Salesforce platform. Taking place in Chicago, Illinois, Connections features workshops designed to help Salesforce users create personalized customer experiences at every point of the consumer lifecycle, and deliver exceptional customer service that encourages resolutions at the first point of contact.
Marketing professionals will gain insight into harnessing data and cross-channel engagement to connect with customers in new and innovative ways. Meanwhile, the commerce and retail elements of the event will teach users how AI can revolutionize the customer journey and unify selling channels.
Connections 2019 boasted over 500 breakout sessions and demonstrations over the three-day event, and with 2020's convention in the windy city promising even more, you should register ASAP to avoid disappointment.
Dreamforce 2020

San Francisco, California
November 9–12, 2020
Save the date for the biggest Salesforce event of 2020
Ask anyone who has ever used Salesforce technology and they'll tell you that Dreamforce is the event around which the full ecosystem revolves. With new products, strategic partnerships, and platform updates announced at Salesforce's flagship event, it's no wonder why around 170,000 people flock to San Francisco each year to discover the latest innovations in the Ohana.
At Dreamforce 2018, Salesforce announced a new technology partnership with Apple, which made voice recognition technology a reality on the Salesforce mobile CRM app. The company has a habit of reserving its big announcements for the technology convention; no stranger to pageantry, Salesforce really makes the most of the big stage, and big reveals are usually sandwiched between live performances and celebrity keynotes.
Dreamforce isn't just about what Salesforce brings to the table, however. It's a community event that is just as valuable for learning more about customer success and networking as it is for gaining insights directly from the horse's mouth. At 2019's Customer Success Expo, more than 400 Salesforce partners, ISVs, and tech companies showcased their solutions to those in attendance, demonstrating how they can optimize or streamline your Salesforce experience.
Read our full Dreamforce 2019 guide to recap what went down in San Fran last November.
QCon London
Queen Elizabeth II Centre, London
March 2nd–6th
QCon is a haven for development professionals, and its London event in May presents the opportunity for experienced Salesforce Developers and Architects to gather perspective on where their role sits within the current and future landscape of technology.
Salesforce Basecamp 2020
Much like Salesforce World Tour, Salesforce Basecamp is an event that takes place in several locations around the world, to involve as many members of the Salesforce community as possible. What's more, the event is absolutely free! Be sure to register early to avoid disappointment.
The theme behind Salesforce Basecamp is knowledge sharing—you will hear from trailblazing innovators who have found ways to transform their business using the Salesforce platform, as well as thought leaders who will inform and inspire you on how to make the most of your skillset in a talent market that is experiencing insatiable demand.
Are you considering new opportunities? Why not register today so we can approach you with exciting and relevant job openings. No commitment, no obligations!
Salesforce World Tour 2020

4th March 2020 – Salesforce World Tour Sydney – Register here
May 2020 – Salesforce World Tour London – TBC
SALESFORCE WORLD TOUR EVENTS POSTPONED UNTIL FURTHER NOTICE IN WAKE OF CORONAVIRUS OUTBREAK
As the name suggests, Salesforce likes to take its events on the road. Salesforce World Tour is a mainstay in the company's events calendar, taking place in countries all over the world, from Canada to Germany and from Australia to Japan. With World Tour, you can get a taste of Salesforce's famous hospitality without having to visit San Francisco; they bring the show to your doorstep.
Dates and venues for the many Salesforce World Tour events have not all yet been finalized, but it's expected that we'll see Salesforce World Tour London at the ExCel in May, as we have for the last few years. We also expect to see a return to the RAI in Amsterdam, while Paris is also a confirmed location but the venue is yet to be announced.
Confirmed: Sydney will play host to World Tour at the International Convention Centre.
Salesforce user groups

Another great way to connect with the Salesforce community and learn about events in your area is to join a user group. With Salesforce promoting a strong community culture, there are user groups covering location, product, industry, and even diversity inclusion groups. Here is a selection of Salesforce user groups that you may benefit from joining:
Product Salesforce user groups
The value of interacting with likeminded individuals, who use the same Salesforce products and tools as you, cannot be underestimated. Joining a product-oriented user group is a great way to learn new tips and tricks, while having a community resource to learn about product developments and consult if you encounter any technical issues on the Salesforce platform.
– Sales Cloud user groups
Industry Salesforce user groups
Salesforce is an extremely diverse technology, and you'd be surprised how the use of CRM changes from industry to industry. Joining an industry-oriented user group is a great way to find out which bespoke solutions or ISVs are being utilized by other professionals in your industry, and how you can optimize your CRM in ways specific to your organization.
– Communications and media user group
– Financial services user group
Regional Salesforce user groups
Whether it's learning about events in your area or simply having points of reference that make more sense to you as a regional native, joining a location-based user group is a fantastic way to get involved in the Salesforce community without having to fly across the world. Check out the user groups below to see if you can find one in your area.
United States
Salesforce user groups in Arizona
Salesforce user groups in California
Salesforce user groups in Florida
Salesforce user groups in Illinois
Salesforce user groups in New York (NYC)
Given the overwhelming number of Salesforce users in New York, Salesforce User Groups in this region are not listed publicly by Salesforce. However, you should be able to access these groups through your Lightning dashboard.
Salesforce user groups in Texas
Salesforce user groups in Washington
Canada
Mexico
United Kingdom
France
Germany
Italy
Nordic
Australia
China
India
Diversity and inclusion Salesforce user groups
Salesforce promotes four core equality pillars: equal rights, equal pay, equal education, and equal opportunity. The company encourages diversity inclusion groups to help make these ideals a reality, and there are all kinds of groups available for those looking for fair representation. Here is a selection of the most-prominent groups.
– Diversity in tech user group
We will be updating our guide as new events are announced. Know of an event or an exciting user group we've missed from our list? Let us know in the comments below, on social media, or send us an email.