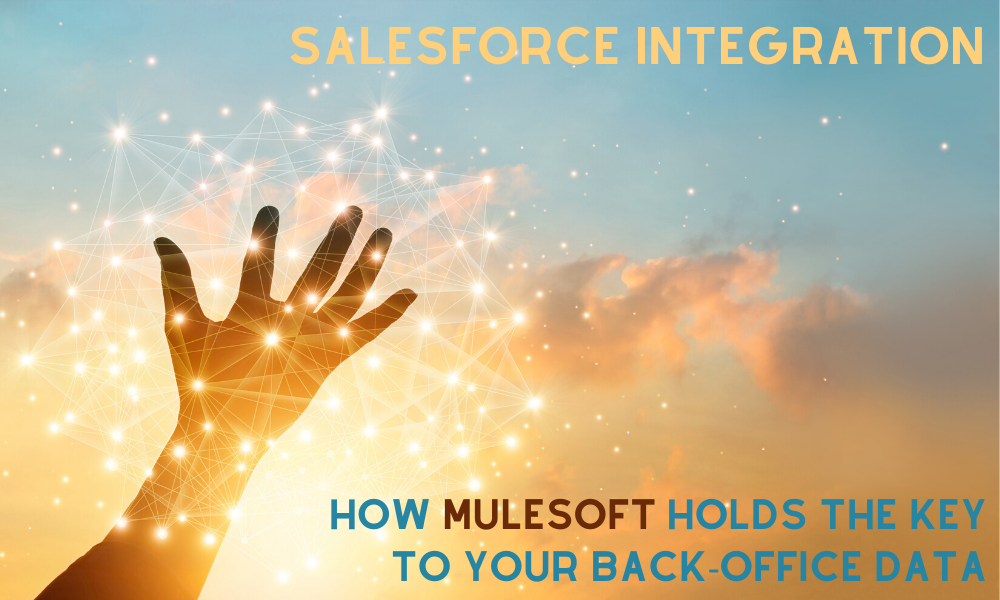 Following Salesforce's acquisition of MuleSoft in May 2018, it's never been easier to integrate multiple systems with your CRM. In this article we explain how the two platforms are working together to achieve Salesforce's vision of Customer 360.
Salesforce is the world's most powerful CRM tool. Due to the number of functional solutions both native to the Salesforce platform and available from independent vendors, the use of Salesforce technology across weird, wonderful, and increasingly wide-ranging industries has never been more prominent.
While businesses are rushing to transfer as many eggs as they can to their Salesforce basket, sometimes it makes more sense to focus on integrating existing systems with Salesforce than to migrate completely, at least in the interim.
But how feasible is seamless integration? How does a business approach using MuleSoft? How will the relationship between the software change following Salesforce's acquisition of MuleSoft?
To help you out, we've put together a comprehensive guide to Salesforce integration using MuleSoft, detailing integrations between the core Salesforce products and third-party software.
---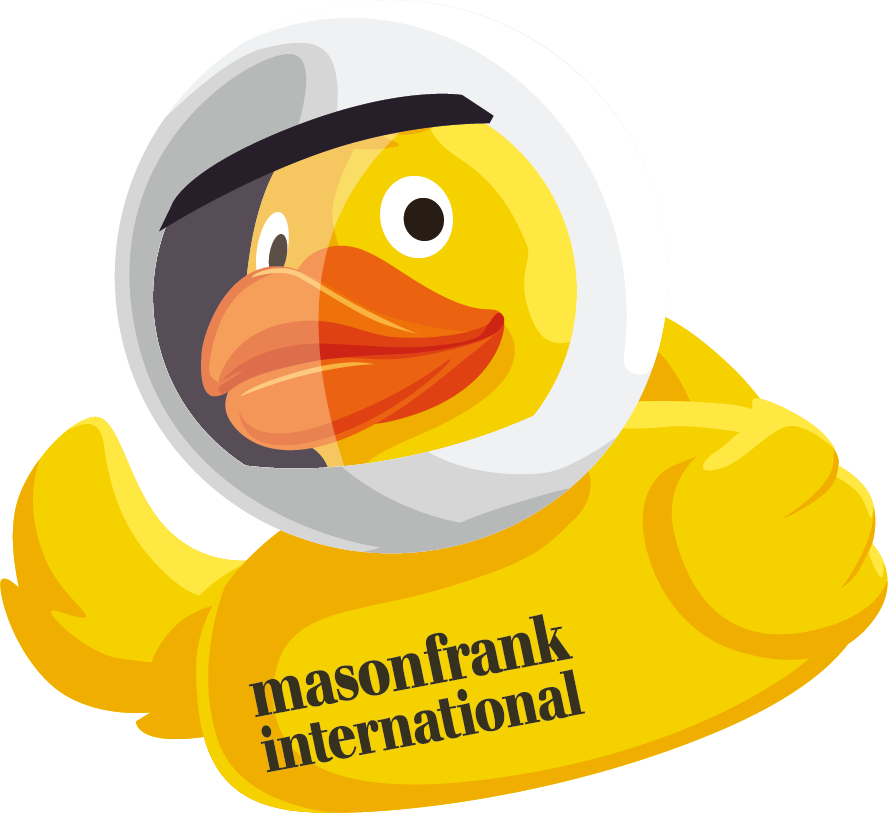 Skip to our commentary on MuleSoft integration with:
---
What is MuleSoft?
Founded in 2006 and acquired by Salesforce for $6.5 billion in 2018, MuleSoft is the world's most-prominent middleware system. Middleware is a type of software that allows platforms to interact with one another—a kind of 'software glue'. In the tech world, MuleSoft is often referred to as an iPaaS (integration platform as a service).
This is achieved through MuleSoft's Anypoint platform, where developers can use existing APIs or templates, or design and build their own APIs to integrate systems that are otherwise completely independent of each other. In short, it allows you to access all business and customer data without navigating tabs and windows to pull it all together.
This sheds a bit of light on why MuleSoft is named as such. The 'mule' part of the name (a nickname for a donkey) is a nod to the 'donkey work' of data integration that businesses face when trying to align their various systems—Salesforce customers tell us that botched data integration is one of the main areas where Salesforce projects go wrong.
Prior to the Salesforce acquisition, MuleSoft exhibited 52% year-on-year growth (roughly in line with the iPaaS market) and posted around $40 million in revenue in 2015, making it the number three iPaaS vendor that year. In 2016, MuleSoft increased its focus and made good headway in targeting specific industries and verticals, which made the acquisition a no-brainer for Salesforce; they were looking to do the exact same thing.
Why did Salesforce buy MuleSoft?
Salesforce's acquisition of MuleSoft didn't come cheap, and with good reason. Not only is MuleSoft a market leader in its vertical due to the accessibility and functionality of the technology, but its existing client base is also massive.
Salesforce is doubling down on its Customer 360 initiative, introducing Salesforce CDP (Customer Data Platform) to give users a '360-view' of the customer. While gathering and harnessing the data stored across Salesforce's powerful arsenal of business products is challenging enough, utilizing data from third-party systems has been the real stumbling block for CRM and business intelligence companies.
Historically, data has always been gathered and stored in silos, making it difficult to get a clear view of any single account without spending hours trawling through and accruing relevant data from all customer touchpoints (and in turn, several different programs and systems). Speaking practically, here are just some of the more conventional customer touchpoints from which businesses could gather data:
Social media (Twitter/Facebook/Instagram/LinkedIn)
Submitted website forms
Active orders
Purchase history
Invoices
Contracts
Businesses used to employ 'Data Scientists' to do just that (and many still do; there's still a great need for them in many businesses), but that's the type of work that software like MuleSoft tries to eradicate, or at least mitigate. We still need data experts to analyze big data, but all the leg work can now be done through intelligent integration.
Through integration using MuleSoft, or however Salesforce chooses to brand the product once it becomes part of its architecture, the CRM is able to harness all customer data for use with Einstein AI, delivering intelligent insights in real time. Businesses now have full visibility on their customer data, and insights or opportunities can be identified automatically with business intelligence.
Not ready to integrate your systems using MuleSoft? Find out which
Salesforce Plugins
will help facilitate native integration.
The key benefits of Salesforce's MuleSoft acquisition for Salesforce customers
A unified view of the customer across all Salesforce clouds and products
A unified view of the customer across third-party systems, putting an end to siloed data in disparate systems
Real-time intelligent customer insights
Faster app and integration building, using low-code and pro-code tools
Access to APIs from Salesforce and its partners, to futureproof your use of third-party software in conjunction with Salesforce
Easier migration to new/additional Salesforce products
Better security and governance of data
Sales Cloud integration using MuleSoft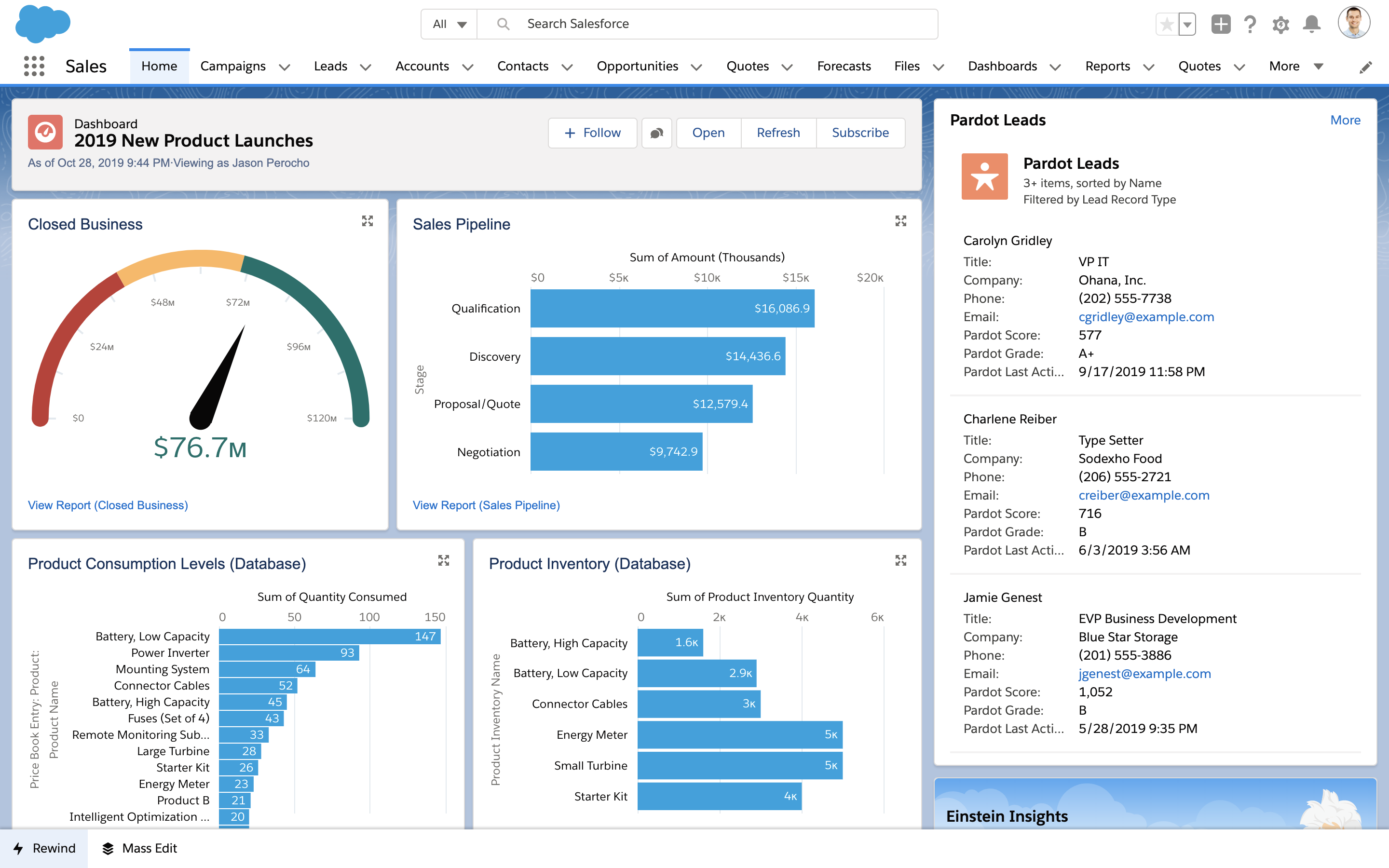 Image courtesy of Salesforce
Sales Cloud is the world's number one sales-centric CRM product, and has been the market leader for several years now. While the platform is already held in high esteem by its user base, the additional data and automation functionality offered by MuleSoft's Anypoint Platform can boost sales productivity by 26%, while order provisioning can be up to three times faster. What's more, new integrations with Sales Cloud can be delivered 66% faster thanks to MuleSoft.
Harnessing data from multiple products has always been a challenge in Sales Cloud. There's a great hunger for accurate data, as no salesperson wants to make a sales pitch with out-of-date information, or waste their time speaking to clients and customers who aren't interested.
MuleSoft enables Sales Cloud users to unlock back-office data from systems like ERP and POS, so you can synchronize order and product information to enjoy that coveted single-customer view. This is achievable through out-of-the-box connectors for mainstream products such as SAP, Oracle and NetSuite, with examples and templates compatible with less-notable business products.
It isn't just about using the data exclusively for sales, though. The forecasting and reporting features in Salesforce are part of what makes the product a market leader, and these are bolstered even further by having access to all customer data. You're now able to score and prioritize sales leads based on intelligent forecasting; no guesswork required.
Of course, sales is more than just identifying opportunities and preparing ahead of time. In an ideal world, field reps will have access to customer data via their mobile CRM, so they can identify the best products and opportunities based on updated requirements from the customer. With MuleSoft integration, sales pros now have real-time access to all relevant information across multiple systems, so they can provide a customer-centric service with no blockers.
Service Cloud integration using MuleSoft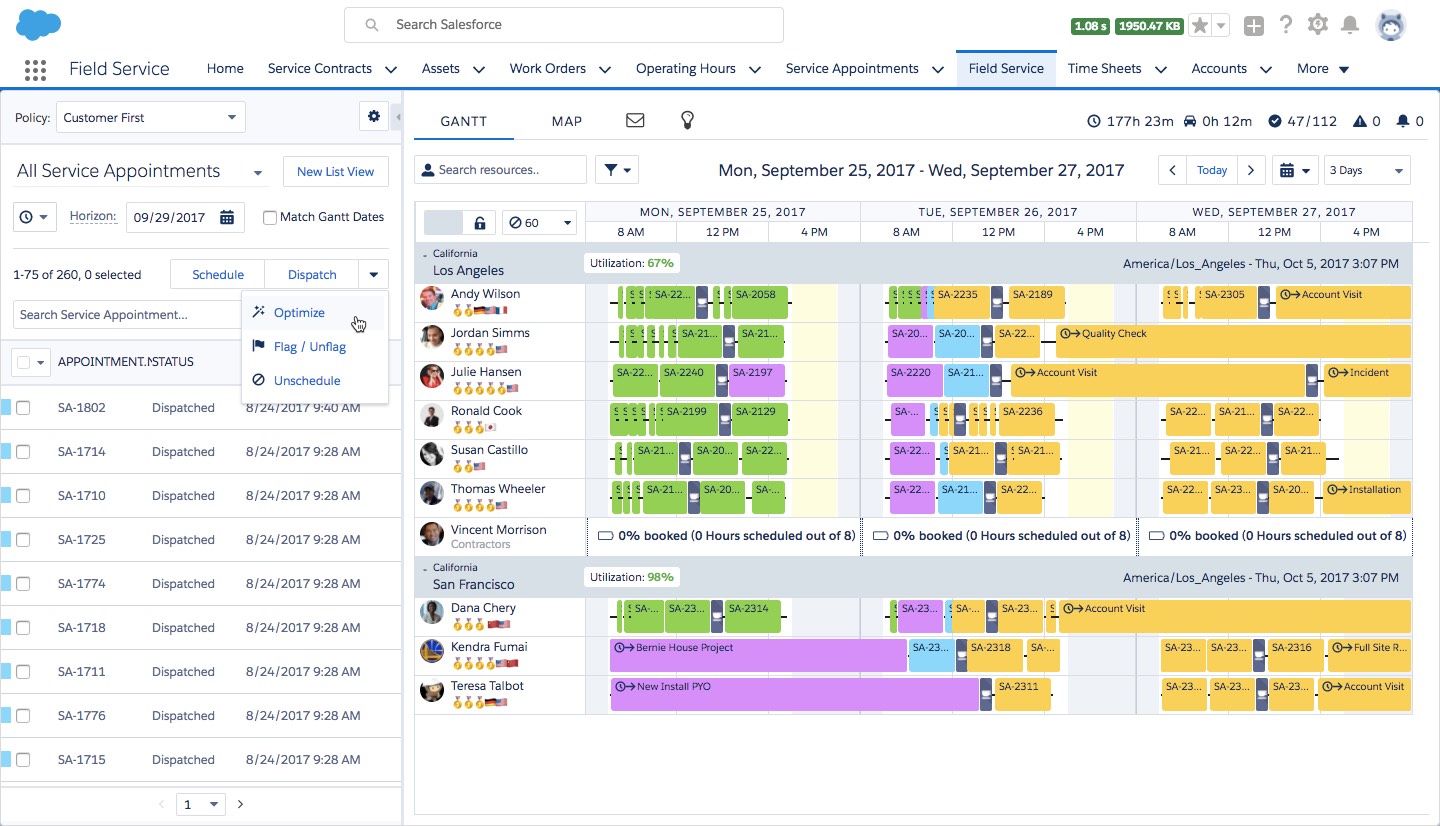 Image courtesy of Salesforce
It's one thing utilizing the power of Salesforce and MuleSoft to streamline your sales process, but what about managing your reputation and retaining customers? In the modern age your customer wants a personalized service, with a speedy resolution to their issue, preferably at the first point of contact.
Consider the average complaint that gets filed in your business—is it via a website form, an email, or on social media? How do you identify that customer in your CRM to learn more? If the relationship is already at risk of being severed, you want to make the process as pain-free as possible for the customer, so asking them for additional information about their situation, order, or account can be tricky.
With MuleSoft, users can map all customer data into Service Cloud, so you can identify exactly who a customer is, what interactions they've had with your business across all touchpoints, whether any disruption to business may have impacted their service, and what might be a suitable resolution to their problem.
This is especially useful in contact centers, where long hold times both frustrate the customer and lower the productivity of the service rep. Having access to all customer data in one system substantially reduces the time it takes to pull this information together and take relevant action, especially if customer care processes are automated.
If your business uses a chatbot, you'll also be encouraged to learn that many of the most popular chatbot products can be integrated with Sales Cloud using existing MuleSoft templates. You could feasibly have a chatbot on your website that pulls all relevant information and resolutions together for the customer. They can then select a suitable way to proceed, ensuring interactions with human reps are limited if that's their preference.
With a response rate five times faster than when using disparate systems, MuleSoft claims to be able to increase agent productivity by 40%, resulting in a 35% increase in customer satisfaction.
Marketing Cloud integration using MuleSoft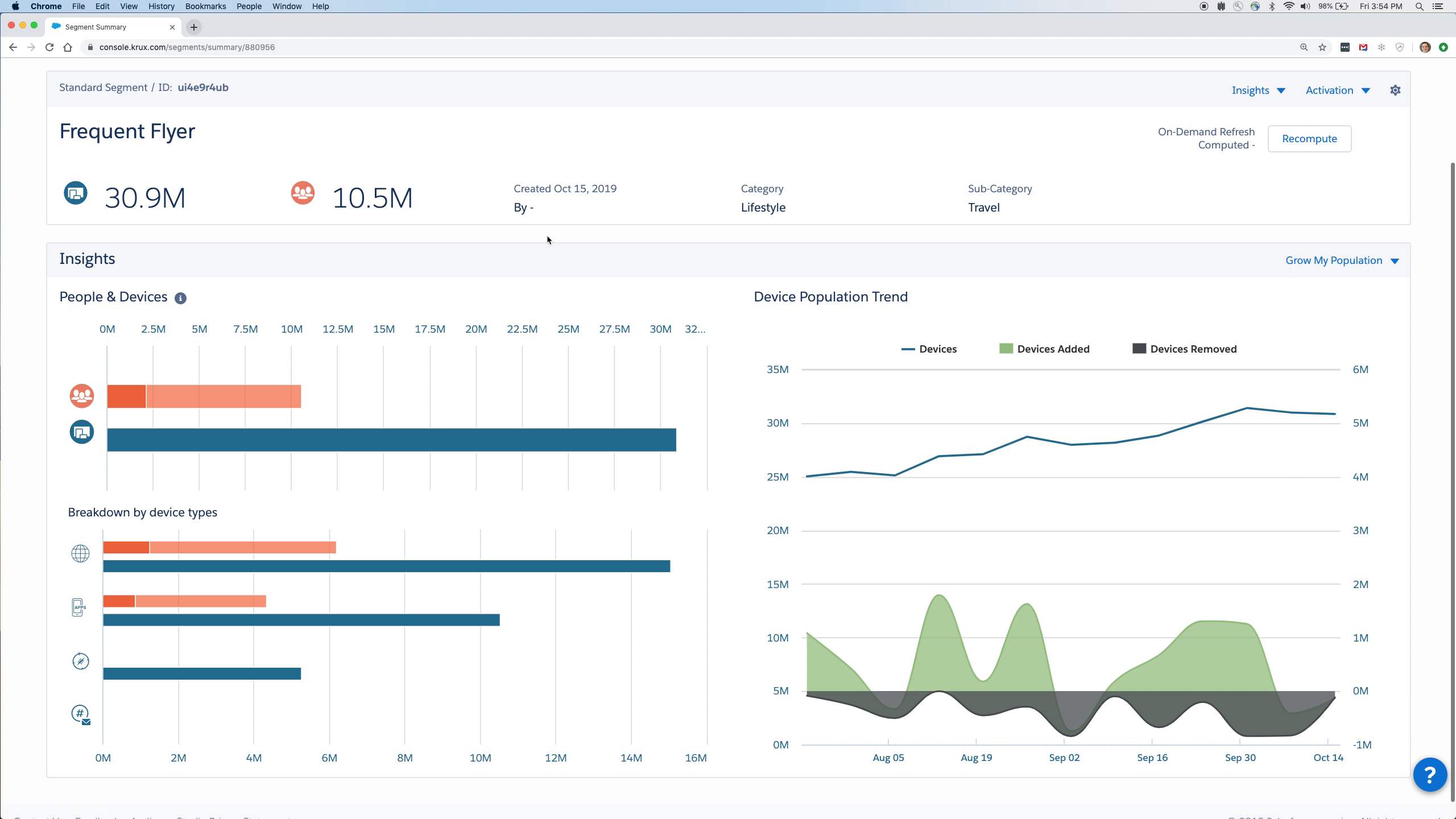 Image courtesy of Salesforce
In our annual independent Salesforce market survey, Marketing Cloud is consistently predicted to be one of the most in-demand products from Salesforce customers over the next 12 months. This is because businesses now know the value of marketing to a customer on their preferred or most-interacted-with channel, whether that's social media, on-site advertising, or email marketing.
Historically, the problem businesses have faced is that it can be incredibly difficult to quantify the success of marketing efforts, particularly on a granular level. To achieve a single view of the customer, you need to be able to track individual interactions with your marketing materials, and then market to the customer based on what works and what doesn't.
MuleSoft makes it possible to pull this data together; from direct and indirect mentions and sentiment analysis on social media, to their browsing habits on your website. All of this can be used to create personalized messaging, and to continually adjust a customer's journey in real time, based on their actual and predicted behavior throughout the sales process.
What's more, you can even use MuleSoft to set up triggers on third-party platforms. Once a certain action is met, customers will automatically be marketed to in a certain way, using all available information to identify the most effective way of doing so. Your interactions with the customer don't begin and end on your website and social channels, after all.
Salesforce and MuleSoft Anypoint
While there's an entire ecosystem of MuleSoft professionals who specialize in linking otherwise completely disconnected systems, Anypoint offers MuleSoft customers a number of templates—packaged integration patterns—to help Salesforce users integrate with ease. This makes it easier to:
Merge data after acquiring other entities
Move from a legacy CRM system
Update Salesforce with ERP data
Ensure data is consistent across Salesforce and other business apps
Create APIs to pull data from multiple systems
Why not check it out for yourself? There are over 100 Salesforce connectors and assets already available on the MuleSoft website for Salesforce users.
Start using MuleSoft
Looking for MuleSoft professionals to help pull your valuable business data together? Look no further.
---
Browse our bank of fully qualified and vetted MuleSoft talent.
It's completely free.