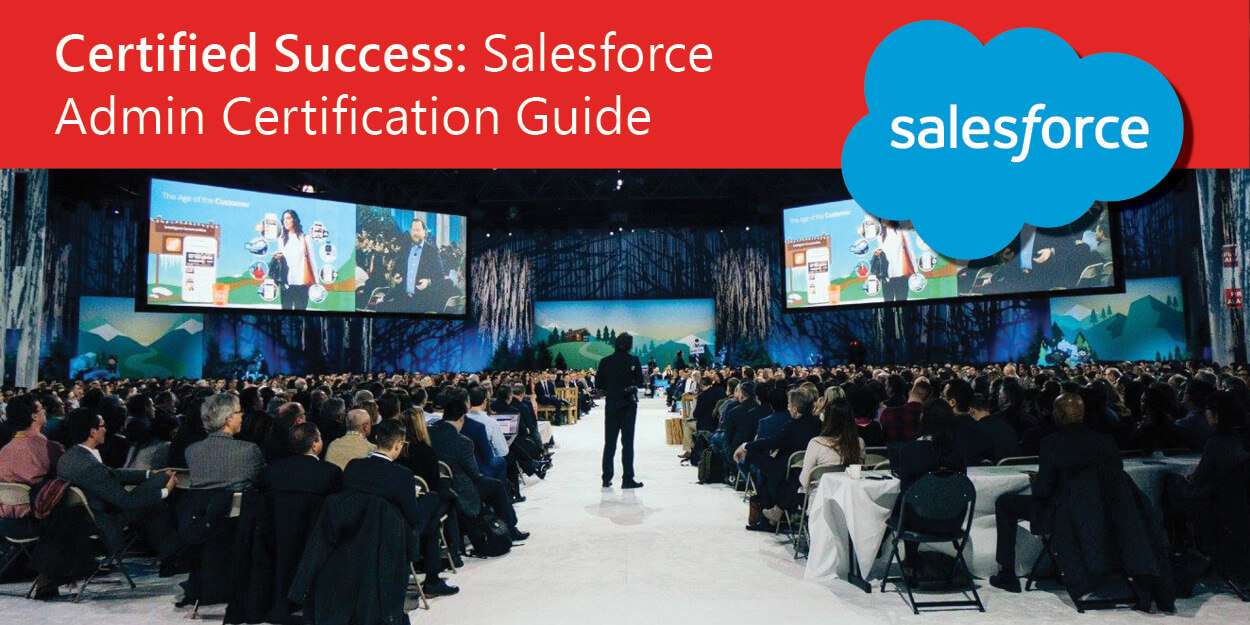 A Salesforce Admin Certification is the highest form of recognition a Salesforce Administrator can achieve; it demonstrates expertise in the field as well as a commitment to the platform.
Certification is becoming increasingly popular amongst Salesforce professionals. At the very least it can help to enhance a professional's knowledge of the platform, but research shows it can also improve employability and open administrators up to a higher calibre of salary.
Why should I get Salesforce Admin certified?
According to the latest Mason Frank Careers and Hiring Guide, 78% of Salesforce professionals hold at least one Salesforce certification, with 67% of respondents stating that their salary increased after becoming Salesforce certified. With this level of competitiveness and a clear reward for putting the work in, becoming certified can vastly improve your career.

To help you navigate your way through the certification process, Mason Frank has put together this helpful Salesforce Admin certification guide. We've also spoken to some particularly knowledgeable Salesforce influencers — Oliver Hansen, Manish Thaduri and Adam Olshansky — to ensure we cover all bases. We hope their words of wisdom and general tips will guide you towards success.
Looking for fully funded Salesforce Administrator Certification?
Revolent
is the specialist Salesforce training arm of Tenth Revolution Group, of which Mason Frank is part of. During the two-year program, you will be taken through both Salesforce Administrator and Developer certifications, while also having the opportunity to gain practical experience working for a Salesforce partner. 
Find out more here.
Which Salesforce Admin Certification is right for me?
Your first move should be to find out how to get a Salesforce Admin Certification, and decide which one is right for you. Salesforce is constantly re-evaluating the type of certifications it offers, to ensure it is adaptive to the ever-evolving Salesforce ecosystem.
Salesforce Certified Administrator
Designed for those who have some experience as an administrator but would not consider themselves an expert, the Salesforce Certified Administrator credential consists of 60 multiple choice questions in a 90-minute exam. That's not to say it's easy; the exam carries a 65% pass mark and allows no reference to educational resources throughout the test — it's just like being back at school.
Salesforce Certified Advanced Administrator
Much like the aforementioned standard certification, the Salesforce Advanced Administrator Certification carries a 60-question multiple-choice exam with a pass mark of 65%. The distinction is that this exam is far more difficult, and only those who already carry a Salesforce Administrator Certification can take the test. Given the level of knowledge required to meet the pass mark in this exam, this credential is reserved for the seriously skilled Salesforce Administrators out there.
Where do I sit my Salesforce Admin Certification exam?
Registration for your Salesforce Administrator Certification exam is available online, and you have the choice of where you take the test.
Onsite proctored exam
You may take your certification exam at a local testing center, at a date and time of your choice. Salesforce has partnered with Kryterion, which has testing centers all around the globe, to make the examination process more convenient for those looking to get certified. We recommend that you register for your exam at least one week in advance to secure your preferred date and time.
Online proctored exam
You may also take your certification exam remotely, meaning you don't even have to leave your home to become Salesforce Admin certified. The test will be monitored by a proctor by way of a webcam, and you will also have to download software to allow the examiner to view your screen as you work through the exam. You can register for the exam and take it on the same day; the height of convenience.
---
Oliver Hansen
Oliver Hansen believes that planning and preparation are key to passing the Salesforce Admin certification exam. He said:
"Make sure to pin a date, register for the exam and plan your study time.
"Everybody's situation and skill level are different, but it's probably best to book the exam way in advance (one/two months) so you have a buffer for unforeseen circumstances and don't end up rushing through your study guide."
---
In the weeks running up to your exam, make sure you reserve daily study time in your calendar. As many of us know, cramming for an exam is rarely an effective study method. If you organize and map out what you need to study, you'll be able to absorb it and apply it to the exam.
Salesforce Administrator Certification study guide
To ensure you're fully prepared for your certification exam, make sure you consult all of the available resources. Salesforce recommends a mixture of training, study materials, and hands-on experience to prepare for the exam, and while we can't have much impact on your practical experience, we can certainly recommend some of the best training and guidance out there, as well as share some insight from industry experts.
Trailhead: Salesforce training
Trailhead is one of the most sophisticated learning portals in the world and has a number of online and instructor-led training courses that are essential when studying for the Admin Certification.
There's a massive 35 hours of training materials available at this Salesforce Admin Trailmix, all of which are available to access online through the Trailhead portal. However, depending on your individual circumstances and your budget, you may find that you benefit from more traditional courses.
Instructor-led courses
Administration Essentials for New Admins (ADM 201): This five-day course is recommended for new administrators who are responsible for setting up, configuring, and maintaining their organization's Salesforce applications. It covers everything from basic navigation of the administrator applications to managing data, restricting access to certain features, and automating functions. It's a great course to be taken in conjunction with other learning.
Administration Essentials for New Admins and Certification (ADM 201C): This is very similar to the previous course in that it covers all the basic administrator functions. The distinction is that this Trailhead programme includes the option to sit the Salesforce Admin Certification exam on the final day of the course for free (included in your course fee).
Intellipaat Salesforce Certification Training: Admin 201 and App Builder: Salesforce certification training classes by Intellipaat will enable you to clear the Salesforce Certified Administrator Certification (SFDC ADM 201) and Salesforce Certified Platform App Builder Certification exams. In this Salesforce certification training course, you will master SFDC, SFDC Data Model, App builder, Apex, and Visualforce.
JanBask Training's Salesforce Certification Course: For Administrators & Developers: JanBask Training, a global online training provider that helps you connect anywhere from the world. The instructor-led live sessions and real-world case studies help you not only achieve the certification goals but also make you job-ready. The courses offered cover the concepts of Salesforce Admin and Developer while focusing on Sales & Service Cloud, Apex Programming, Salesforce Lightning, Visualforce, and much more.
Virtual courses
Certification Preparation for Administrator (CRT-101): This virtual course lasts just a day, but can go a long way in preparing you for your administrator certification exam. You will be faced with real-life business scenarios, with the onus on your to suggest practical solutions to these problems in the Salesforce portal. These problem-solving exercises also correspond with the topics covered in the Certified Administrator exam. Very handy.
Salesforce Proficiency Pack for Administrators: While this course lasts 30 days, it only requires one or two hours of work a day, making it ideal fo. What's more, the course also includes free vouchers for a certification practice exam, and the Salesforce Certified Administrator exam (included in your course fee). For this training program, the emphasis is on flexibility and learning at your own pace — perfect if you work full-time and want to undertake some additional learning.
Salesforce Administrator Certification exam outline
The following guidance from Salesforce should help determine what your exam will cover, as well as the weighting of each topic in the context of the test.
| | | | |
| --- | --- | --- | --- |
| Topic | Weighting | Topic | Weighting |
| Organization setup | 2% | User setup | 7% |
| Security and access | 14% | Standard and custom objects | 15% |
| Sales and marketing applications | 15% | Service and support applications | 12% |
| Activity management and collaboration | 3% | Data management | 8% |
| Analytics | 10% | Workflow/process automation | 12% |
| Desktop and mobile administration | 1% | AppExchange | 1% |
Organization setup – 2%
User setup – 7%
Security and access – 14%
Standard and custom objects – 15%
Sales and marketing applications – 15%
Service and support applications – 12%
Activity management and collaboration – 3%
Data management – 8%
Analytics – 10%
Workflow/process automation – 12%
Desktop and mobile administration – 1%
AppExchange – 1%
The exam is designed to measure practical knowledge and experience of the aforementioned areas, which is why it is highly recommended to have worked in a Salesforce administrative capacity as well as studied all of the recommended resources. Also bear in mind that the exam was designed by seasoned Salesforce experts, and therefore the weighting of each topic reflects the importance of that knowledge in practice.
---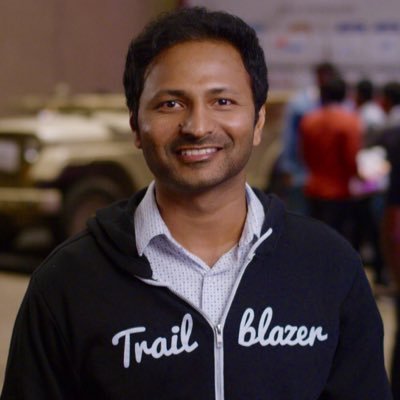 Manish Thaduri
Manish emphasises that a deep understanding of the topic is essential, as opposed to simply memorising training materials.
"A useful exercise is to categorize the examination topics into strengths and weaknesses, because you need to put extra effort into the ones you don't have a good knowledge of (the weaknesses).
"There won't be any straightforward questions from the learning materials or Trailhead; 80% of the questions will be scenario-based. So you need to understand the concepts as learning the topics by heart won't really help."
---
2018 Salesforce Admin Certification dumps
While they shouldn't be a replacement for studying our recommended resources, finding Salesforce Admin Certification exam questions and answers from the past can be extremely useful. It allows you to observe the way in which questions are framed, the validity of other multiple-choice answers that sit alongside the correct answer, and also gives you the opportunity to approach a 60-question exam — a test of that length can be quite daunting, after all.
Salesforce Admin practice test
If you are looking to experience a legitimate Salesforce Admin Certification practice test under exam conditions, Salesforce offer a mock test that can be taken virtually. Again, you must register through Kryterion, the same as if you were taking a real exam, only this time you should locate 'Salesforce Administrator Certification Practice Test'. It costs $20, but you might find this is a necessary outlay to put your mind at ease or better inform you of what to expect.
There are free alternatives out there, but they are not official and therefore not verified by Salesforce. You will find over 1,000 mock exam questions over at Exam-Labs, though you will have to register to access more than the first page. Salesforce Ben also has a great certified admin mock exam available on his website, which will not only ask valid questions but also time your responses to give you a taster of exam conditions. For more laidback learning, Salesforce Ben also has a quick 20-question quiz to test your Salesforce admin knowledge.
Salesforce Admin flashcards
Instead of attempting to digest a huge collection of answers from Salesforce Certified Administrator mock tests, it may be a more useful exercise to break questions down into brief flashcards. This way you can learn steadily and at intervals as opposed to all at once, which can often be overwhelming.
A huge selection of flashcards, mock questions and answers, and interactive quizzes is available at Quizlet. Though not an official training material approved by Salesforce, these questions have been compiled over time by members of the Salesforce community, so are a great supplementary learning tool.
---
Adam Olshansky
Adam recommends learning Salesforce from the ground up to develop a deep understanding of the things on top of it.
"Being a Salesforce Certified Administrator means understanding the basics of how Salesforce works. Understanding the different levels of the security model will be the basis of creating anything and everything on the platform."
"Once you understand the puzzle pieces and how the security portion works, you can begin to understand how to manage the data that exists in the objects along with the best ways to analyze this data using the built-in reporting capability."
---
Other resources
There are an overwhelming amount of resources available to those who plan to take the Salesforce Admin Certification exam. Here's a list of the most reliable resources you should use to help you study:
CertifiedOndemand.com: a blog to help test takers prepare for Salesforce exams
Salesforce Help: a portal to the Success Community, Trailhead, and the official documentation
CloudSocius: how to pass the Salesforce Administrator ADM 201 exam with free resources
Inspire Planner: The ultimate guide to Salesforce certifications for project managers
Salesforce Stack Exchange: a Q & A site for Salesforce professionals
Salesforce Help Documentation: a complete guide to all the Salesforce topics
Certification Exam Guide: official Salesforce ADM-201 study guide
Salesforce U: administration essentials for new admins (ADM-201)
Jenwlee's Salesforce Blog: a Salesforce Administrator exam preparation and exam taking strategy
Salesforce Ben: a useful online quiz on Salesforce Administrator certifications
Merivis Blog: how to study for the Salesforce Admin exam
Oliver Hansen: Salesforce Admin blogs
Adam Olshansky: a journey from 'Adam to Architect'
Manish Thaduri: Salesforce Certification blogs
Are you ready for the exam?
So you register to take the Salesforce Admin Certification exam, you map out your plan for exam preparation, and you study for weeks using a variety of official and community resources with the help of the Salesforce Ohana. Now the only thing between you and this exam is the question, 'am I ready?' While mock tests are a helpful way of measuring how prepared you are for the exam, there will always be a leap of faith. But don't be afraid to gamble on yourself; if you put the work in then you should have no problems demonstrating your knowledge in the exam.
Your Salesforce Admin Certification questions — answered
How do I get Salesforce Administrator Certified?
You need to pass a 90-minute multiple-choice exam to become certified.
How do I pass a Salesforce Admin Certification exam?
Work through some of the material in our training resources section to prepare you for the exam – only by learning the ins and outs of Salesforce administration can you expect to pass the exam.
How hard is a Salesforce Admin Certification exam?
The pass mark is 65%, meaning quite a high level of knowledge is required to be successful in this exam. The test consists of 60 multiple-choice questions, which means you must get at least 39 correct to pass.
How much does the Salesforce Admin Certification cost?
Registration for a Salesforce Administrator Certification exam costs $200, plus taxes depending on your location. If you're unsuccessful at the first time of asking, there is a reduced retake fee of $100, again plus tax.
Have any useful insights to supplement this guide? Let us know in the comments below.
Looking for a new Salesforce Admin job?
---
Browse our full selection of the freshest Salesforce Administrator vacancies on the market